Real business for real people.
Making money out of thin air.
Author: Sergey Khishko
Website: http://www.richair.com.ua/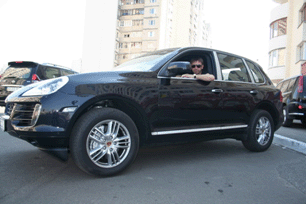 Here is a real-life story about a single idea of ​​a home business, sometimes a difficult but very rewarding one:
When I learned about this business opportunity, I went to an old BMW, a year later I moved to a new Porsche Cayenne Sport, which had just left the assembly line.
Perhaps you will be interested to know - how? If interested, then I will continue my success story!
I had problems with finances. All my business activity was buying and selling. Constant nerves, and only that, no stability.
And I began to look for a new product and new revenue opportunities. The condition was only know-how, something that others do not. It would be a return to the past when the market of computer technologies, software, the Internet was born. Now it is multibillion-dollar profits. But, unfortunately, Microsoft turned out to be more agile than us, and this brilliant niche is already occupied, but like many others ...
But my dreams were embodied in another ...
I was invited to one exhibition in St. Petersburg. At the exhibition I was attracted by one stand with a spacecraft, next to which there were some devices.
At first I did not attach much importance to this. But mentally I asked myself the question: "What is this? Any space technology? For what?".
An hour later, I returned to this booth, where this equipment was already on display, and I was struck by what kind of fresh air the device gave out. I remembered the Carpathians. In the mountains, I could breathe on the full lungs. It imprinted on me for life. Stop! A thought flashed: "The device produces air equal to that of the mountain…" Interesting?
My interest in the device rose to heaven. A person who demonstrated the capabilities of the device by smearing my palms with a bow, asked me to put one hand to the device and hide the other behind my back. Seconds after thirty, the smell of onions disappeared, and the palm began to smell fresh, just as the linen with frost smells. The smell on the second hand, which was behind, remained. I really went nuts ... "Wash out" my second hand, bringing it to the device, and I realized - IT WORKS! I realized - this product is needed by people, it is a solution to the problems! But that was not all. Nearby was the device, under the transparent cap of which the antenna and needle were visible. Between them is an electric spiral. I raised the cap, smoked a smoke in there and asked: "Can the smoke be removed?" They answered: "Nonsense! Look
The man took the butter dish with machine oil, raised the transparent cap, dripped a few drops on the spiral, then closed the cap and turned on the spiral. The spiral warmed up the oil, and the smoke knocked down the rocker, it was evident how the volume is filled with very acrid smoke, where to take the tobacco. The man turned off the spiral and pressed the buttons that turned on the antenna and the ionizing needle ... I could not believe my eyes. The smoke disappeared in seconds. I asked: "Are these technologies collected in one box?" He answered: "Yes!". At the same time, I thought - how many people face the problem of dirty air every day at home, in offices, cafes, bars, restaurants, everywhere! I am already silent about smokers and their families. I realized that the market is huge. It is necessary for everyone!
The idea of ​​producing clean air and selling it ... and at the same time helping people to improve their lives in confined spaces seemed to me ingenious!
"Yes ...", I think: "So much for Microsoft." Ecology is deteriorating every day, and, accordingly, the demand for this equipment is increasing every day. " I ask: "In a nutshell, say the functional purpose and markets for these devices?". He answers: "These devices are able to restore and maintain the parameters of the air environment, as close as possible to the natural ones, in almost any room within 24 hours. The service life is about 15 years. ".
I say: "Got it!" I firmly decided - this is mine! I appeal to him: "Alexey Borisovich! Let's move on to the economy? Answers: "Profitability on a product of 50%. (I think about myself - Great! 50% is a good margin!) ". I ask: "What kind of company, how stable is it? Answer: "The company has been on the market for 20 years. Constantly invests in innovative technologies, No. 1 in its segment and inaccessible to competitors, due to the latest technologies. " I ask: "How to start a business with this company, I am ready!" Replies: "Take your time ... That's not all. There are several ways to make money with this company:
First: You earn on the sale of devices to people in need of help, about 50% ... But this is not all possibilities. There is another income ...
Second: By becoming a partner of a company, you can sell entrepreneurial opportunities to other people, and the company will encourage you in the form of bonus checks.
I say: "More here!".
He reads: "The company, having begun work in 1987, almost completely concentrated on the idea of ​​a product. The focus was only on the capabilities of the devices and the uniqueness of technology. For the first 8 years, the company sold 350 thousand devices. In 1994, the vision of the company was completely revised. A new main idea of ​​the company was announced - a business opportunity for enterprising people to achieve success and financial freedom. What is the result? In the next 8 years, 3.7 million instruments were sold. "
And then there was an interesting, sometimes difficult, but very remunerated work ...
I am very pleased to hear when people, having given money for the device, call and thank for help in solving problems. As well as the people I introduced to this business, succeed in solving their income problems, they say: "Seryoga! So thank you for introducing me to this business. You can earn as much in this business as you wish it ... They gave me the opportunity and I did not miss it, like hundreds of people who joined this company.
Thank you very much for the opportunity to address you with this message ...
Successes to you and prosperity!
Sincerely, Sergey Khishko (Kiev).
PS In a sign of the veracity of the above, watch a video on my website about business , which shows about 50 people who have earned more than $ 1,000,000 in bonus checks only, I am not talking about those who earned $ 900,000, etc. I do not even know how many of them.
My address is: richair@ukr.net