Art mosaic is an interesting paid hobby.
Author: Babin Mikhail
Website: mosaic-bmm.narod.ru

It all started with the fact that I was engaged in stained glass, but this business is still quite painstaking and not very fast. And by my nature, I like work more where the result is visible much faster. And in the stained-glass windows, after all, every glass should be cut, turned and adjusted to the overall picture.
Then the idea came to me to try to lay out the mosaic panel from the remaining small fragments. Liked. Both the process and the result. I made inquiries. Mosaic, of course, costs less than a stained-glass window, but also becomes much faster. In general, it turns out more profitable. And the demand for the manufacture of mosaics as a whole is greater than for stained glass. So my switch to mosaic happened.
Since I don't like large-scale works, and the main work is different for me, and at first stained-glass windows, and now the mosaic has become my home business (and part-time and interesting paid hobby), I decided to focus only on the "small-sized" mosaic - the manufacture of mosaic panels and tables.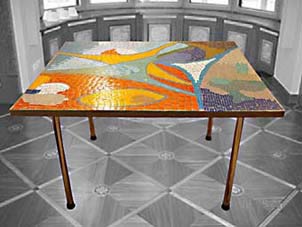 Now a little "arithmetic":
A square meter of Chinese mosaic glass tiles (smalt) costs about 600 to 1200 rubles per 1 sq. M. (the average price is 800 rubles due to the predominance of cheaper tile colors in the collection).
The average coffee table area is approximately 0.5 sq.m., i.e. the cost of the material on the table is 400 rubles. A tabletop made of glued solid wood (pine) - about 200 - 300 rubles (depending on quality). A set of legs - 500 - 800 rubles.
Total: 1,100 - 1,500 rubles - the cost of the material. Plus, three eight-hour days of your work. The commercial value of the mosaic table is not particularly delicate work, not having artistic and historical value, ranges from about 6,000 to 15,000 thousand rubles. You can calculate the profit yourself, taking into account your time and perseverance.
The area of ​​the mosaic panel is about 1 - 2 sq.m. The cost of smalt for him, respectively - 800 - 1600 rubles. It will take about 5 working days already. The cost of the base (glass) is approximately 150 - 300 rubles. The cost of a baguette is 1000 - 2000 rubles. Total: the cost of materials for a panel of 1 sq.m. - 1900 - 2100 rubles + 5 working days. The commercial value of the "historically valuable" panel is approximately 7000 - 25000 rubles. Profit is again easy to calculate by yourself, making adjustments for the amount of free time and hard work.
But I did not stop there.
Inventive nature suggested a good idea: to make a good analogue of glass smalt at home with the right characteristics and the right colors and shades (and the number of them here is already limited only by your imagination!).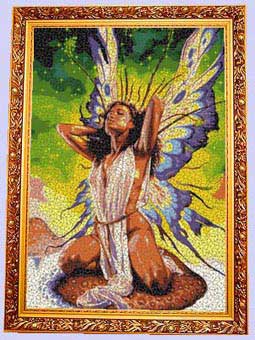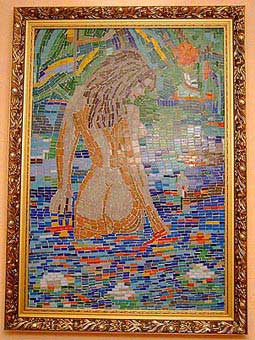 I make new material in the "cold" way, without attracting high temperatures. I called this material "lithosmalt." Moreover! Since I can make pieces of the new "lithosmalt" of any size and shape that I need, I came up with a way to avoid putting the mosaic "piece by piece", tile by tile. Now you can "in one pass" immediately lay out entire sections of the mosaic!
And one more thing: the small size of lithosmalt tiles made it possible to create mosaic patterns of high resolution without extra efforts (cutting and splitting standard smalt tiles), and, accordingly, looking like they were laid out for a whole year! Meanwhile, how to use mosaic panels with an area of ​​2 sq.m. possible in 1 - 1.5 days!