Furniture production at home.
Furniture business is a business that:
- does not require cash investments;
- has a profitability of 80 to 300%;
- the product of which is used by all civilized people of the earth;
- can exist and develop regardless of the technical equipment of your future enterprise;
- will never end;
- every year it develops more and more.
A business that people are already doing and quite successfully ... A business that even a full-time student can do.
Furniture business can be dusty, heavy, and problematic, and can be simple, profitable and interesting. It all depends on what approach to choose and how to do it.
If you are greedy, you will get a lot of work, if you are not greedy, you will earn good and fast money.
I will tell you about both approaches, but I will explain more about the latter approach.
It's simple. Let us consider, on a concrete example, the manufacture of the most complex type of furniture - the kitchen. Why is the kitchen the most difficult type? Because the most various accessories and materials are included in the kitchen package, this is the first and the second - all the details are small, and even the smallest flaws are immediately evident.
Let us take as a basis for such an expensive kitchen: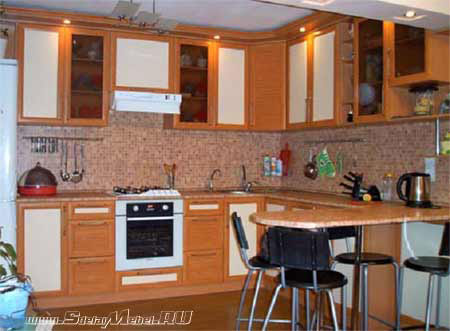 What can you say about it? Large expensive kitchen ... Made from the most modern materials. It is relatively expensive, 48.000 rubles excluding household appliances, stove, oven and microwave. Honestly, its price in the store will be higher than the thousands by 15 for sure.
I made this kitchen myself. No worse than in the salons of "Italian" furniture. The facade is made of frame MDF, has built-in appliances, lighting, deep drawers, rails, long handles. Boxes are made of high-quality German chipboard and plastered with 2mm PVC edge. All fittings installed in the kitchen, German, the company «Hettish». The kitchen is no worse than Western counterparts, neither in quality nor in price.
Can you make such a kitchen? Not? And what is the difficulty? Not sure how this is done? Well, I'll try to convince you of the opposite.
Look again carefully at this kitchen. Would you be able to assemble it if you were given everything in a disassembled form, with the clear sketch of each individual cabinet or bedside table and all the necessary bolts and nuts attached to this "designer"?
Thought? And if you were given, let's say, 24,000 rubles, for collecting it, let's say?
And on top of the installation of 8% percent of the total cost, which is equal to 4,000 rubles?
Would it be worth working 5-7 days? Do you think no one will give so much for assembling the kitchen? Will give! Just need to think a little head. Of course, if you buy such a kitchen in a store, you will receive no more than 3% of the cost for the assembly, and if you make it yourself, you will receive at least 50% of its value ...
Your task is to find and order everything according to specific sizes or to buy.
That is, at the first stage you need to make clear documentation on the product, in which for yourself you will have to write out all the materials and accessories necessary for the manufacture of the kitchen and calculate all possible costs for the production of the order.
And now a little more in detail about what the kitchen consists of and what your work on its making consists of.
1. Box of chipboard.
In any furniture there is a box that is made of laminated chipboard. Whatever you have made - the kitchen, hallway, children's room or anything else, you need to buy chipboard, cut it and pokleit edge.
Where they sell laminated chipboard, material cutting services are always provided and it costs no more than 50 rubles per 1 square meter.
There you can also ask to stick the edge - this service costs from 6 rubles per meter (price excluding the cost of the edge). You can stick the edge yourself - then it will cost 1.5-20 rubles per meter.
This kitchen took 18 sq.m. (3 sheets in size 3500 * 1750 mm and edges no more than 100 meters).
Total:
- sawing material will cost you 18 sq.m. * 55 rubles = 990 rubles;
- pasting edge 100 m. * 6 rubles = 600 rubles.
We bought the material in a regular warehouse. If you go for the material yourself, it will cost as much for you as it is for other specialized furniture workshops, well, maybe 5% more expensive than for them. They may have a discount, like regular customers ...
That is, you are on an equal footing with furniture companies. The only difference is that furniture companies are sawing materials in their production, and you take ready-made parts by paying for sawing and pasting. Everything is ordered, no manual work !!!
2. Facade.
Facades are also made in factories or in specialized workshops. All furniture makers order them. Few of those who buy a machine worth 2,000 euros and fill a warehouse with multi-colored raw materials in order to make facades for their production.
So you are again on an equal footing with any furniture company. And you, and other furniture makers will never do them yourself - just order.
3. Table top.
Countertops are also made in huge factories, of which there are only 5 pieces in Russia. In each city they have representative offices. So when you buy countertops, you are on an equal footing with everyone.
The fact is that all countertops are sold in three-meter canvases, and its width in the standard version is 60 cm. But any other size can be ordered. You can also choose any color, there are more than 50 of them.
The only problem is to cut off exactly, to the required size. This problem is solved in the same place where the chipboard is made. Saw the required size of the tabletop costs 20 rubles for one cut.
4. Accessories.
Accessories include: handles, hinges, hem, hinges, screws, ties, guides, chrome pipes, drying, etc.
Accessories sold any and in any quantities. It is only necessary to find the point where it is sold.
You can buy anything, if not available, then brought to order. You will have access to all the same fittings as the furniture makers. They also buy everything in a specialized store selling furniture accessories.
5. Glass.
Glass is cut in glass workshops according to your size. They gave the application with the name of the glass and the size, received the finished glass. Not difficult, right? Everybody knows it. But not everyone knows that I have listed above ...
6. Lamps.
I think that each of you saw departments for the sale of different fixtures. They sell furniture and fixtures. All furniture makers use these departments.
7. Wash.
I think you met departments for the sale of different washes. They probably even asked themselves the question: "Who needs them, who buys them?" In most cases, furniture makers buy.
8. Technique.
Ovens, overhead cookers, hoods are bought most often in Eldorado or other stores selling household appliances.
The beauty of shopping in Eldorado is that the owner of the future furniture can choose the technique that he likes more regardless of the price, and of course arrange a loan for it, which will make the furniture more accessible. And it is cheaper, and you have less problems with the purchase.
As for the installation, there are special standards for embedded equipment. There is no difference who the manufacturer is - the external, the installation dimension will always be the same. And always to such a technique is attached detailed installation instructions and preliminary calculation of thumbs.
What then does all this make of it?
All that you need is to drill holes for the eurobolt to assemble the furniture, install all the necessary accessories, handles, hinges, guides.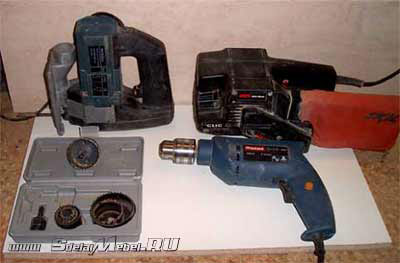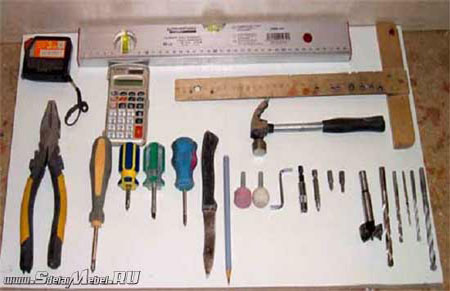 Do not think that this is a great complexity, everything is done quickly and easily. All modern fittings today meet the following rules - quick, easy installation, reliability, excellent regulation.
Today, there are many factories for the production of furniture accessories and they are all in competition for the consumer, and the consumer is none other than a furniture manufacturer. What does a furniture manufacturer need in the first place? So that the fittings do not cause troubles during its installation and be reliable, so as not to spoil their reputation ... He will not buy another ... Therefore, they do it now differently than in Soviet times ...
Fasten hardware easily and quickly. Speed ​​and quality - the key to a successful business.
Assume:
- to install the hinges on the facade, install the facade itself and adjust it, without prior preparation for drilling holes, you need to spend 2-3 minutes;
- to fasten the handle, you need to spend 1 minute (drill two holes and tighten the screws);
- mark and drill holes, assemble the locker - 10-15 minutes;
- drill a hole under the lights and insert the lamp - 1-2 minutes;
- cut a hole in the tabletop under the sink - 15 minutes (put the sink, circle the outline with a pencil, cut a hole with a jigsaw and fix it on special snap-in fasteners.);
- saw off with a hacksaw the necessary piece of chrome-plated pipe - 2-3 minutes;
- fix the chrome pipe with flanges - 3-5 minutes.
Well and everything in such spirit ... All this can be made in any garage, on a balcony or in general on the place in the apartment.
Say, in order to assemble the kitchen you saw above, you need to spend a maximum of 5-7 days (or donate three weekends) - starting with bringing in the material, ending with the installation of the finished product.