Home business. Its carpentry workshop.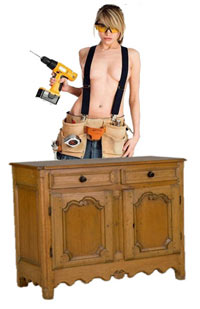 I want to share with you the option of home business, which for me has become a matter of my life, the main source of income. And the income, I tell you, is decent.
Since 1994, I have been involved in the carpentry business in the scale of a home workshop. It is simply amazing that we live in a country of middlemen and state employees. People will go to someone else's production and earn a small salary or take the finished product and sell it to the next by making a penny. And this order of things suits them !!! But it is obvious that having your own production, you will earn much more.
At the same time, independence is complete. Recent events ... For whom hit the financial crisis? Intermediaries (most businessmen) are squeezed out completely. Big companies ... They are sad without credit. Ordinary workers have massive reductions. And what about the small artisans. Yes, I am glad the crisis! Against this background, even invited a few more people to work (this is against the background of cuts).
What are the advantages of their carpentry? This business is your personal, in your territory, depends only on you and slightly on external factors. Absolute financial freedom and independence!
Woodwork products are natural wood, which is always in price and in demand. Well, people can not (in any crisis) do without windows, doors and furniture. And note that it was so, it is and it will be so. Once you start this business, you guarantee yourself a cash flow for life!
Another huge advantage is, as I said above, that our country is not artisans. Ie, you will not find much competition in this sector. But what about the factories, you ask ... Yes, the fact of the matter is that the factory needs a huge turnover for its existence, and so many buyers are not needed for personal carpentry.
For example, you made 10 doors. It will be difficult to implement them? Yes, I assure you, they will even leave the market for 1 - 2 departures. And this is about 30-40 thousand rubles. Tangible profit for ten days of work? Yes. What are 10 doors for a factory? At the same time, the factory cannot do exclusives - the machines are tuned to a specific model and the conveyor is working, you can make each product individually, which adds tremendous weight to the product in a series of faceless counterparts. Accordingly, your goods will be more in demand.
What do you need to run your carpentry business? And again, sheer advantages ... You can start both with a small investment and without it, investing only your work and time. A small room and a number of machines, which for the most part can be made by yourself.
A basement, garage, shed will be suitable for a workshop ... At one time I even just allocated one room of my house for this.
But ... these are the details that cannot be covered in the scope of this article. Here I just want to give you a reason for reflection. Ask me which business is the easiest and most profitable? Without hesitation I will answer - my own woodwork! If you like the idea, write to admin@biztema.ru .