Creating an arbaletno-ray shooting gallery.
We do not pretend to originality in this matter, but simply want to share our experience in implementing such a business idea that we have gained in practice. Perhaps someone will choose a different path of development. We initially proceeded from the principle of minimum investment and maximum efficiency! So let's get started.
What was it for?
We decided to organize a crossbow shooting gallery because:
- it was very interesting for us to shoot from this exotic weapon (on the first day we went into the forest - we fired crossbows all day, then we checked the range of his shooting and as a result ran afterwards in the forest looking for arrows);
- during the implementation of this business idea, we wanted to receive additional income in addition to our main income;
- we had for this free time in the form of weekends (Saturday and Sunday) and holidays;
- we had the opportunity to invest a small (very tiny) amount of money in this business.
How to start the process of organizing crossbow shooting gallery?
Any idea, and even more so related to business, requires thinking in the company of like-minded people. Because it will be hard for one to organize all this. We have attracted many of our relatives to this case.
The idea, originally, came from Emilich, during a meeting with a childhood friend who, during memories of childhood, when it came to who had what guns, sikalki, bows, crossbows did and what of them shot, told him about that recently in the neighboring town was in a crossbow dash and shot there with a crossbow and he liked it very much. Emilich shared this idea with me. And the idea of ​​our small business was born. Everything spun ...
To begin, we decided to explore the issue. We climbed on the Internet (just like you are now), but not finding anything worthwhile there, they began to try themselves.
The first idea was to organize a stationary shooting range, renting some basement room. But, having studied the rental rates and having calculated an approximate business plan in the mathematical model, they decided to abandon this idea. Call it a business idea could be a stretch.
Because:
1. Rent payments are very high - and a large area is required, because space is needed for shooting lanes, as well as to accommodate visitors (at least 100-120 square meters in total);
2. Significant investments are needed in repairs and finishing (which we did not have);
3. The market is not known, so it is impossible to calculate what the profitability of this business will be;
4. The stationary place requires constant presence or, in extreme cases, hired labor (which again must be paid), and we did not intend to give up the existing work that fed our families.
As a result, the first working idea of ​​our small business is to purchase the minimum set of equipment necessary for shooting from a crossbow, add to it absolutely cheap themed toys ( children's bow, children's crossbow, slingshot, darts ) and make an exit crossbow shooting gallery. Even if it does not trample, we thought, we will have crossbows of which we ourselves can shoot during the rest, so that we, thanks to the minimum investment, did not lose anything.
What did we buy to organize crossbow shooting?
Basic equipment. That without which it is impossible to organize a crossbow shooting gallery.
We bought all this from the organization that owned the current shooting range in the neighboring city. Otherwise, where could we get the idea of ​​what is needed for crossbow shooting, and what should be included in the initial set for organizing our business - a shooting gallery? And at this stage we have overpaid for some goods. In particular, crossbows, shooters (shields), a grid, paper targets could be bought much cheaper. But what to do? Everything comes with experience (at least now, in the store , prices are much lower than those presented).
However, this is not all that is needed for the organization of crossbow shooting gallery. It is also necessary to arrange it, put on instructors, put crossbows and arrows somewhere, and also entertain the children of the shooters, who are always plenty on the festivities.
All this we purchased in various stores. Clothing for instructors took camouflage. This is close to the shooting theme, and it is very convenient to use.
Now you need to talk
on the legal form of small shooting gallery.
We did PI. The idea of ​​choosing this form for our home business was based on the optimal level of registration costs, subsequent tax deductions and reporting.
Taxes The type of activity in which we operate as the Shooting Club "ROBIN GUD" is 71.40.4 (OKVED code) Rental of equipment and equipment for leisure and recreation.
This type of activity falls under the category of services to the population (code according to OKUN - classifier of services to the population - 0194064 - Hire of sports, tourism, games). Services to the population are subject to a unified tax on imputed income. Those. a fixed amount of tax, the increase of which depends only on the number of people working in the club. And so, the amount of tax is fixed and does not depend on the income received. The amount of taxes in the quarter about 2000r. If some months are not working - the amount of tax is reduced accordingly. Reporting is also quarterly until the 20th day of the month following the reporting quarter. The idea of ​​minimizing costs in the framework of small business was gradually put into practice.
So. Register IP and buy the necessary detail.
Separately about the tickets. Tickets are needed! These are forms of strict accountability, replacing the cash register, which must be diligently maintained so that there are no problems with the tax. In order to book tickets, you must take a copy of the Certificate of Registration of the PI and a copy of the TIN and contact the printing house, which has the right to print strict reporting forms. You need to order forms in the form BO-9 and BO-11. BO-9 is the "Cash Receipt Cash Record", and the BO-11 is directly the tickets, or rather the coupons, which you will give to clients in return for the money received from them. On the procedure for applying forms of strict reporting forms, see Resolution of the Government of the Russian Federation of May 6, 2008 N 359.
Arbalet shooting layout
Optimally, we determined the following layout of the exit crossbow shooting gallery: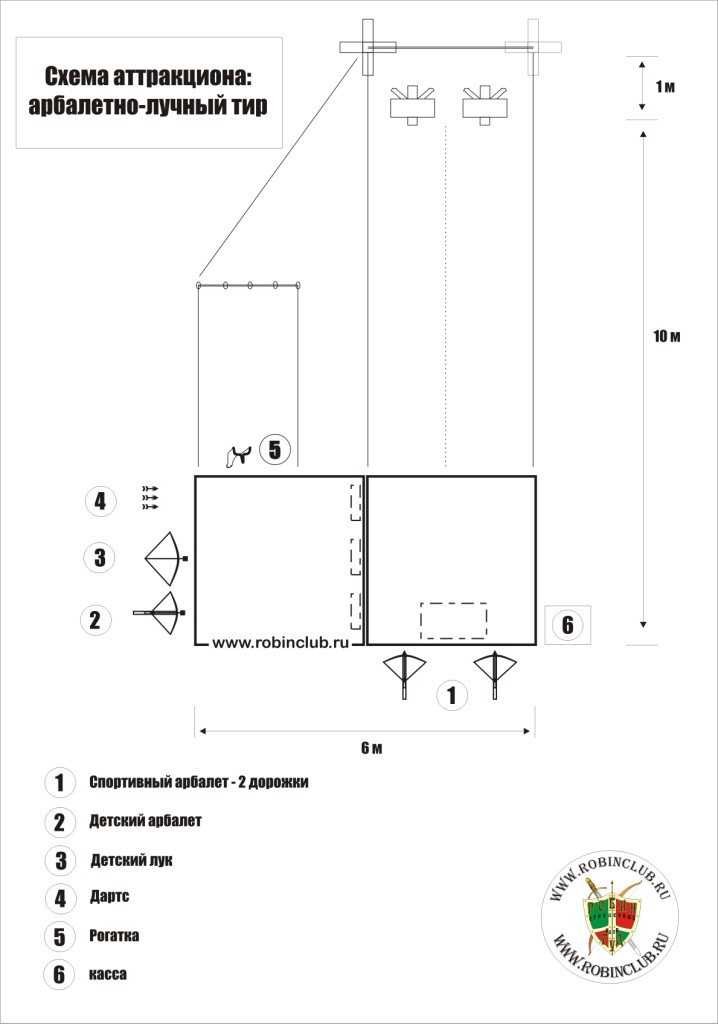 Shooting crossbows at a distance of 10 meters. From children's bows, crossbows and slingshots from a distance of 3 meters. For darts, 1-1.5 meters is enough. Two small squares on the scheme are collapsible tents-tents 3x3 meters. Children's targets are mounted on the adjacent wall located between the tents.
In life, it looks like this:
Security is provided by a wolfberry, or a special ribbon, which is stretched along the perimeter of the shooting range, as well as a vigilant instructor's vigil.
As an advertising sign, we, as seen in the photo, used a 1x6 m banner.
Racks for mounting the grid and tripods for the location of shields, we had to design and make ourselves.
The photo shows how the grid is attached to the rack, as well as the tripods on which there are shields.
The height of the pins supporting the arrow-guiding shields is chosen so that the shield does not fall backward from hitting an arrow. Given that the size of the shield is usually 50x50 cm, the distance of the pins from the top edge of the tripod can be about 60 cm. The width of the shields may vary depending on the material used to make the shields. In our case, this is a leaf izolon. The width of such a shield does not exceed 20 cm, thus, the length of the pin can be (taking into account its attachment to a tripod) within 25 cm.
Now you have everything you need to organize a crossbow shooting gallery.
The question arises: what to do now with all this?
Firstly, we would recommend to run in the idea of ​​a test exit. Such a practical business approach will immediately reveal many additional details. For example, it is necessary to imagine what time it takes to load all the equipment into a car, what kind of car is needed and how to transform it so that everything fits. We have 3 instructors and a set of equipment fits in one Japanese-made car - Mazda Demio (in this composition we traveled 400 km from Kazan to Agryz and Izhevsk on the day of the Railwayman). It is important in practice to understand what place is needed in order to place an arbalet shooting gallery, and how much time is needed to put all this into pieces. In general, the idea is that the situation should be as close as possible to the "combat". After this departure, there will be a whole list of small things that you need to take with you the next time: scissors, knife, electrical tape, screwdriver, tape, etc.
Now we will try to make money on a crossbow dash.
There is no need to go far for a business idea of ​​earning an income. In any region of Russia, in any of its locality there is a whole list of holidays that are celebrated by mass celebrations. Holidays our people love and know how to celebrate. In addition, there are weekends when people like to relax in the parks, and in summer also on the beaches. Therefore, depending on the time of year, it is necessary to determine which event is the closest such as: Maslenitsa, Victory Day, Sabantuy, Police Sabantuy, Petrov Day, Railroad Day, Builder Day, Navy Day, City Day ... and many, many more such days ... (( for those who do not know "Sabantuy" is a national holiday, which is carried out after the end of the sowing season, these are folk festivals in which village workers, and now townspeople, compete in agility and skill, and the main event in Sabantuy is belt wrestling).
We started our activity from the departure of May 9 to the Pestrechinsky district next to Kazan, and there, in the district center, on the square where all especially significant events are held, staged an arbalest shooting gallery. We paid for the rent by buying in the store children's darts worth 200 rubles. and presenting it to the head of the district culture department. Agree on this was not difficult. Having called a week before the event in the local department of culture, we presented our sports and entertainment attraction and made an appointment to determine the location on the spot. We traveled, looked, chose a safe place, discussed the gift and approved the time of our arrival on the appointed day.
Considering that there was almost no other entertainment besides us in the square, with the exception of the traditional children's and youth concert, as well as barbeque rows, the client did not take long to wait. Moreover, the children's sector (as we call the totality of children's attractions: a children's bow, a children's crossbow, darts and a slingshot) brought about the same income as the adult sector (respectively, two lanes of an adult crossbow).
Now is the time to talk about security.
Choosing a place for the location of the shooting range, you must choose security between profitability and safety, otherwise no profitability will please you later. Business business, and safety should be in the first place. The idea is that if you can't safely place a shooting gallery in the most crowded place of a mass holiday or public place on a day off, then you need to choose a safe place, and send a stream of people there using various types of advertising and promotion (in this case we simply took a crossbow, put him on the shoulder, and how the Eastern barkers went to the people, in ten minutes our line had a line).

What does a safe place mean?
1. This means that in the direction of shooting from an adult crossbow, behind the net and on either side there should not be any paths, places where people can walk or sit on a picnic and especially cafes, summer verandahs, etc.
2. Next to each shooter, there must be an instructor who must be ready at any moment to correct a crossbow that is jerked toward, directing him towards the targets, and accordingly the grid. This is especially true closer to the end of the holiday, when the people are excited by the drinks begins to show excitement. Here our spotted form begins to play its role. Since our people are genetically respected for any military uniform.
3. For security reasons, it is necessary to refuse the most drunken citizens in crossbow shooting, and also (we say this is an exodus from practice) to children under 10 years of age. Since they both do not adequately perceive the situation, it is impossible for them to explain how and where to aim and what cannot be done.
4. Any teenager under 16 must shoot only with the participation of an instructor. The instructor holds and directs the crossbow towards the targets, the teenager aims and pulls the trigger. At the same time, it is most convenient to shoot from the table.
5. It is desirable that the arbalest cocked the instructor off the fuse. This is done only when the client has aimed and is ready to shoot. The instructor unlocks the crossbow, ready at any instant to correct the crossbow in the right direction.
6. Each new client should briefly talk about security measures, show how the crossbow is cocked, how it is charged, how to aim, and how not to hold fingers.
7. Remove the arrows from the targets can only instructor at the same time loudly announcing to everyone: DO NOT SHOOT! At this time, the second instructor must ensure that no one cocks the crossbow. It is advisable to keep on the table a limited number of arrows, for example, three for each crossbow. This makes it easy to control the number of shots and the arrows themselves (we had a case where an arrow was picked from the table).
What kind of income does crossbow shooting bring?
Now you can about the most interesting. What income can be obtained by organizing an exit crossbow shooting gallery, using the idea of ​​such a small business described in this article?
The revenues of an exit crossbow shooting gallery consist of two parts: work on cultural events, work on corporate parties, work on weekends.
At cultural events. Here income is generated from the sale of tickets. Prices for shooting are well established: from an adult crossbow 3 shots - 50 rubles, 1 shot - 20 rubles. Rent a track for 1 hour 1000 rubles.; from a children's crossbow and a bow 3 shots of 30 rubles; 1 shot - 10 rubles; from a slingshot and darts 3 shots (throw) - 10 rubles.
MANDATORY at the same time, you must have prizes! We gave out prizes according to the following principle: in an adult crossbow - when typing 50 points with 6 shots.
Usually a person starts shooting, it turns out well, picks up from the first three shots, for example, 26 points, and in the excitement he buys three more shots ... and receives a gift worth 10 rubles! the goal was achieved, the man enjoyed shooting and the prize, and we got more money. In the children's sector, prizes are awarded on the same principle, but there you can earn them from three shots. Only the goal for children is better to set more understandable. For example, from a crossbow twice to get into the center circle, or with a slingshot with three shots twice to hit the banks.
The cost of prizes is approximately 10% of ticket revenue.
Thus, in one day, at a holiday, you can earn from 5 to 19 thousand rubles. (figures from practice). Why not a small business?
On corporate events. To get an order for corporate events, it is necessary that the decision-makers on the organization of such events find out about the exit dash. Firstly, these are holiday agencies, and secondly, they are heads of enterprises.
A good promotion is the distribution of business cards at public events. Give people business cards and say that you can invite your shooting range for any holiday, be it a corporate party or even just someone's birthday.
In order to increase the chance to receive an order, you must advertise. Any business idea should be supported by promotional activities. Advertising can be given in specialized publications or in free newspapers, it all depends on the budget.
One hour of corporate party we have is 3500 rubles., Each subsequent 500 rubles. cheaper, i.e. 2nd hour - 3000 rubles., 3rd hour - 2500 rubles. etc.
On weekends. On weekends, especially in summer, our people do not like to stay at home. Beaches and city parks - a place where you can relax and make money at the same time. Income here as well as at mass events is ticket sales. However, the income here is somewhat less than at public events, because less people. But you can talk with people in more detail and get acquainted with lovers of exotic weapons, role players, reenactors, etc. They can be your regular customers in the future.
In general, the exit crossbow shooting range is a very interesting activity, unless you are going to receive income only from it (for this you need to make a stationary shooting range). Combining the main work with the exit shooting range, you can have a good rest in the open air on weekends and holidays, as well as make good money. During the first summer, we managed to recoup our equipment purchase expenses three times.
Online store of crossbows, bows, pneumatics and accessories, with delivery all over Russia without prepayment.