Tinted auto glass.
Car tinting is one of those businesses that can be organized with minimal investment of money and time.
What is necessary for business organization:
1. The room
2. Equipment and tools
3. The minimum range of tint film
Consider in more detail each item and calculate the investment.
The room
The room in which you plan to do tinting should be warm and clean. Dusty or near the dusty production facilities do not fit - the dust will constantly fly under the film and the quality of toning will be terrible. Of course, there must be electricity and preferably water.
There should be enough space for at least one car, for the future, of course, preferably two. Also, plan in advance the space for the film cutting stand, stand or table for storing tools and film.
It is also good that the room is near a busy highway, car dealerships, autotechcenters, garage cooperatives, etc. Then it will be easier to advertise your services.
The room can serve as a garage, and a specialized box. Look for ads for the rental (sale) of such premises, now many garages are being rented. Boxing is usually harder to find.
We assume that the first time you rent a garage to save.
Estimated rental price: 1000-10000 rubles.
Equipment and tools
You will need to equip the room with a film-cutting stand. For example, such: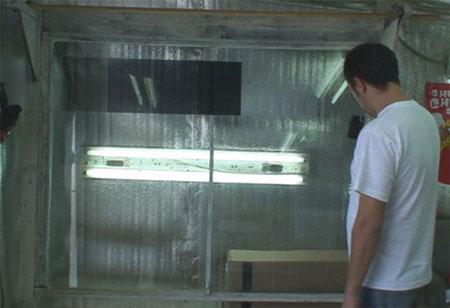 As you can see, there is nothing complicated in the design - it looks like a regular window and it will not be difficult to make one yourself. The width of this stand should be equal to the width of the roll of the tint film - 1.52 m. At the top of the stand, provide a place for a pole on which you will hang a roll of film, so it will be easier to cut. Behind the stand, behind the glass, place fluorescent lamps to highlight the film when cutting.
By the way, on the glass of the stand it is very convenient to stick samples of the films with which you work.
Probably all the necessary materials for the manufacture of the stand you already have.
Estimated cost of the stand: 0-1000 rubles.
Now at prices:
- Chizler - 5pcs * 40r
- Distillation TURBO - 1pcs * 300r
- Knife OLFA - 1pcs * 250r
- Replaceable knives for OLFA - 1up * 800r
- Squidage - 2pcs * 60r
- Angle Distillation - 1pcs * 150r
- Slammer - 1pcs * 400r
- Metal holder with forcing - 1pcs * 550r
- Blade holder - 1pcs * 300r
- Replaceable edges - 1up * 1000r
- Sprayer - 1pcs * 1000r
- Shampoo - 1pcs * 100r
- Hair dryer - 1pcs * 2000r
Estimated cost of a full set of tools: 7200 rubles.
The minimum range of tint film
If you have the means to purchase several rolls of film (for example, the cost of one roll of LLumar film is ~ 13,000 rubles), then you can read the next item right away

Here we look at the option where to find the film by molding. Most distributors of dubbing films in Russia have an extensive network of regional dealers, from which you can purchase the film in rolls or, as a rule, in running meters. Such dealers, as a rule, are car services, purchasing film in large volumes. They have something you have the opportunity to first buy the film in small quantities. Approximately, the cost of 1 item.m. film will be 500 rubles. (Llumar).
You can take 2-2.5 rm. (on average, so much is needed to tint one car without a front cabin) of the three most common names: 15-ku, 5-ku and 35th (% of visible light transmission), so that for the client, at first there would be at least a minimum range.
The estimated cost of the minimum range of films (3 types): 3000-4000 rubles.
Investment counting
According to the three previous points for the rental of premises, tools and materials you need: 11000 - 22000 rubles. The reason for this variation in the cost of rent for the room that you find. Of course, it is unlikely that you will find a good garage for 1000 rubles, but anything can happen ... Of course, we have not calculated advertising costs and expenses for registration of individual entrepreneurs, if you do not have one. Here everyone decides for himself. Registration of IP, if you use the services of law firms, will be 1000-2000 rubles. For this money, they will prepare all the necessary certificates and documents for you, which you will need to carry to the tax office. For advertising costs, this is at one time - a sign, a pillar (for example, put at a busy highway), business cards. Prices for the manufacture of all this can be found in one of the advertising companies in your city.
Payback
On average, 100-150% of the film cost is charged for the rendering service. On one car goes 2-2.5 rm. film. Those. your profit from each car, an average of 1000-1500 rubles.
To recoup the initial investment in tools, garage equipment and the cost of the initial purchase of the material, you will need to paste over just 6-7 cars.
To pay for rent monthly paste over 1-5 cars.
Pasting 2-3 cars a day is quite realistic.