Production of shaped chips.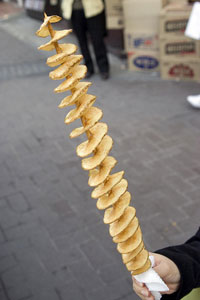 Who doesn't like chips? I think these are not fans of chips, there are not many. Chips are loved by both adults and children. Five years ago, chips were the most popular type of snack in Russia - they were consumed by 60% of domestic consumers. The business of making chips is very profitable, and you yourself can see chips on television every day, obviously companies are not in trouble.
Now in Russia quite a few brands of chips are sold, including domestic ones. Lines for the preparation of this product are installed both at large enterprises for the processing of potatoes, and become the basis of small industries. The fact is that it is possible to get involved in the manufacture of chips at different stages and make them using different technologies - the amount of invested funds and the volume of production will depend on it.
You can set up your small business for the production of chips, and at the same time withstand fierce competition, you can use to give the chips an original shape, for example in the form of a spiral. Cooking curly chips right in front of customers in a few seconds! Such an idea will attract to the circle of your store a lot of people, and therefore buyers!
In order to start a business of producing original chips, you need:
- find a point suitable for work,
- purchase a special apparatus for the production of figured chips,
- purchase a gas or electric fryer,
- equip point,
- buy potatoes, spices, butter.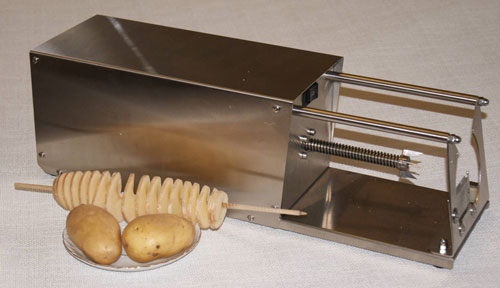 The cost of an electric machine, for the production of chips, ranges from $ 700-1200. But in order to save start-up costs, you can purchase a manual car for $ 150 or even make it yourself. This option will even be most beneficial in places where there is no electricity using a gas fryer. And in place of the handle, you can attach a cordless screwdriver.
At the moment, the market for curly chips is absolutely free. You can open a point in any place with a large traffic flow: shopping centers, parks, busy streets, station squares, large supermarkets, cafes, cinemas, zoos, etc. You can not even open the point from scratch, but put this equipment in a working fast food point or in a brasserie, for example, or lease it.
The cost of one serving of chips is about 1 UAH. And the retail price is 5-6 UAH. In a crowded place without problems, it is possible to sell about 100-150 servings. Well, you can estimate the monthly profit yourself.