Decoration of bottles and glasses for the holiday.
"I recently arranged a holiday dedicated to the anniversary of the wedding. I wanted to make him memorable for my husband! All bottles with alcohol should have become a sign, i.e. remove the labels and attach your own with our photos. The same nakleechki attach to glasses and glasses - in general, so that each thing was imbued with the spirit of celebration.
A lot of resources found on the Internet - some offer the manufacture of such labels for a lot of money (700 rubles.), Others skip the templates of images and say that you can print yourself on self-adhesive film. I decided to try to print it myself, it turns out pretty pretty, but it looks very cheap - that on plain paper, that on self-adhesive paper - there is not any "zest".
I began to look for what else I could try to print, so that it was beautiful ... I remembered that once in my childhood there was such a label - translation, ie, you cut off the desired nakleechku, soak it and put it on the surface (then it was a refrigerator) !!! She began to look for and found the right material.
My joy was boundless, I found what I need !!! Decided to use this find for the holiday. Imagine the shock of her husband and friends when they saw the dishes and bottles, decorated with our photos!))) It all went well, my husband was happy !!!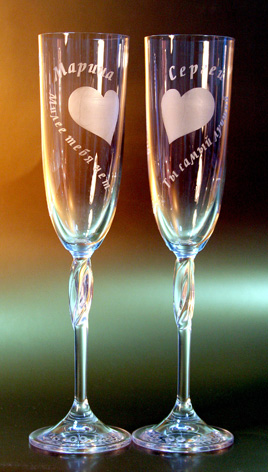 This was the beginning. A few friends have already asked me to organize wedding parties and anniversaries. My financial trickle began very suddenly to turn into a big river!
On this my fantasy did not stop, because from this material you can do wonders !!!
Firstly, there are different thematic parties in the clubs. The material can be used for decoration of bottles, glasses, wine glasses. Or, for example, at the bar counter or on the wall to lay out the name of the party. The party will be much more memorable and will make a unique impression !!! This can be offered to companies organizing events or directly to clubs.
Secondly, the ideal solution for souvenir products. Now I want to prepare for March 8, offer companies the design of bottles and flowers (drawing images on them). I think many organizations will want to make their women pleasant - to give, for example, a rose or a bottle of champagne with the company logo.
So the preparation is in full swing. I hope that everything will turn out! I will be happy to answer questions!))) "

Author: Ольга