Hollywood will help you become rich!

Dear business colleagues! You are one of those who make our world a better place, and much of the good that surrounds us today was born only thanks to your dreams, work and perseverance. And it deserves respect. And I will be glad if the foregoing helps one of you become even more successful. Over 20 years of work in business, I have implemented more than 12 interesting business projects. Each time it was something new, which at that moment was not yet on the market and each subsequent project was more interesting and larger than the previous one. As far as I remember, I always chose a new business not by logical thinking, but, as they say, by heart. Perhaps this is the main reason for the success of all my companies. Achieving high results is easy enough if you like what you do. Then instead of tedious work, it becomes an interesting game that brings a lot of pleasure. The feeling that I have when I see a decent product, or when a great business idea suddenly comes along, looks like the excitement and excitement that a player experiences before a big exciting game. That is the feeling I have now. Indeed, today a unique product has been found that is new to the CIS market and a great exciting game is beginning to be connected with this product. I'll tell you how it all happened. This is an interesting story!
Last year, ending a deal to sell two of my companies, I intensely searched for what to do next. I could not imagine life without a new game, therefore I was actively searching. When starting a search for a new business, I usually try to imagine what I want and how this business should be, formulate and write down everything as clearly as possible. Good method, try. It allows you to better understand yourself and not rush from side to side during the search, as well as to avoid unpleasant errors, loss of time and money. That's what I got this time. So I saw my next business:
• The product is very interesting, it has a bright novelty, it attracts a lot of attention. This is not yet in the CIS countries and the market in this area is empty.
• Business profitability is high , investments pay off quickly (within 5-8 months). No need to create your own production, purchase machines, build workshops, investing a lot of money in it.
• Promotion and business, does not require a large number of employees.
• The market is already prepared, and this product is accepted by him quickly and easily.
• The business associated with this product allows other people to participate as independent partners. They can earn good money and be the 1st in the market of their region.
• Business and product allow a lot of creativity; it can be constantly developed, improved, released new versions, etc.
As you can see, the picture was clear enough. The search was active, and a lot of options came, but, none of them fit my description, there was always something important missing. Frankly, I was already starting to worry. Really, I think the crisis of the genre has come? The situation was resolved completely unexpectedly, during a short tour in the USA that I made with friends. The trip program was intense. It included participation in a major business conference, various parties and meetings, as well as visits to many cities and interesting places, including Los Angeles, Hollywood and the world-famous "little movie universe" - Universal Studios. It was there on its territory, almost in the very heart of Hollywood, that I saw the subject of my today's story, at that moment still hidden behind the backs of a large crowd of laughing people.
Wondering what it was there that provoked such stormy emotions, my friends and I began to burst forward and, approaching the epicenter of the crowd's attention, saw a pretty compact mini-studio in which two teenagers of 15 years old sat on round chairs. Both had bright green shawls tied around their necks. All this looked unusual and resembled a show. The people around the studio smiled broadly, and the teenagers, all in anticipation, did not take their eyes off the camcorder aimed at them. There was a general anticipation of something unusual and very interesting in the air. The image from the video camera was broadcast on a large monitor, on which I have not yet seen anything outstanding except the smiling faces of the same two guys. And now the cheerful music began to play loudly, the teenagers smiled even wider, and looking at the camera they began to actively move their heads, make faces and sing along. There were explosions of laughter! I strained my eyes with all my strength, but, just as I could not figure out what everyone was laughing at, I even started to get a little angry. And then, looking from teenagers to the monitor, I simply could not believe my eyes, seeing on the screen all the same two guys, but already in the guise of cool machos, beautifully dressed and professionally dancing to a Latin American hit. Right in front of the whole audience, these teenagers sitting on highchairs somehow transformed in an incredible way, and suddenly turned out to be the main characters of an amazingly fun musical video clip with changing scenes. It was something! Having finished shooting, the young men got up, went to the cameraman of the studio and got DVD discs in a beautiful bright package. As I found out later, their star debut was captured on the discs.
The next who cheerfully walked to the highchairs in the studio were a granny of 65 years old and her companion a little older. They chose the composition of their future video (there were more than 40 options) and after a few minutes everyone saw the same granny on the big screen but with a chic bust and slender legs lighting up to the popular hit of Elvis Presley. Nearby, her grandfather danced in a chic tuxedo. People standing around just cried with laughter! Meanwhile, I, completely captured by the spectacle, began to think in my mind the prospects for this business, realizing that the topic is excellent, and there is nothing like that in the CIS countries. And when I mentally looked through all the items on my list and compared them with what I see in front of me, my breath caught in my throat. I realized that this is what I was looking for. Of course, my friends and I also took the turn, paid $ 20 per record, and soon wiping the tears of laughter from our eyes, we received video clips with our participation. Later, I probably showed the clip 100 times to my friends and acquaintances, carefully watching their reaction. Each view was accompanied by friendly laughter and the questions "Where can this be done?"
The decision to do this business was made without any hesitation. The circle of potential customers was obvious. I reasoned like this ... In any place where there is a stream of people, interest in such a studio will be huge, this is a fact. But there is one subtle point - you need to somehow be able to maintain the exclusivity of this incredibly bright product that attracts so much attention and causes so many positive emotions in people. Therefore, it is important that it in no case be easily accessible, and not offered at every corner to everyone, but only served in "special" cases. Then it will be in the hat. I did not have to rack my brains for a long time, the decision was obvious. In any of the cities, hundreds of various kinds of "special" occasions occur every day - holidays and corporate events, weddings, birthdays, anniversaries, parties, festivals, new restaurants, shops, clubs, etc. The movement is unreal! Each organizer wants to enthrall his guests, impress them, somehow surprise everyone, stand out ... but with the novelties it's a little tight. And here is a show! Yes, at any of these events, guests from this studio will simply break.
Returning to my homeland with such thoughts, I immediately contacted the developer and manufacturer of this product, DH Recordings, and received confirmation of my thoughts from them: studios are really very popular at holidays and various events in the USA, Canada, England and many other countries of the world. Even more inspired, I continued to communicate with company representatives, but unexpectedly ran into a serious barrier. It turns out that the studio was not so easy to buy, and they were not sold to everyone. The reason was simple. The company, as a well-known Hollywood brand in many countries, whose clients are world-famous stars such as Paris Hilton, Hugh Laurie (Doctor House), David and Victoria Beckham, Hugh Hefner and many, many others, was reverent about their reputation. and took not everyone under his banner. Over time, I even liked this approach. But, I think, product exclusivity is maintained, and that's great. I will not stay long in this place, I can only say that negotiations with DH Recordings were not easy. Fortunately, I had enough business merit, including to the American industry, so after a while my request was approved. As it turned out later, this was the first and only approved request from the many previously received from the territory of the CIS countries. Hooray! I was able to purchase the first ten studios. Probably, the child is not waiting for Santa Claus with gifts as New Year's Eve as I was waiting for my studios. Having received the cargo from customs, I could barely endure it, while the technical experts collected and set up one of them. And finally, everything was ready, the music began to play, and I again experienced the magic of turning into a pop star!))
The work has begun. We quickly made a presentation of the Hollywood novelty, set the cost of renting a studio with an operator from $ 400 to $ 1,500 (depending on the time of its work, day of the week, etc.) and launched the promotion flywheel. The very first event (Mary Kay VIP party) for which the studio was ordered confirmed all my calculations. Despite the fact that VIP party guests saw a lot in their lives - it was a splash! The reviews of guests and organizers were enthusiastic, and the studio became the highlight of the entire program. During the month, we catered for several more parties, birthdays, and various presentations. The rumor spread quickly and the number of requests from customers grew by leaps and bounds. Otherwise, it could not be because every guest of the event where the studio worked left with such a gift, which he then necessarily showed to all his relatives, acquaintances and friends.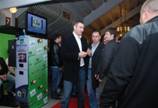 The appeal of the Hollywood brand immediately manifested itself in great interest to us from serious customers and the media. We didn't have time to blink, as at many of the VIP events held by real stars of the market and show business, the audience began to see our studios more and more often: at a party organized by the Yalta Intourist hotel, as a gift to guests at the party of the well-known travel company Turtess "(On which we worked before and after the closed concert by Ani Lorak), on the morning show of the XIT FM radio station, on the sensational boxing show of the Klitschko brothers company - K2, etc. Already in the second month of work, our income grew three times, and none of the company employees was even surprised when planning for the day work of 4, 5 studios at several events at once.
Only a few months have passed since the launch, and the feeling is that for several years, everything was eventful. Today our company is the exclusive distributor of DH Recordings in the CIS and Baltic countries, and now we have the opportunity to connect partners in various regions to the business, which, as you remember, was provided for in paragraph 5 of my plan. The principle is the same - not everyone can fall under the flags of the brand, the company has high requirements and the selection is tough. First of all, applications from candidates with work experience and communication in the event business or related areas (advertising, restaurant, organization of exhibitions, concerts, shows, etc.) are considered. But in any case, we will be sincerely glad to cooperate with creative and successful people worthy of the reputation, attention and respect that this business brings to its owners. Such people will share the CIS market among themselves, and we will be happy to help them in their work, pass on successful experience and knowledge, and provide technical support. So, if you like the direction itself and like a bright interesting game in which you and your business will be in the spotlight, feel free to contact and send your application to the company email : dh@it-mark.net
Respectfully,
Andrey Timoshenko,
President of the CIS and Baltic DH