Create posters "oil on canvas" from photos.
Good day!
My name is Michael. I have been fond of photography for a long time. There were also commercial works (weddings, parties). Recently I discovered another field of activity. One friend, dreamily looking at one of my landscapes, said that she would not refuse to have such a large picture, painted in oil on canvas, in her living room. But, unfortunately, to order a painting the artist will be very expensive ...
I had an idea to solve this problem without attracting the artist. I climbed the Internet searching for a photo processing algorithm to give it the look of "oil on canvas." I found several algorithms, but after testing them in practice, none of them I liked ... I had to experiment and invent my own. And it turned out! Both the customer and I were very pleased with the result! After that, I was ordered by posters "oil on canvas" already her friends from their favorite (or my favorite) photos.
In the process of searching for information on turning a photo into a "canvas" found in one of the magazines "Photoshop" for 2000. Description of the method as a real, real photo printed in the photo salon, make a thin and with a special device paste on a real canvas (sacking and etc). But, this is a way for people who are very fond of working with their hands. In addition, there is a problem that a real photo is glued to the canvas, but they are not recommended to be kept without a protective glass. And if you put such a glass, then all the charm disappears from the "canvas" texture of the image. Both my shortcomings are free, the way I use it, and which does not require fine manual work (and in general no manual work!).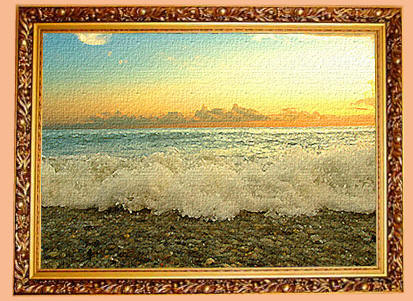 A little about the economic feasibility : it will cost you the creation of one poster "oil on canvas" with an area of ​​0.5 square meters at about 800 - 1000 rubles (depending on the scope of the "picture"). A standard Chinese poster in a store with a standard storyline costs about 1200 - 1600 rubles. But, since you will do your work on the ORDER with images in which the client is especially interested, he willingly pays for them 2000 - 3000 rubles. Those. from each poster you can "weld" 1000 - 2000 rubles. Computer processing of one image takes approximately 2 -3 hours (with tea drinking and parallel viewing of the TV: -). Work on printing on canvas and making frames you yourself do not have to do.
So time will not take much production, and sales will depend only on your imagination in the field of marketing. In other matters, as my experience has shown, even without any "marketing fantasy", acting with only one method of advertising, "friends saw from acquaintances", and then you can provide a piece of butter to your labor "hunch" :-).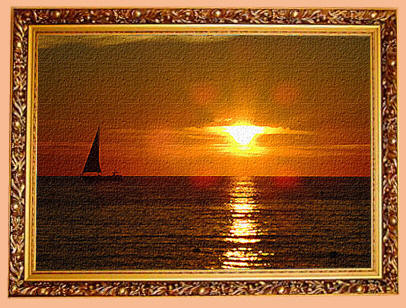 If in brief, the essence of the technology is to process photos in Photoshop and print in the nearest company on the canvas.
In order not to overload the article with details of the technology of making "oil on canvas," I described both methods in detail on a specially created page holstmas.narod.ru
Regards, Mikhail