Business on worms and biohumus production.
Earthworms (worms) are the most ancient and numerous invertebrates on Earth. The red worm is suitable for domestic and industrial breeding, it is possible to obtain in a short time a large biomass of vermiculture (worms), which are used to feed birds, fish, animals, fur-bearing animals, to obtain protein feed additives; the body of the worm contains 67-72% protein, 7-19% fat, 18-20% carbohydrates, 2-3% minerals, almost the entire set of amino acids, which do not have feed of plant and animal origin, as well as biologically active substances.
In one growing cycle (3 months), up to 30 kg of biomass of worms can be collected from 1 m2. During the processing of worms, 1 ton of organic waste (manure of all animal species, bird droppings, food waste, straw, industrial waste water, pulp and paper, wood processing, starch, fish and meat industry), in terms of dry matter, receive 600 kg of biohumus, the remaining 400 kg of organic matter are transformed into 100 kg of high-grade protein in the form of a biomass of worms.
In the USA, as a result of selection work, a red Californian worm was bred. It provides 18–26 multiple reproduction in the local climate and 500 multiple reproduction in special greenhouses, while wild relatives produce 4–6 multiple reproduction.
I propose to do breeding Californian worm.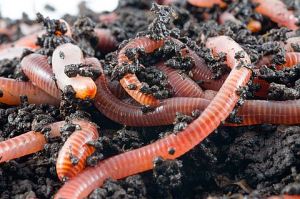 Breeding worms is possible in the country, in an apartment or in a farm for the processing of manure and plant waste into effective fertilizer for their land, but may also be a separate business line.
Moreover, commodity products of the "worm" business can be: directly biohumus - dried, sifted and packed in plastic bags, ready earthy mixture for seedlings and greenhouses - a mixture of biohumus with soil, sand, peat chips, packed in plastic bags of different volume.
Live worms, packed in plastic boxes with a nutrient substrate, as a fishing nozzle, worm colonies for breeding in containers with a nutrient substrate, live or dried worms as biomass for animal feed and other domestic animals.
The start of such a business does not require large financial expenditures and does not require a large investment of time for its management - the worms themselves will multiply without your direct participation. It is only necessary to regularly sprinkle them with a nutrient medium, moisturize if necessary, warm for the winter, and also organize distribution channels for the product and its packaging.
Creating a worm farm is a very promising line of business, since there is practically no competition in this segment, and the demand is quite large.
The total profit will depend on many factors. But the main one is the size of the land plot, which is allotted for worm piles. The bigger it is, the higher the profit will be.
I have been doing vermiculture for 2 years and the demand for a worm and the final product biohumus is only growing. Conduct a small market monitoring and see for yourself the existing demand.
The wholesale price of selling jars to stores is 35 rubles, stores sell for 75-80 rubles. In Chelyabinsk, I process 8 stores in 6 market outlets (average consumption of 500 cans per week) + 2 agrofirms with one-time consumption of 100 boxes to solve problems with accumulated manure and gardeners. There are wholesale buyers of biohumus, but I can not give such volumes. In two years, the number of worms reached 4 million, starting with 10 boxes. I think it is not difficult to calculate the revenue.