Opening of the private athletic field.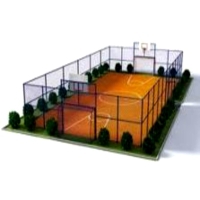 In the West, a healthy lifestyle is widely promoted. And the main thing for this is a lot of municipal places for this purpose. In every neighborhood and even the yard of any high-rise building there is a sports ground. In Spain, for example, in every courtyard all day the guys chase the ball. Is this why this country unshakably occupies the first position in the world football rating? Let's remember our childhood ... It seems that every school had a stadium, and nevertheless we had to create street football ourselves. A couple of logs that had been knocked astray seemed an exact replica of the gate at Dynamo stadium or Barcelona. About such trifles as hummocks, irregularities, glass, prickles and the ubiquitous molehills are not even worth remembering.

So now, a couple of loosened bars, a rusted curved horizontal bar and the only sagging basketball hoop that survived after the vandals remained from the old grounds ... Doesn't it remind anything? Then look out the window. New sites built by few sponsors or in the case of elite new buildings do not even partially cover the population's need for sports. It is almost impossible to get to the stadiums; access to school gymnasiums is available only to schoolchildren during their school hours. This is how the idea of ​​creating a private playground appeared. This is especially true in large cities.

First of all, you need to find a suitable place where there are no institutions, shopping centers or other buildings. One of the conditions for the placement of such a site should undoubtedly be its remoteness from gassed highways and enterprises with hazardous emissions. Then you have to agree with the local authorities about renting or buying a suitable plot. Usually it is not difficult, since the latter are interested in the development of sports infrastructure. And in order to reduce the rent and energy costs tripled, you need to give your project a social focus. To do this, you can make free visits to its children from all neighborhoods during working hours (from 8 to 16).

To build a full-fledged sports ground with four towers for lighting projectors, in order to artificially extend the light day, approximately 20 thousand by 40 m will need about 50 thousand. These funds will go to cover the installation of horizontal bars, bars, basketball hoops, high strong fencing. You will also need to install an administrator / security / locker room trailer. Part of the money will go to the engine of commerce - advertising. A couple of billboards, Internet, leaflets and mailings to organizations - the main advertising media. But still the main focus here should be on corporate clients through the organization of various tournaments among firms. Believe me, to relax in the fresh air after eight hours of sedentary work and even having the opportunity to kick some body parts to colleagues from the firm, that on the floor below, any middle manager will gladly pay some $ 5 an hour. Better yet, make an hourly fee, independent of the number of visitors.

With an average site load of 50 hours per week and an hour price of $ 25 (the minimum cost is taken), the profit will be $ 1250 / week. It is easy to calculate the payback period of the project. In addition, we should not forget that the multifunctional playground is football, basketball, and tennis. And what to do all winter, we are not in Spain? Elementary! With a few light techniques, our playground turns into a beautiful ice rink! And football battles smoothly flow into figure skating, and the ice squad with clubs comes to replace the lovers of the leather ball. This is how it is. In a healthy body healthy mind.

Posted by: PanDoktor
Source: biznes-kopilka.com