Opening culinary school.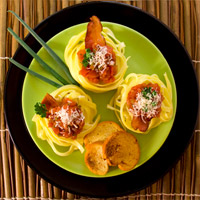 The ability to cook deliciously now can not boast of every young girl, and the saying "the way to the heart of a man lies through the stomach" has not lost its relevance. Fashion to cook at home is heated by telecasts and articles in fashion magazines, and it is desirable not only to be able to cook, but to cook just as delicious as in restaurants. It's hard and boring to learn from books and culinary television shows, you need a mentor, an experienced cook. Opening its culinary school, with good teachers - a fashionable and profitable business.
It is possible to open a culinary school on the basis of an operating restaurant or cafe in addition to the main business or to be engaged only in training, having equipped a premise under the kitchen.
There are several training programs, general, where they teach the basics of culinary skills , thematic courses (national cuisine, etc.), training and professional development for restaurants professionals, as well as classes for children who do not teach as much as entertain children and their parents .
Usually classes are held several times a week and last for several hours, people in the group should be no more than 10, so that the chef can effectively train, show and help each student. You can organize lectures throughout the day, in the morning the people will be smaller, in the evening more.
The three main whales on which the business of the culinary school is built is a teacher, a room and equipment. Educate the culinary arts should an experienced chef with the talents of the teacher, not every specialist can teach well. Finding a good team of teachers is not so easy and this is perhaps the most difficult in this business. It is worth considering that people go to cooking classes not only to learn how to cook delicious, but also to expand the circle of communication. Ideally, when a warm and friendly atmosphere is established in class.
It is also important to find a comfortable, spacious room and equip it with all necessary equipment for the kitchen.
The cost of classes will depend on the positioning and your city, the initial classes in large cities cost from 1000 rubles, thematic and professional from 2000 rubles. Typically, in culinary schools, the sale of subscribers is practiced, with the purchase of a monthly subscriber, the cost of each lesson is cheaper.
When calculating the cost, you should take into account all costs (rent, teacher's salary, cost of products, etc.), if there are competitors in the city, ask their prices. Only after on paper you get a good "cost-benefit" ratio is it worth starting the opening of your culinary school.
It is not superfluous to the opening of the school will consider the advertising company, the potential audience of the culinary school - young girls and housewives. The greatest effect can be given by advertising on the Internet and in print media, targeting the female audience.
An excellent option for filling the school on weekends can be the organization of children's cooking classes, children are happy to play chefs with their parents, prepare delicious meals, and then eat them. The cost of such classes starts from 1000 rubles a month.
To ensure a better profitability, the culinary school can engage in other types of business, for example, catering. Cooking and delivery of food to corporate clients can become a significant additional earnings for culinary courses.
Its culinary school can become a profitable and interesting business, especially for large cities, where many people who want to learn how to cook are as delicious as they are in restaurants.