Postcard making - scrapbooking.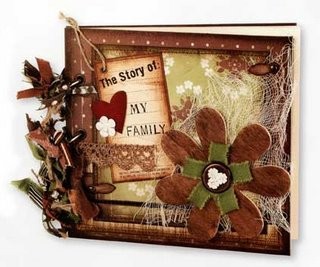 The idea of benefiting from the main hobby - scrapbooking - came suddenly. One Sunday evening, a master class was held in my favorite cafe: students of the Faculty of Arts taught everyone to make postcards with their own hands. Many said that they would be happy to buy such original cards for every holiday, or even for no reason at all - to please their soul mate.
However, only stamped postcards are on the market and the most original solution is to order a unique design and production of printed products at an advertising agency or a printing house. But again, no one will produce a single product. Of course, you can order an original postcard from a freelance designer, and printing is easy. But designers often use the same cliches, so their work will somehow have common features. This is why the postcard scrap is much more interesting than all the options, because they don't have a cliche. In addition to cards, you can do in the style of scrapbooking: photo albums, photo frames. You can watch the master class and see how interesting and beautiful it is.
For the initial stage of development of your business, one person is enough, because at the beginning an unlikely large number of orders. The cost of the business organization itself is quite small , because the initial expenses include only materials costs, and you can work at home. To reduce the cost of materials, you can take a prepayment of 30% from customers. Over time, with a quality execution of the order, a certain number of regular customers will appear, who will undoubtedly recommend you to their friends and acquaintances. After all, it is nice to give original cards to everyone.
To expand the business, you also do not need exorbitant spending, because you can register on thematic forums devoted to holidays, original gifts and souvenirs. It is there that you can find a large number of people who want to order a unique gift, especially on the eve of various holidays. Your own website will be a bit more expensive, because besides paying for a domain and disk space, you will have to lay out your hard-earned money for promoting your resource, without which they simply won't know about your website! There are a great many ways to promote a site; you can place banners on various sites, including those on "barter" - you place the partners' banner on your site, they host yours in return. One of the most effective methods is the placement of contextual advertising in search engines. You only pay for the transitions to your site, and they cost literally a penny.
If there are so many customers that you will not have time to fulfill orders on your own, it will be possible to involve your fellow hobbies in the work. To create a unique greeting card for the holidays, it is also possible to cooperate with creative people who can write poetic congratulations for each specific occasion. Just imagine how nice it would be for someone to get such an original gift!
The implementation of this business idea is extremely simple and in fact not costly, because all materials and your time spent are paid by the customer. You are doing what you are really interested in and get not only moral satisfaction, but also financial profit.