How to make money on the ceilings "Starry sky"
Hello, friends! I'll start from the beginning ...
Once in the past 2010 a school friend called me, who had not met for a long time, and invited me after work to visit. I agreed with pleasure. We sat down in the hall, at tea talked about this, about this, remembered the school years. I was going home - it was getting dark ... "Do you want to see a miracle?" They asked and turned off the light. I thought we were going to play hide and seek! The eyes gradually got used to the light, began to notice something glowing on the ceiling ...
Can not be! A shimmering starry sky of the Northern Hemisphere appeared on a dark ceiling - I saw the Great Bear and the Little Bear, the Polar Star, flying comets ... It was really a miracle! A classmate with his wife really surprised me!
I began to ask them ... It turned out that my classmate's wife, temporarily unemployed, had subscribed to the "networkers" for this ceiling for 9000.0 rubles and, accordingly, entered this business - became a distributor. Moreover, the Star Ceiling was made to them after they "signed" three more clients, making the company still 3 X 9000.0 = 27000.0 rubles.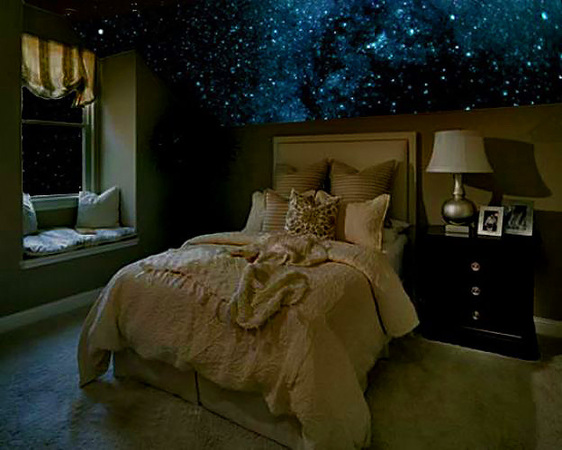 I wondered how the process of making the ceiling "Starry sky"? A young man came with a bag, took out some kind of an aggregate that looked like a slide projector, turned it on - a starry sky appeared on the ceiling. With the help of a stool, special paint and special brushes, he applied the Starry sky drawing to the ceiling in 2 hours.
The paint was used light-emitting (phosphor), acrylic, made in the USA. The specialist did not give out secrets - this is a commercial secret of their project. Everything was heard by me from the words of a classmate and his wife. They offered me to pay a fee of 9000.0 rubles and join their project.
But I am against any MLM business, even though it has a place to be. The fact is that any network business - whether it is a different kind of services or the sale of nutritional supplements - is a job for Uncle, in this case, American. The lion's share of profits is abroad, and ordinary managers (distributors) are pennies. It is possible, of course, to grow to decent wages over the years, but not everyone is given this!
I was distracted a little bit ... I went from a classmate home, and all thoughts are ABOUT HOW TO MAKE A CEILING "TO THE MATTER" STARRY SKY "AND HOW TO EARN ON THIS?
And what do you think? I found all the answers to the questions posed, although many were obvious: I picked up domestic-made paint with similar properties. This paint was not difficult to find through search engines. Modern paint does not contain phosphorus and has many colors of light. He made brushes, got a "projector" and within 2 weeks after meeting a classmate made his first ceiling - at home in the hall.
Do not believe it, but it is a fact - a profit of 500%. All costs paid off from the first ceiling made, and still remained in profit. For half a year already, we are doing the ceilings "Starry sky" with a friend. More profitable than business, I have not yet met!