How to decorate jeans.
If you are tired of monotonous blue (blue, black) jeans, then you have the opportunity to decorate them using all kinds of techniques. One of them is painting on fabric . It is very important to choose a motive that would inspire you to create an original pattern on jeans - it can be a pattern on the fabric, or inspiration can come from wildlife. Take a closer look at what surrounds you - perhaps you will be inspired by leaves of wild grapes or garden flowers, which bloom so magnificent at this time.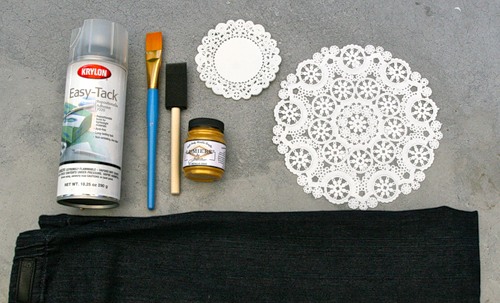 But what if you are afraid to pick up a brush or acrylic contours for a fabric, if you are not confident in yourself, as in an artist? There is a simple enough way to decorate jeans - applying paint through a stencil. Disposable vinyl napkins or, for example, lace, which is sold in any sewing store, can serve as a stencil.

To apply paint to jeans, you will need either a spray can with acrylic paint or acrylic paint for a cloth in a jar. In the event that you intend to use the spray can, do not forget to cover the fabric around the stencil with newspapers. It is better to paint the lace from the spray can, then the translucent parts will also be painted over and will have a dull effect. And through wipes it is better to apply paint with a foam sponge.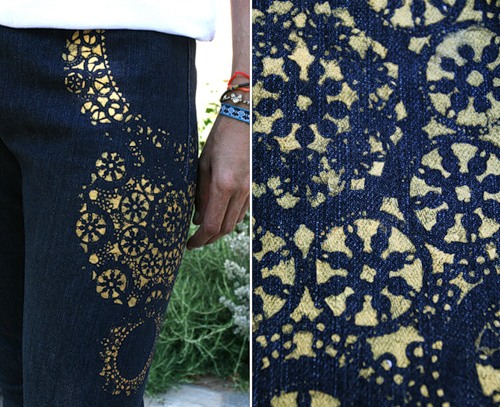 In this case, the stencil was three vinyl wipes glued together. The paint was applied with a brush very carefully so as not to climb over the edges of the napkin and not spoil the jeans.