Ingenious hidden systems that will help to hide all the excess and save space in the house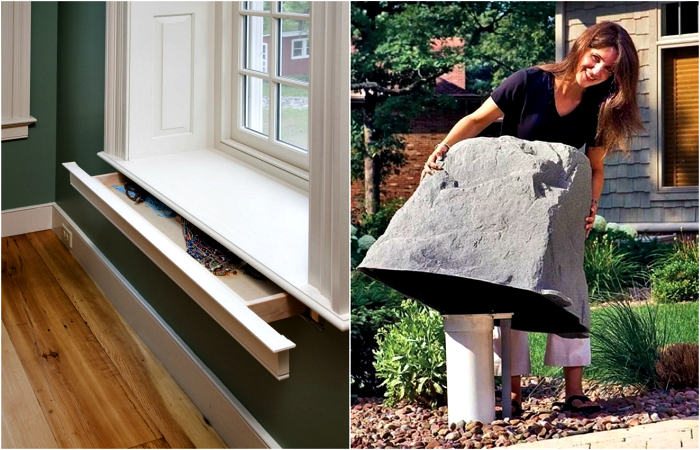 Hidden systems that will help optimize and transform housing and the surrounding area.
The review contains the most interesting and entertaining things that can help in an unusual way to change your home. Collected lifehacks will help save a lot of occupied space and free up space in your home.
Retractable Ironing Board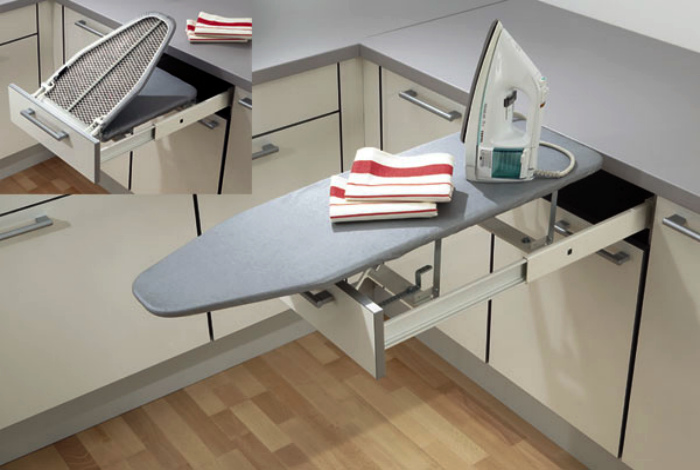 Retractable ironing board under the working surface of the kitchen cabinet.
A retractable folding ironing board hidden under the working surface of the kitchen cabinet will be a real find for owners of small apartments where it is difficult to find a place to store the board in unfolded form.
Retractable cupboard with pet bowls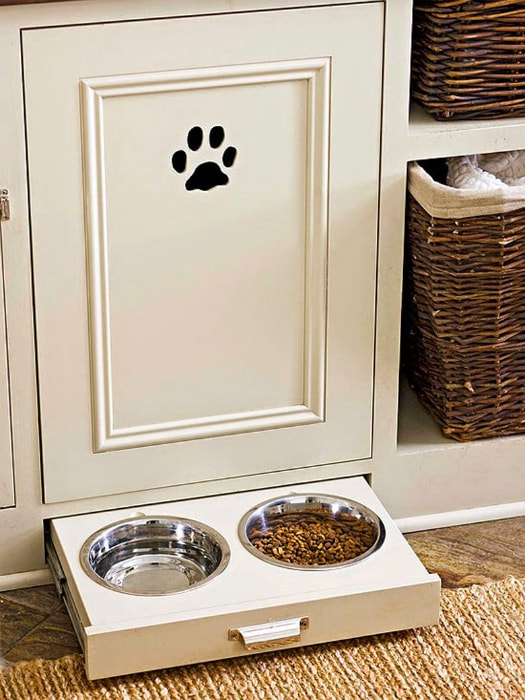 Retractable stage with bowls for a pet.
A special cabinet equipped with a retractable step with compartments for pet bowls. Waiting for guests or cleaning up the house, the step can be pushed in, and the locker itself can be used to store food bags, treats, toys, collars and leashes.
Retractable shelves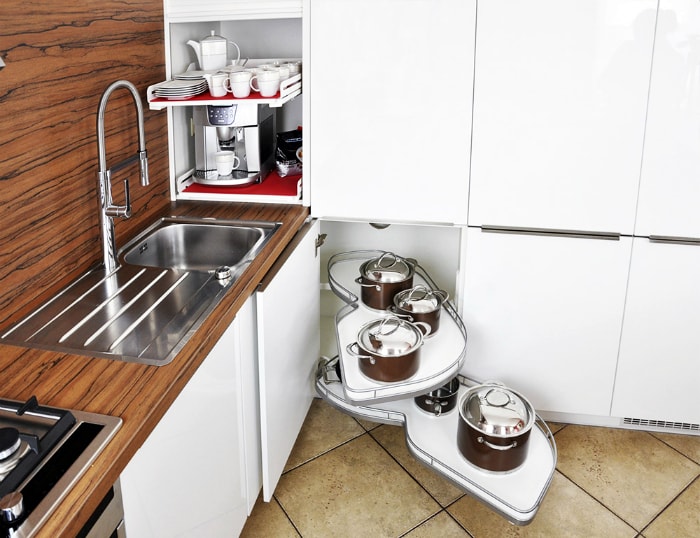 Kitchen cabinet with sliding shelves.
This simple, at first glance, locker is distinguished by its special capacity and functionality thanks to sliding shelves, which also provide convenient access to all its contents.
Bed with drawers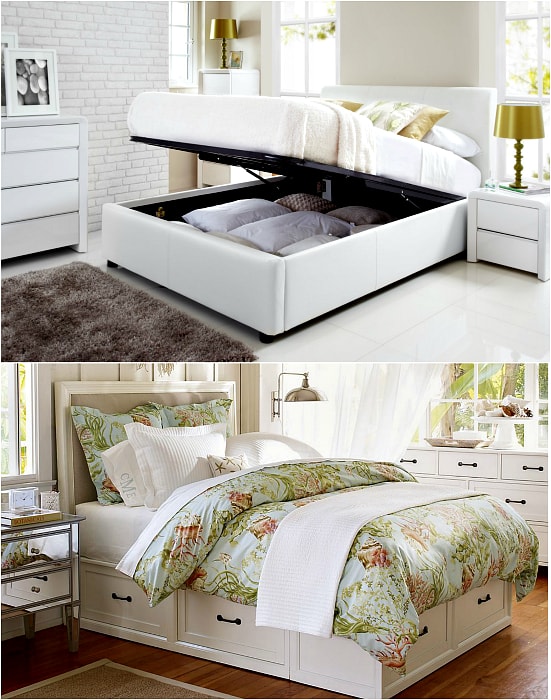 Bed, equipped with storage boxes.
To save space of a small bedroom and to get additional storage systems, the competently chosen bed will allow. For example, you should pay attention to the models with lifting mattresses and spacious boxes that are suitable for storing bed linen, towels and seasonal items, or prefer a bed equipped with drawers that can replace a massive chest of drawers.
Flower bed container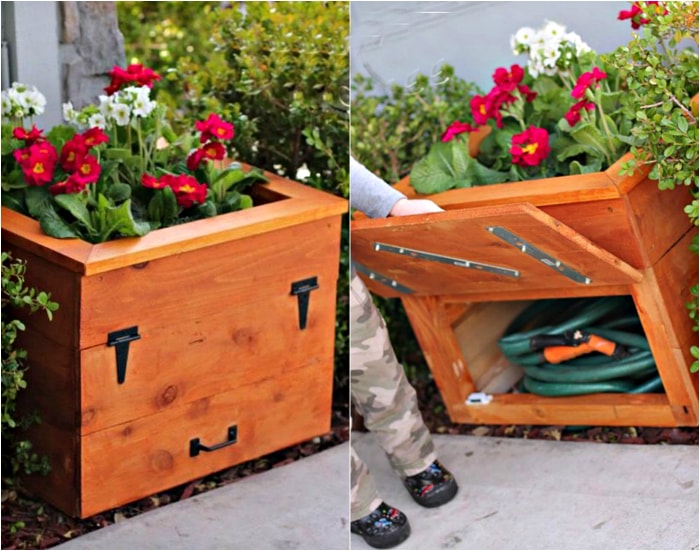 Flower bed, equipped with a hidden locker.
A charming wooden flower bed with a small hidden cabinet that is perfect for storing hose or small garden tools.
Dumpster masking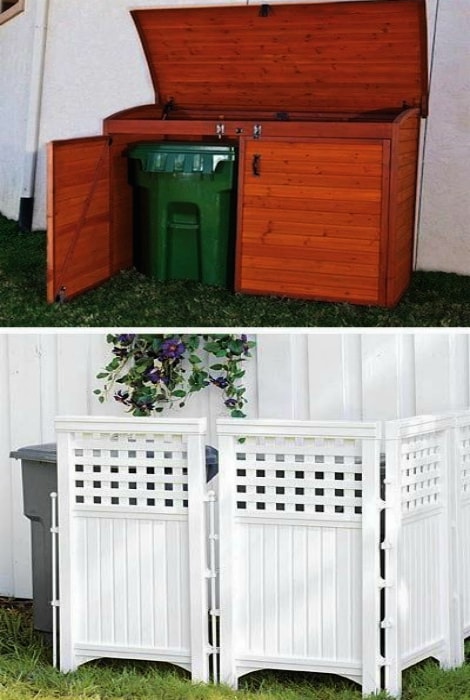 Container and screen for masking garbage containers.
A wooden container or screen will help to hide unsightly garbage containers and thereby improve the appearance of the local area.
Paper towel storage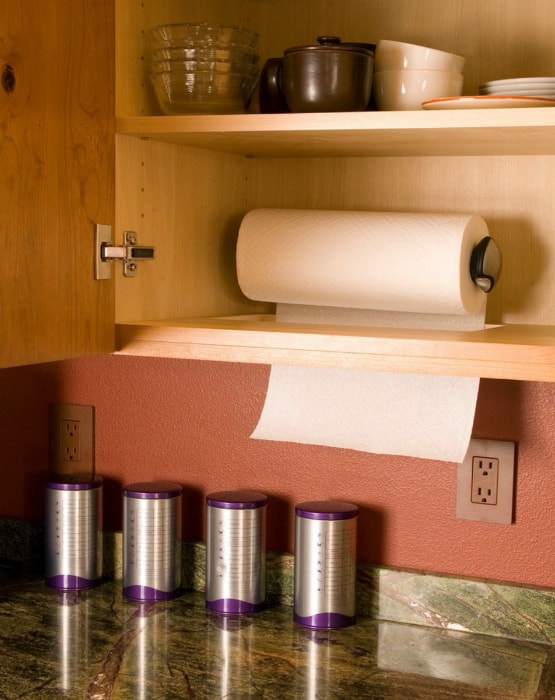 Hidden storage of a roll of paper towels.
A regular hanging cabinet, equipped with a railing and a narrow hole in the bottom, is perfect for storing and conveniently using a roll of paper towels. Such a storage system will save space on the working surface and protect paper products from dirt and moisture.
Decorative cases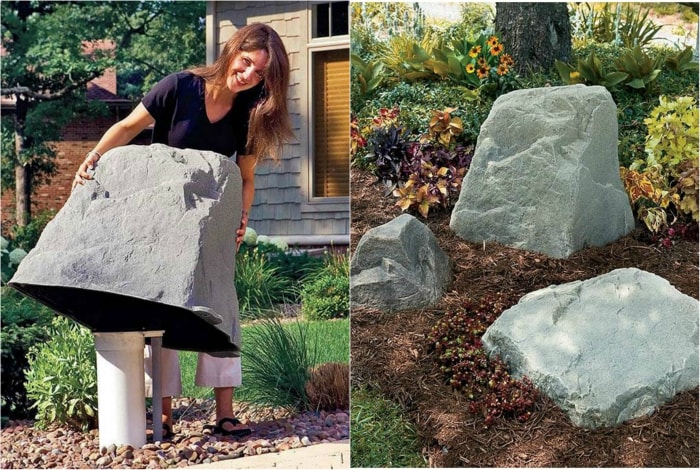 Stones-cases.
Original cases in the form of large and small boulders will help to hide unsightly plumbing, become reliable hiding places for valuables, as well as original elements of landscape design.
Cat's bathroom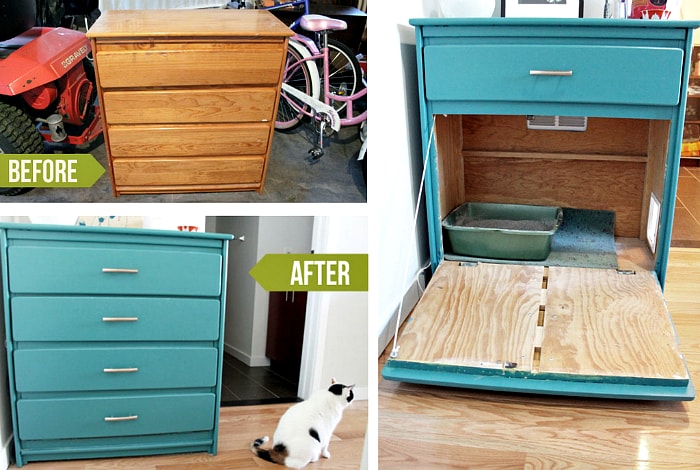 Keeping the cat tray in the chest.
A converted chest of drawers with a folding door will be a great place to store a cat tray and will hide this not very aesthetic item.
Screen door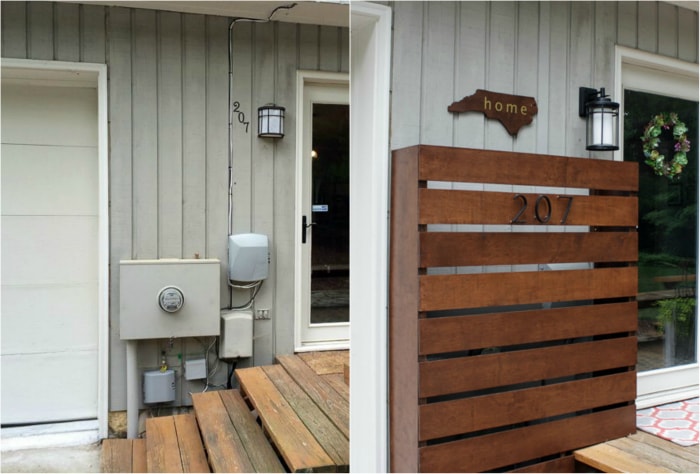 The door-screen, made of wide wooden slats, will help not only to hide electrical wires from prying eyes, counters and electrical automatic devices located on the facade, but also to improve the appearance of the house.
Retractable table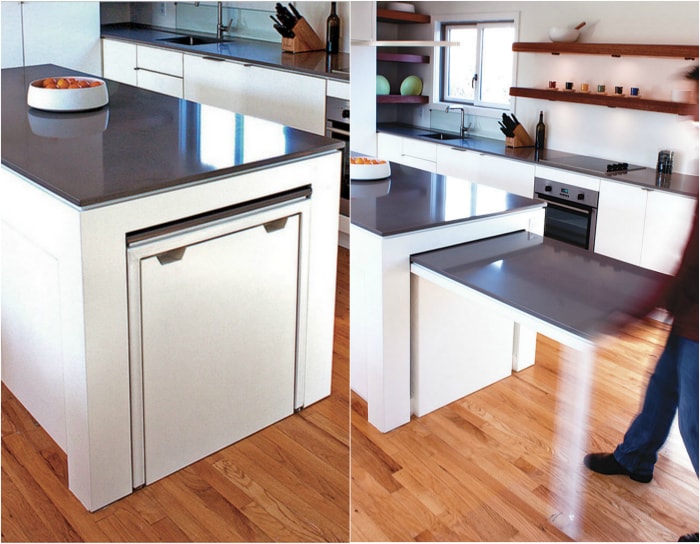 Kitchen island, equipped with a retractable table.
Kitchen island with built-in sliding table, which will provide the kitchen with a dining area and an additional work surface.
Retractable racks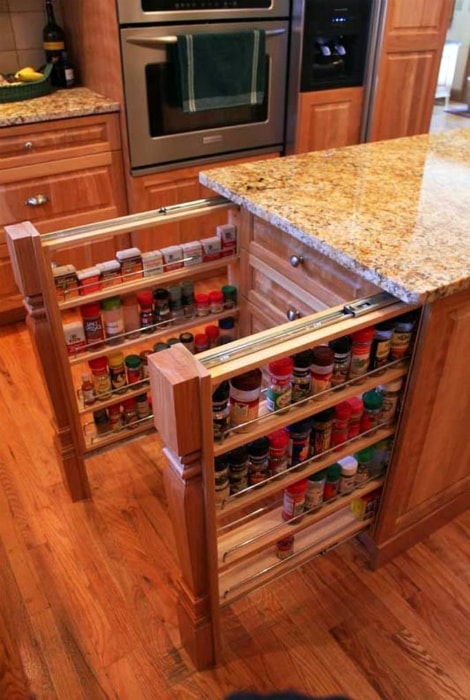 Narrow retractable racks.
The small sliding racks built into the kitchen cupboards will increase the potential of kitchen furniture and are perfect for storing spices, sauces and cutlery.
Boxes in the floor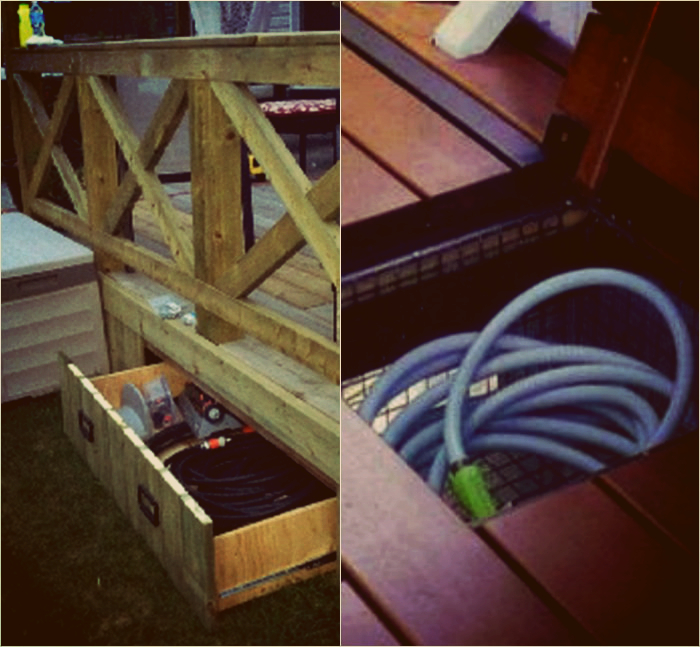 Built-in drawers.
The podium and the floor of the veranda or porch can be equipped with retractable and built-in drawers that are suitable for storing a variety of things, ranging from garden tools and ending with expensive equipment.
Bath cap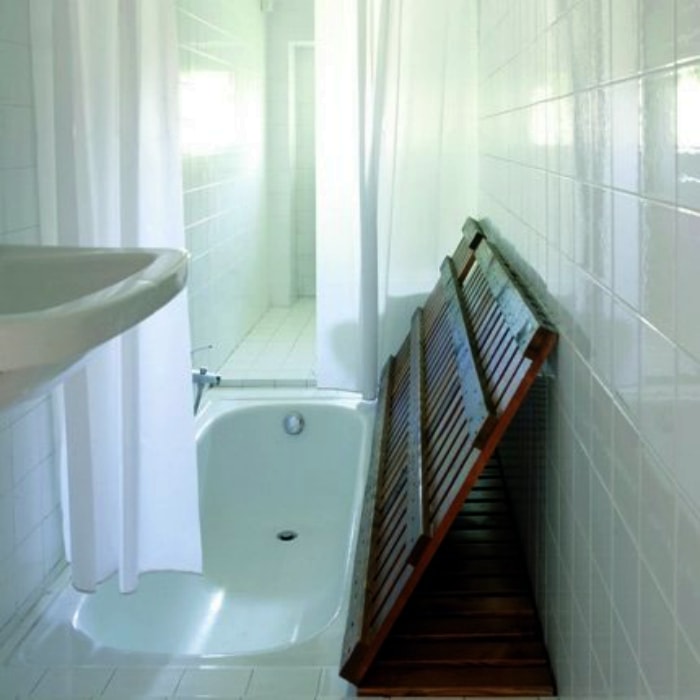 Cover for built-in bath.
A sturdy cover made of wide wooden slats will help to hide the bath built into the floor.
Tumba-transformer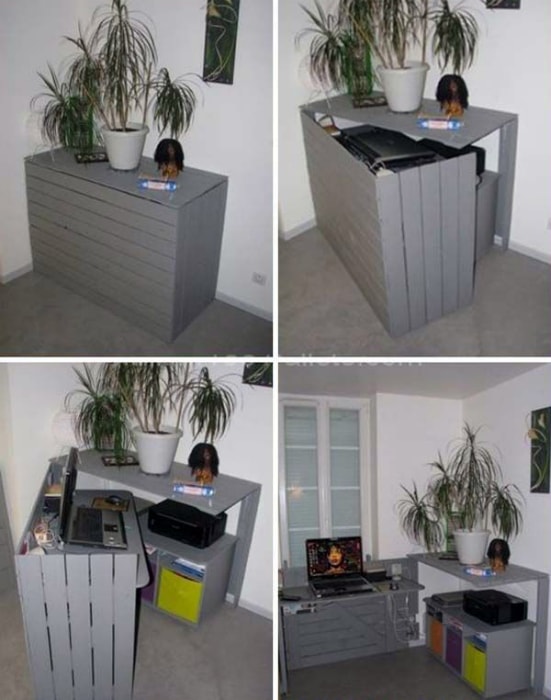 Homemade transformer cabinet
The original cabinet transformer, made of pallets, which, if necessary, turns into a double corner table.
Cabinet under the windowsill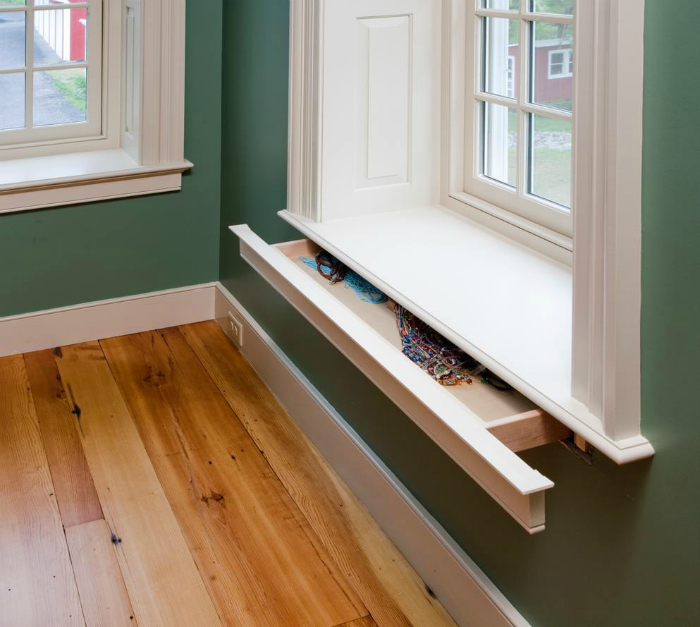 Sliding closet under the window sill.
A small retractable cabinet, equipped under the window sill, is a great place to store valuables and documents.
Garage for bicycles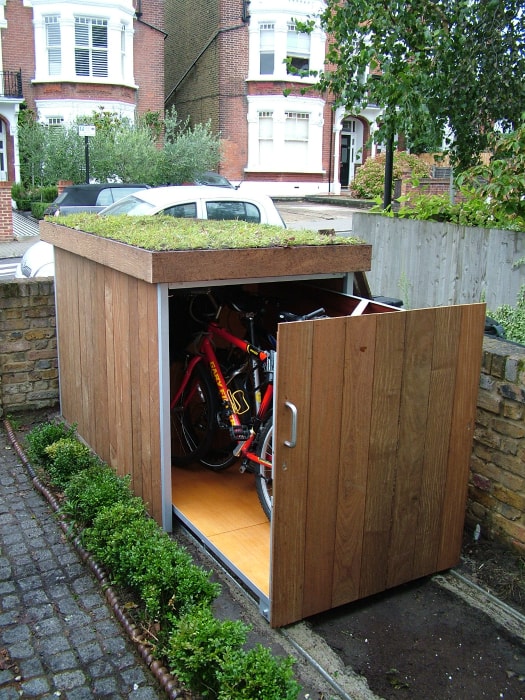 Garage-bed.
A small garage built of wooden slats, with a lively lawn growing on its roof, will become a safe place for storing bicycles and a charming backyard decoration.
Via novate.ru