How to make natural Gammy bears that taste like real juice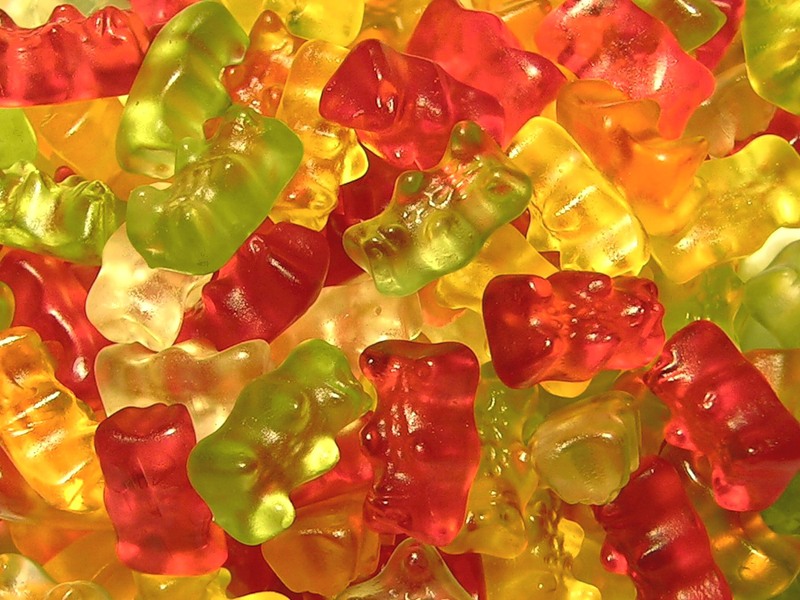 Marmalade bears (German Gummibarchen) - sweets based on gelatin, made in the form of small bears. The composition also includes sugar, glucose syrup, starch, spices, citric acid, food colorings and other ingredients. The size of the candy is about 2 cm (0.79 inches). Their production was started in Germany. In 1920, Hans Riegel Sr., owner of a confectionery factory in Bonn, founded the Haribo company, and in 1922 invented marmalade bears. Soon they became a favorite treat for children. By the 60s, many variations of sweets, differing in color, taste and form, appeared. The question of their harm to health is debatable, it was often noted that frequent use of this product can lead to tooth decay, especially in children. Disney's studio about marmalade bears filmed the animated series "The Adventures of the Gammy Bears".
Famous all over the world jelly beetles Gammi - marmalade, a beautiful and delicious treat, and made from natural juices of berries, fruits and vegetables - is also useful. Children will be delighted with these colorful sweets, and adults will not remain indifferent - low-calorie, useful, pleases the eye, and make these light wonderful delicious simple! We share with you three simple recipes for the production of chewing marmalade.
Gummy Beef Teddies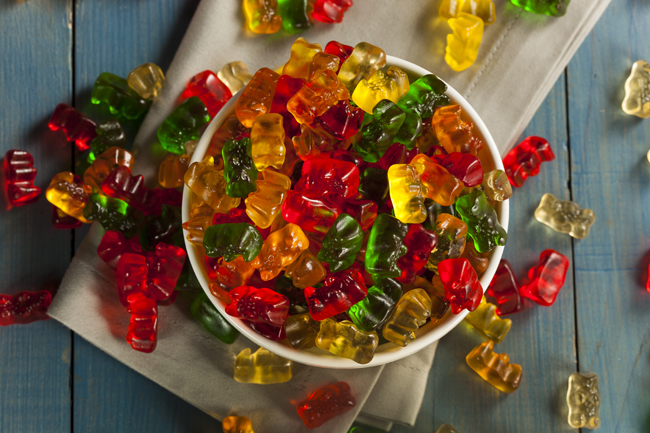 Ingredients:
1.5 cups of fruit juice or fresh vegetable juice
4 tbsp. l. gelatin
2-4 tbsp. l. honey (depending on how sweet you want to make marmalade)
1/2 tsp. vanilla extract (optional)
Cooking process:
Pour the juice into a small saucepan.
Add the gelatin and let stand for several minutes. When the gelatin swells, stir.
We put the pan on medium fire. Heat, not bringing to a boil. Gelatine should completely dissolve, and the juice become a little thicker.
Add honey and vanilla extract.
Pour the mixture into molds and cool for 2-3 hours.
All! Enjoy the beautiful delicious.
Ready marmalade can be stored in the refrigerator in a sealed container for 2-3 weeks.
Palette of juices
Fruit and vegetable juices are the basis of this marmalade. Give the delicacy not only a special taste, but also a rich color.
Pink: beets, strawberries, carrots and a little lemon juice.
Orange: carrots, oranges, ginger and a little mango juice.
Yellow: yellow pepper, yellow beet, yellow pear, yellow apple and a little lemon juice.
Green: cabbage, kiwi, cucumber, green apple, green grapes.
Purple: purple cabbage, blackberries, blueberries, some kinds of beets and apples, dark grapes.
Chewing marmalade with natural milk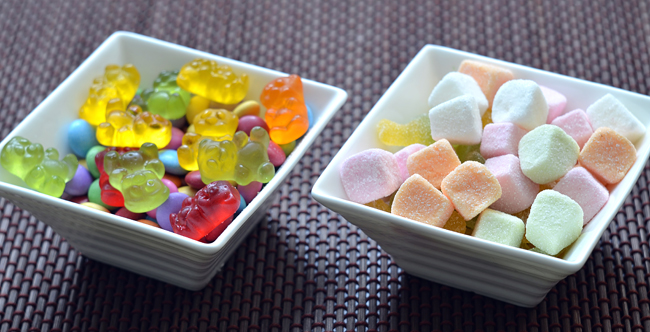 Ingredients:
1 cup of milk
1 tbsp. l. sugar or honey
3 tsp. gelatin
vanilla powder
If desired, for the color, you can add a little natural dyes
Cooking process:
1/2 cup of milk mixed with gelatin.
Bring to a boil, stirring constantly, until the gelatin is completely dissolved.
Remove from heat, add the remaining milk, sugar or honey, vanilla and, if you want to give a more saturated color, a drop of food color.
Mix to a homogeneous consistency, pour into shapes and cool for 25 minutes.
Milk candy is ready!
It can be stored in a closed jar in the refrigerator for up to 2 weeks.
Fruit jelly with fruit pulp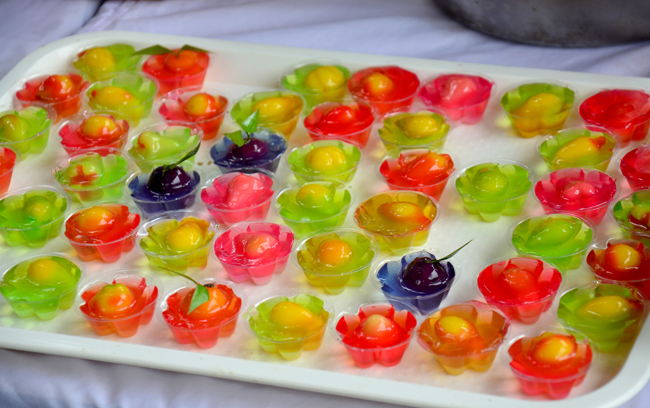 Ingredients:
2 cups of fruit (1 cup - 240 ml)
1 glass of natural juice
Stevia (3 sachets, depending on how sweet you want to get marmalade)
5 bags of gelatin
Cooking process:
Cut 2 cups of fruit into cubes.
Juice and fruit boil over low heat, until the fruit becomes very soft. We add stevia.
Place the mixture in a blender and bring it to a homogeneous state.
Let it cool down for 5-7 minutes.
Add gelatin and mix well.
We pour the mixture into molds and leave it in the fridge for 1 hour.
Bon Appetit!
Fruit jelly with fruit pulp ready.
Tasty, proven combinations of fruit and juice
1 cup apple juice and 2 cups of sliced ​​strawberries and banana.
1 cup pineapple juice and 2 cups mango and banana cubes.
1 cup apple juice and 2 cups strawberries and blueberries.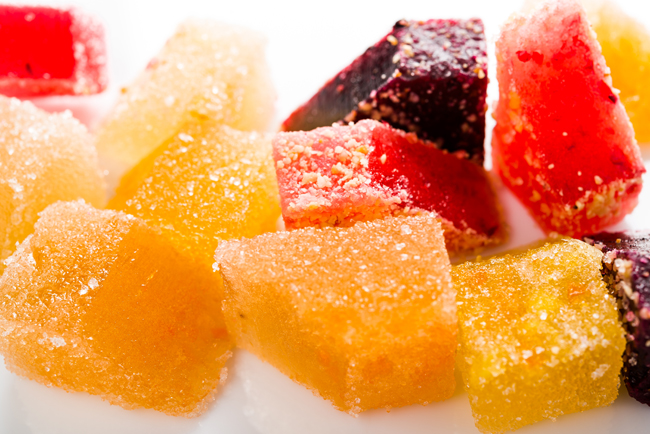 To form a treat it is best to use silicone molds. Suitable and plastic molds, if previously covered with oil.
You can also cool the marmalade and on a plate, and then cut into cubes.
You can make a multi-layered treat: gently pour the layers of milk and fruit marmalade into a mold, allow it to cool and cut the figures.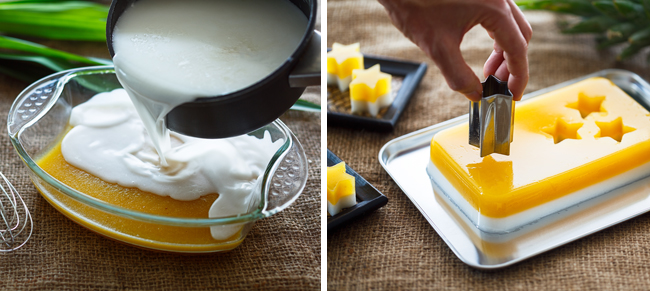 Fantasize with combinations of juices and berries, surprise with light sweets of friends!
Using various forms, you can create not only an independent delicacy, but also delicious marmalade jewelry for cakes or pastries.
And figurines in the form of bears - a classic of the genre, they should definitely please loved ones!