Electro Glass Cutter
Electro Glass Cutter
Attention ! All paid and free information on this site is presented solely for educational purposes.
The author of the site does not bear any responsibility for any possible consequences of the use of bottom information.


Sheet glass cutting is performed in centralized or on-site workshops equipped with work tables, racks, necessary tools and fixtures.
At the same time, it is possible to use electric cutters with nichrome wire, which when heated to it, the electric current quickly heats up, forming a thin hot line on the glass, along which it bursts.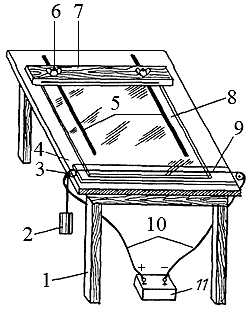 Electro glass cutter:

1 - wooden table;
2 - cargo;
3 - block;
4 - asbestos cement sheet;
5 - slits;
6 - wing screw;
7 - ruler;
8 - glass;
9 - nichrome wire;
10 - wires;
11 - electric transformer