Cyberpolice published tips on how to protect themselves from scammers using ATMs.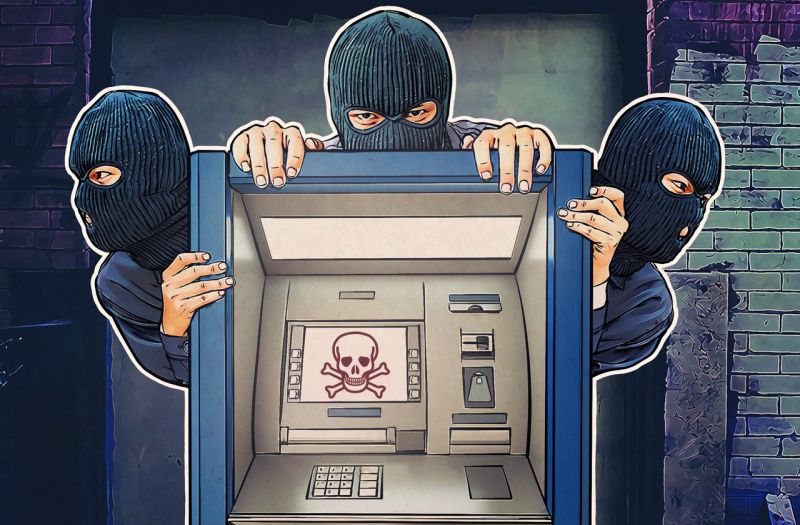 The ATM (from an ATM, sometimes ATM from the English. Automated teller machine) is a software and hardware complex designed for the automated issuance and / or receipt of cash both with and without payment cards, as well as other operations, including including payment for goods and services, preparation of documents confirming the relevant operations.
Ukrainian cyber police talked about the tricks that thieves use to steal money from your credit cards while we use ATMs. In addition, she published recommendations on how to avoid skimming and trapping .
Scammers keep pace with the times, constantly improving their technologies: to steal money from a card they no longer need to install various devices on ATMs or POS terminals - it's enough to infect them with malicious software that will record technical information and PIN codes of cards going through the device. However, in Ukraine, technologies are reaching very slowly, and in most cases card holders are robbed "in the old way" - by skimming or trapping , since we do not have a normal culture of use.
Cash trapping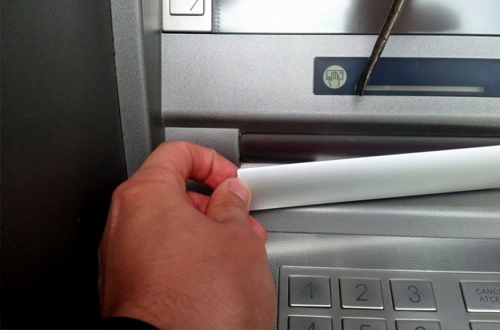 "Cash Trapping" (Cash Trapping) - in literal translation means "cash capture". The fraudsters use ordinary aluminum handicrafts, mostly made of furniture fittings. The metal strap looks like an ATM curtain, on the back side criminals are glued over with double-sided adhesive tape and fixed on the cash dispensing opening.
Inattentive people withdraw cash from an ATM without paying attention to its appearance. After that, they think that the ATM broke down and went to the bank branch or to another ATM.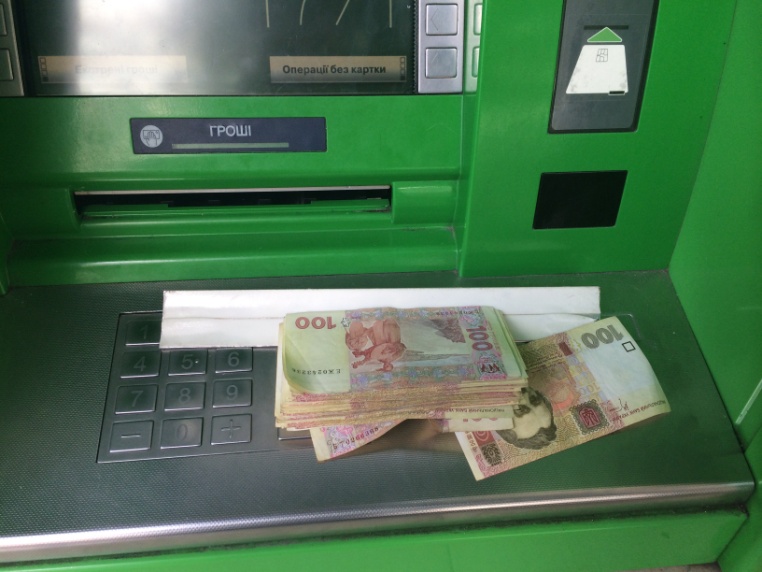 At this time, fraudsters who were waiting nearby, remove the installed panel and take the money of its victim stuck to its inner side.
To avoid becoming a victim of a primitive, but successful type of ATM card fraud, you need to:
when withdrawing funds from an ATM, pay attention to its appearance, the presence of foreign or foreign objects (lining);
if the ATM gives information that the operation was successful, but does not issue money, do not leave the ATM so that the criminals do not take your money;
carefully check whether there is a metal lining on the tent, and in case of absence - call the bank call center and tell about the problem and your suspicions;
If you find a metal lining, call the police immediately.
Skimming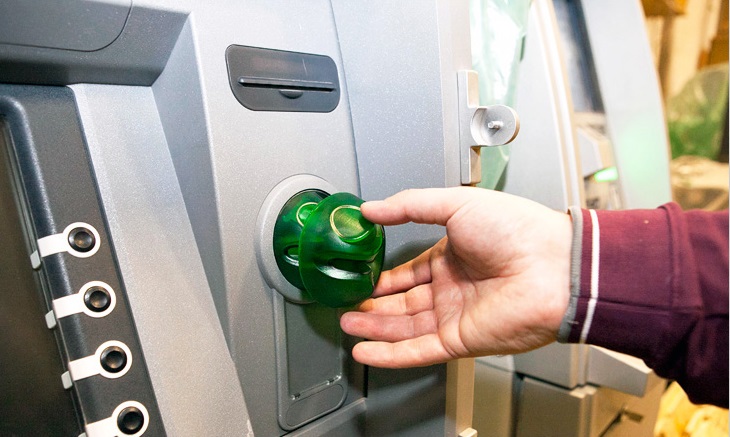 Skimming (from English. Skimming) - theft of card data using a special device - "skimmer." So fraudsters copy information from the magnetic stripe of the card, while stealing a PIN code using a mini-camera or overlays on the keyboard.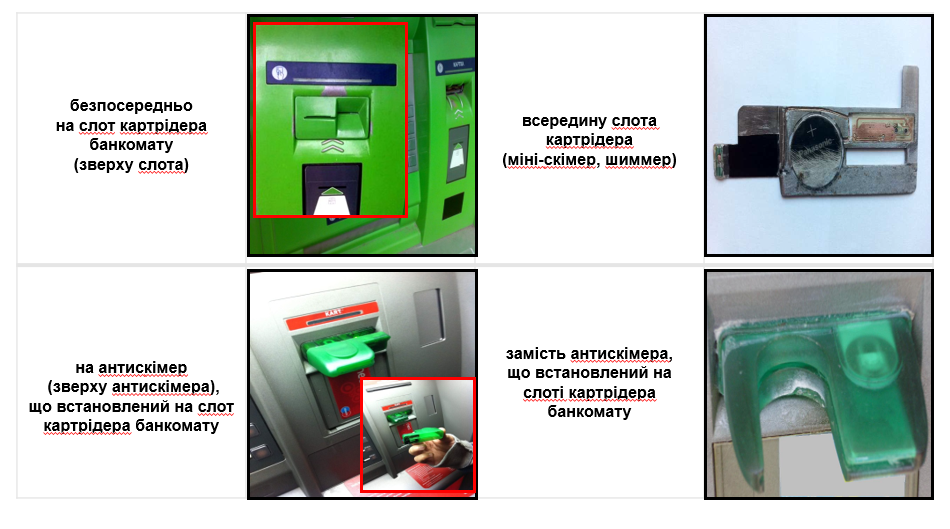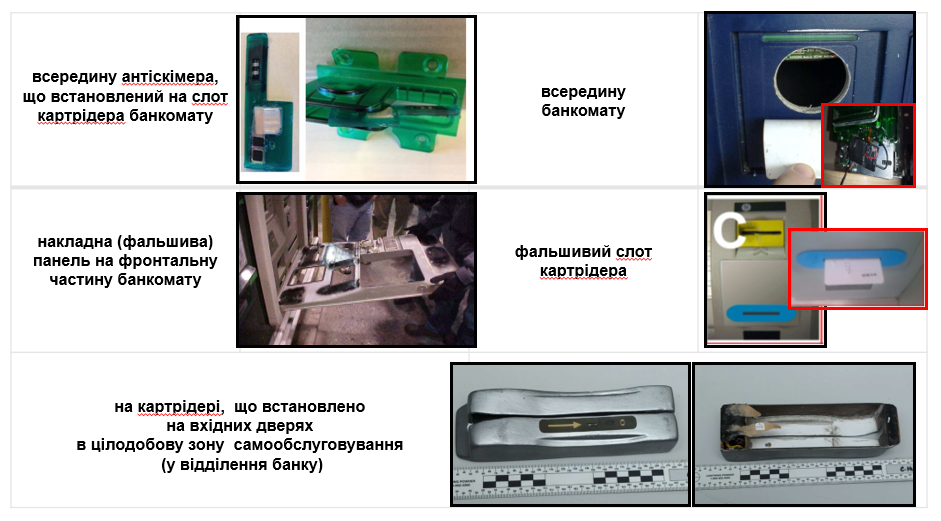 Cyber ​​Police Recommendations:
When withdrawing cash through an ATM, carefully inspect it (hole, card reader, keyboard) - there should be no foreign devices on it.
When typing the PIN-code, cover the keyboard with your free hand.
If someone is standing next to an ATM and is trying to peep a PIN code, stop the operation and contact a bank branch or law enforcement authorities to check the ATM.
Use ATMs located in bank branches or in crowded, lighted areas.
If the ATM does not issue a card, immediately call the bank and block it, and then reissue.
Be sure to connect SMS-banking to track transactions.
Set a daily card account limit.
In case of receiving an SMS-message about operations from the card that you did not commit, call the bank call center and block the card. Also contact the territorial department of the Cyber ​​Police Department of the National Police of Ukraine.
Via ain.ua