A simple way to make windows licensed is also to get the ability to download updates from off site. Windows Genuine Advantage Validation (WGA) (XP + Vista) MGA v6.0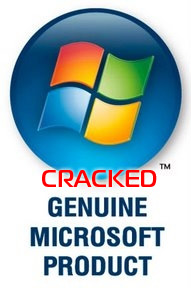 This program flashes Windows and then you can download any updates from the official site, that is, it makes your Windows licensed.
Patches some Windows files, thereby "turning" your pirated copy into a "licensed" one.
Microsoft software, which requires OS validation (WGA), will continue to be installed, as on a licensed copy of WIndows.
Microsoft Genuine Advantage - Crack Installer (09/07/2009)
Windows Genuine Advantage (WGA) v1.9.40.0
Office Genuine Advantage (OGA) v2.0.48.0
Get all of your Microsoft Windows and Office Updates (Critical, Important as well as Recommended)

Tried and Tested, 100% Working on Windows Update, Office Update, Microsoft Update and Microsoft Download Center.

Installation Instructions:
IMPORTANT: Close ALL Internet Explorer windows before use.
# Run the crack self-installer file and follow instructions.
# Once installed, it will show you the success message.
# System reboots automatically to complete installation.
# Start downloading Office updates, templates and add-ons.
# Start downloading All Windows Operating System updates.


Microsoft Genuine Advantage - Crack Installer (02/22/2010) (~ 3.2 Mb)
Microsoft Genuine Advantage - Crack Installer
MGA v6.0 (3.87 MB)
MGA v6.0

Update: WPA kill 2.1.5 medicine helped, which patches the winlogon.exe file. Actually, I had a "sharpening" of Windows protection, and not an "inflammation" of validation when updating from the Microsoft website.



Activator works ONLY with CUSTOM versions of Windows. about which, by the way, the activator itself reports at startup - the screenshot in the previous post clearly shows what software the activator is for: WinXP - Win7 (including x64) + MSOffice and some additional Windows programs (WMP for example).

Regarding the activation of Windows Server. An unambiguous solution has not yet been found. Someone rolls a BIOS patch with the installation of an OEM key. Someone (a decent majority) - no.

So far, a really working option is to activate with KMS servers / keys once every six months (every 180 days). There are assemblies of virtual machines with activation servers that allow this to be done in LAN. The main thing is to google it well.