How to make a RJ-45 Patch Cord (Wire Routing Procedure)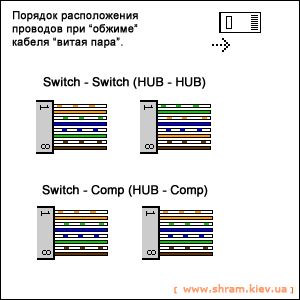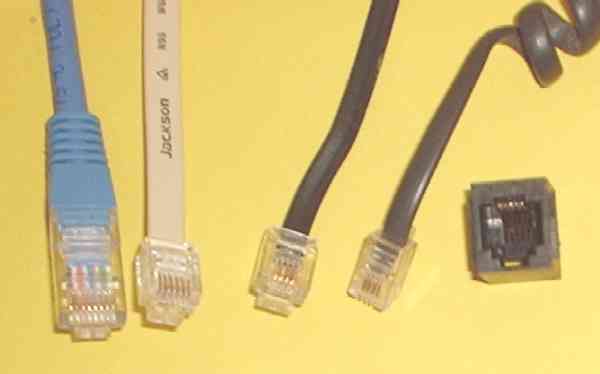 From left to right, types of connectors:
8-pin 8P8C, used RJ45, this is the main connector used for LAN organization;
6-pin 6P6C, uses RJ25;
4-pin 6P4C, uses RJ14 (also often used instead of 6P2C in RJ11);
4-pin 4P4C connector used for connecting handsets (often mistakenly called RJ9; RJ10).
The middle two connectors 6P6C and 6P4C can be inserted into the same standard 6-pin socket (far right).
Registered Jack
RJ-registered jack (RJ, read "ar-jack") - a standardized physical network interface that includes a description of the design of both connectors ("plugs" and "sockets") and their commutation circuits (the color of twisted pair conductors). Used to connect telecommunications equipment. These standards include RJ11, RJ14, RJ25, RJ45 and others. Often in our country, the names of standards are mistakenly used to denote connectors.
History
The Registered Jack connectors discussed in this article were originally developed and patented by Bell Labs in 1975 for the ability to unify the connectors used and to simplify the operation of terminal equipment.
Thanks to the support of the Federal Communications Agency, the US was very quickly given a mass distribution in the telephone networks as a standard when connecting subscribers.
Confusion in the names
There is a lot of confusion with these standards. The six-seated connector, often used in telephony, can be used as RJ11, RJ14 or even RJ25, which are in fact the names of the standards using this physical connector. RJ11 assumes a two-wire connection, while RJ14 is four-core, and RJ25 uses all six cores.
The term "RJ45" is mistakenly used to name the 8P8C connector used in computer networks. In fact, the real RJ45 is physically incompatible with the 8P8C, since it uses an 8P2C circuit with a key. The erroneous use of the term "RJ45" is probably due to the fact that the real RJ45 has not been widely used, as well as their external similarity.
Main types of connectors
The table shows the main types of connectors used and their possible names.
| The main name | Marking | Description | Analog |
| --- | --- | --- | --- |
| RJ9 | 4P4C | a connector used to connect telephone handsets to a telephone set | RJ10 RJ22 |
| RJ12 | 6P6C | 6-pin connector compatible with telephone, rarely used | RJ25 |
| RJ14 | 6P4C | the most popular phone connector is a cheaper variation in which only 2 pins are used is designated 6P2C | |
| RJ21 | 50-pin | connector used to connect PBX or other telecommunications equipment, can be called the connector "Telco", or "Amphenol" | |
| RJ45 | 8P8C | the main connector used in telecommunications equipment, there are variations with the key labeled as RJ-49S | |
| RJ50 | 10P10C | connector used in the UPS American Power Conversion and Eaton Corporation | |
6-pin connector wiring
| Contact | RJ9 | T / R | ± | Color coding (modern) | Deprecated. |
| --- | --- | --- | --- | --- | --- |
| 1 | X | R | + | white / orange | yellow |
| 2 | X | R | - | Orange | green |
| 3 | X | T | - | green | red |
| 4 | X | T | + | white / green | brown |
Four-way connector layout
| Contact | RJ25 | RJ14 | RJ11 | The wire | T / R | ± | Color coding (modern) | Deprecated. |
| --- | --- | --- | --- | --- | --- | --- | --- | --- |
| 1 | X | | | 3 | T | + | white / green | Orange |
| 2 | X | X | | 2 | T | + | white / orange | the black |
| 3 | X | X | X | 1 | R | - | blue White | red |
| 4 | X | X | X | 1 | T | + | White blue | green |
| 5 | X | X | | 2 | R | - | orange / white | yellow |
| 6th | X | | | 3 | R | - | green / white | blue |