How to make a sim card and memory card hybrid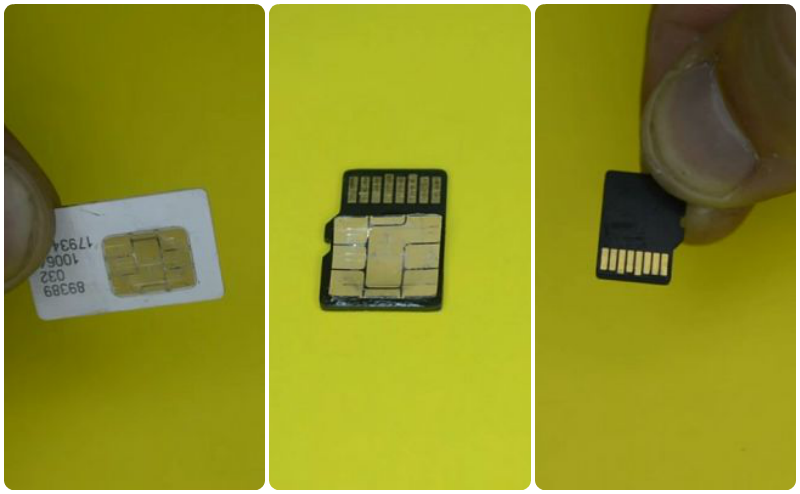 SIM (Subscriber Identification Module) - the subscriber identification module used in mobile communications. SIM cards are used in GSM networks. Other modern cellular networks usually also use other identification modules, usually outwardly SIM-like and performing similar functions - USIM in UMTS, R-UIM networks in CDMA networks, etc.
A memory card (sometimes an incorrect flash card) is a compact electronic storage device used to store digital information. Modern memory cards are made on the basis of flash memory, although other technologies can be used in principle. Memory cards are widely used in electronic devices, including digital cameras, cell phones, laptops, portable digital audio players
The video instruction will teach how to combine any SIM card and microSD memory card into one device without loss of functionality!
Modern Chinese and Korean smartphones are increasingly equipped with a universal dual slot, in which you can insert either two SIM cards, or a SIM card and a memory card format MicroSD. However, there is a very simple way to make sure that there are ... three in the slot for two cards! Namely - two SIM cards plus a memory card.
To do this, make a kind of hybrid memory card format MicroSD and sim card. This is quite feasible due to the fact that the contact groups of the memory card and SIM cards are located in different places. Therefore, we take the SIM card, carefully separate the contact group from the plastic base, cut off the edges and paste it onto the MicroSD card.
Done! So we got two full-fledged sim cards and a microSD memory card in a double slot.