Services and services for anonymous access to blocked sites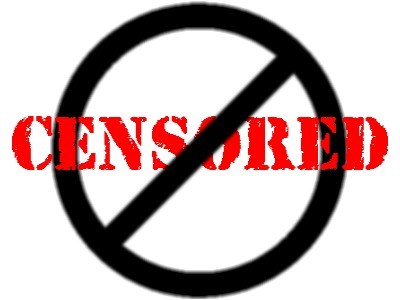 On July 2, 2013, Roskomnadzor adopted federal law No. 187-FZ, according to which any site containing unlicensed copyright and related rights objects may be blocked. This law has caused a huge public outcry.
In accordance with the provisions of the law, resources can be blacklisted for literally anything — certain elements on a page, used graphics, videos and texts.
Users are not ready to refuse to visit their favorite sites and tolerate stupid proceedings, instigating their constitutional rights. They are increasingly interested in the question - "How to get access to blocked sites?" , The answer to which is given in this article, which brought together the most simple and understandable ways of circumventing locks that do not require special knowledge.
A bit of IT support, tips and tools to get around a site block or access information in case of partial blocking of sites or the introduction of censorship. Do not forget to install them today, otherwise it will be impossible later!
Several ways to access blocked sites
Add to the URL ".3s3s.org"
One of the easiest ways is to simply add a ".3s3s.org" to the blocked URL.
An example for our site http://www.shram.kiev.ua.3s3s.org/.
Turbo Browser Mode
Opera browsers and Yandex Browser have a built-in turbo function.
If you enable it, the traffic from Internet resources will not go directly, but through an additional server, compressing it. It is clear that it does not correspond to the address of the site, which means that the restrictions of Roskomnadzor no longer apply to the desired resource.
The "turbo" mode is activated automatically with a poor Internet connection speed, and when the need arises to use it to bypass blocking, you need to perform the following actions:
for Opera browser - activate the icon in the lower left corner of the window;
for "Yandex Browser" - go to the settings, click on the "Show advanced settings" button and check the "turbo" item.
Google translator
Google Translate has the ability to not only translate web pages as a whole, but also allows you to gain access to prohibited sites.
To do this, the user must enter the address of the desired resource in the translator window, and then click the "Translate" button or follow the link that appears in the right-hand part of the window.
Through Google Translate, most of the blocked sites are opened, but the features of the service's functioning - it is intended primarily for translation - sometimes violate the layout of the content of the pages, making the information unsuitable for perception.
You can use Google Translate at http://translate.google.com/.
Search engine cache
The databases of the largest and most popular search engines, such as Yandex and Google , are located abroad.
Accordingly, all resources prohibited in the CIS are available to their search bots. Information about all sites, including those blocked by Roskomnadzor, is stored in a "cache" - a copy of the site saved on search engines.
Thus, in order to gain access to them, the user only needs to visit the page of one of the search engines and enter the address of the search site into the search box. After that, they will be able to see the list of pages and take advantage of their "cache".
In Yandex, when you hover over a link, just below it, the inscription "copy" appears - this is the same "cache".
As for Google, next to each link there is a green triangle - behind it is a "cache".
Using the "cache" can make navigation a bit more difficult, and the information displayed through it is not always updated in a timely manner.
RSS feed
For unhindered access to the site blocked by Roskomnadzor, it must be added to the RSS feed of the Yandex feed.
This is done as follows:
a user registers an account with Yandex or uses an existing one;
visits https://mail.yandex.ru/my/#lenta/catalogue;
on the site clicks the button "add";
in the field that appears, enter the address of the desired resource.
Other RSS aggregators are also used for this purpose:
https://theoldreader.com/;
http://feedly.com/index.html#discover.
No less effective is the service of sending RSS to the mail called Blogtrottr - http://blogtrottr.com/.
However, applying it to bypass the blocking, the address of the desired resource will constantly have to be entered completely. As for LJ, then at the end of the address you should add data / rss.
DNS server change
Some providers do not block IP addresses listed in the sites.
In this case, you can access the required resource by changing the network connection settings.
The user needs to open the TCP / IP connection settings, click the "properties" button and select the "Internet Protocol".
In the window that appears, fill in the fields:
"Preferred DNS server" by entering numbers 8.26.56.26;
"Alternate DNS server" by entering the numbers 8.8.8.8.
Before deciding to use this method, it is imperative to preserve the previous settings - this will help restore the normal operation of the system if something goes wrong.
VPN
VPNs are technologies that can be represented as a tunnel, with a user's entry point, and a way out at any selected point in the world.
Inside this tunnel, using VPNs , protects, encrypts and modifies the data exchanged between the computer, users and sites on the network.
From deciphering the concept of VPN, it becomes clear that the technology was created to ensure the safe use of the Internet, but it is no less effective in combating Roskomnadzor bans.
VPN exit tunnel identifies the user as a resident of another country, respectively, for which prohibited sites will not be blocked.
VPN can be used by downloading a paid or free application:
https://vemeo.com/ru/;
http://www.hotspotshield.com/ru;
https://www.tunnelbear.com/.
Ways to circumvent Roskomnadzor's locks for mobile devices and tablets
Almost all of the above applications have counterparts that work within the operating systems of mobile devices and tablets .
And they are applied on the same principle. From this it follows that Internet users, who use mobile devices and tablets to connect, simply need to download the applications and forget about the blockages of Roskomnadzor forever.
So, applications for iOS :
Google Translate - https://itunes.apple.com/ru/app/perevodcik-google/id414706506?mt=8;
Hola - https://itunes.apple.com/us/app/hola-mobile/id485623276?mt=8;
VPN service tunnelbear - https://itunes.apple.com/us/app/tunnelbear/id564842283?ls=1&mt=8;
Google Chrome browser with turbo feature - https://itunes.apple.com/ru/app/chrome-brauu-ot-google/id535886823?mt=8.
Android applications :
Google Translate - https://play.google.com/store/apps/details?id=com.google.android.apps.translate&hl=en;
Hola - https://play.google.com/store/apps/details?id=org.hola&hl=en;
Tunnelbear VPN service - https://play.google.com/store/apps/details?id=com.hideninja.vpn;
Google Chrome browser with turbo feature - https://play.google.com/store/apps/details?hl=en&id=com.android.chrome.
Summarizing all the above, it can be concluded that bypassing the blocking of Roskomnadzor is not as difficult as it seems at first glance.
It is enough to show a little patience and read about existing methods of access to prohibited resources, and then use them in practice, making sure how easy it is.
Proxy servers are designed to redirect traffic through themselves.
If the user's computer has a proxy plug-in installed, it can access blocked resources as follows:
When you enter a search query, it connects not with the server of the computer, but with a proxy server;
to recognize the correct address becomes impossible and access is automatically opened.
You can get acquainted with Proxy servers on a separate page .
Anonymizers
Anonymizers are Internet services that load the page requested by the user onto themselves first and then show it.
They are extremely in demand by office workers who want to bypass the blocking of social networks.
At the same time, anonymizers are excellent for viewing resources blocked by Roskomnadzor. To open this or that page, the user will need to enter its address in the appropriate field on the site anonymizer.
List of working anonymizers:
http://anonymouse.org/anonwww.html;
http://proxya.ru/;
http://www.anonymizer.ru/;
http://www.hidemyass.com/.
You can get acquainted with Anonymizers on a separate page .
Plugins friGate, Hola, ZenMate
This is a specialized extension for Firefox and Google Chrome browsers that guarantees uninterrupted access to all Internet sites.
Initially, these plug-ins were created to speed up the loading of pages of Internet resources, but over time it turned out that this extension also provides an opportunity to gain access to blocked sites.
You can get acquainted with friGate, Hola, ZenMate on a separate page .
FoxyProxy Plugins
for Firefox - https://addons.mozilla.org/en-US/firefox/addon/foxyproxy-standard/;
for Google Chrome - https://chrome.google.com/webstore/detail/foxyproxy-standard/gcknhkkoolaabfmlnjonogaaifnjlfnp?hl=en.
Next, enter the IP address of the proxy server and you can use it.
The proxy servers themselves can be obtained free of charge on our website .
Online Services
Proxfree
Full-fledged free anonymous proxy service ProxFree provides access to blocked sites of any type. In addition, he has specialized versions for Facebook, YouTube, and adult sites.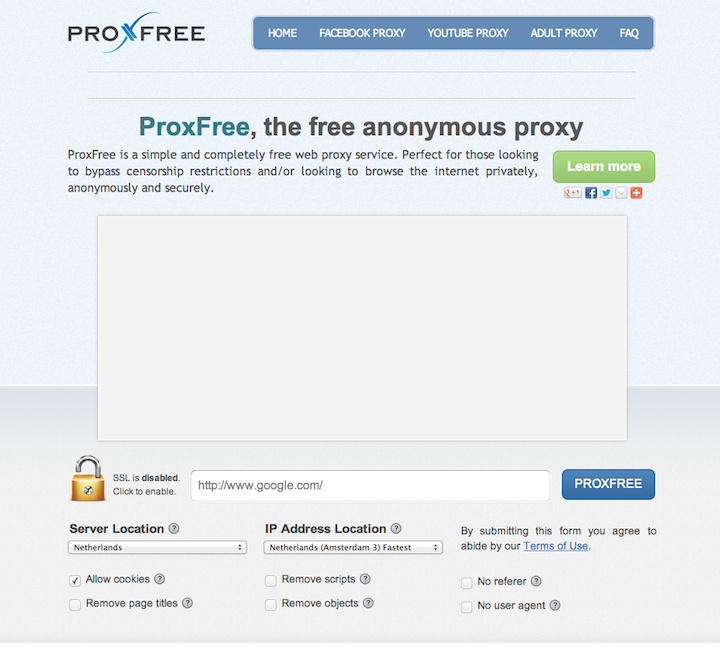 On the ProxFree website, you can select the country where the server and IP addresses are located, enter the link to the page you need and open it as if you were in the Netherlands, France or the USA.
There are several options available, including disabling cookies and deleting downloaded scripts and objects; IPv6 fully supported.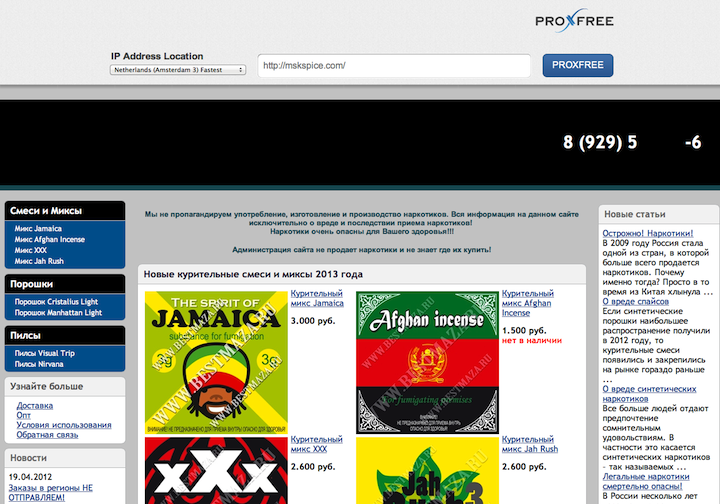 ProxFree is one of the best free services that allow you to open almost any page on the Internet, including those listed in the " Registry of Banned Sites ".
Stealthy
An alternative option is the online service and Stealthy plugin for Chrome and Firefox browsers, which also works flawlessly with almost any blocked resources.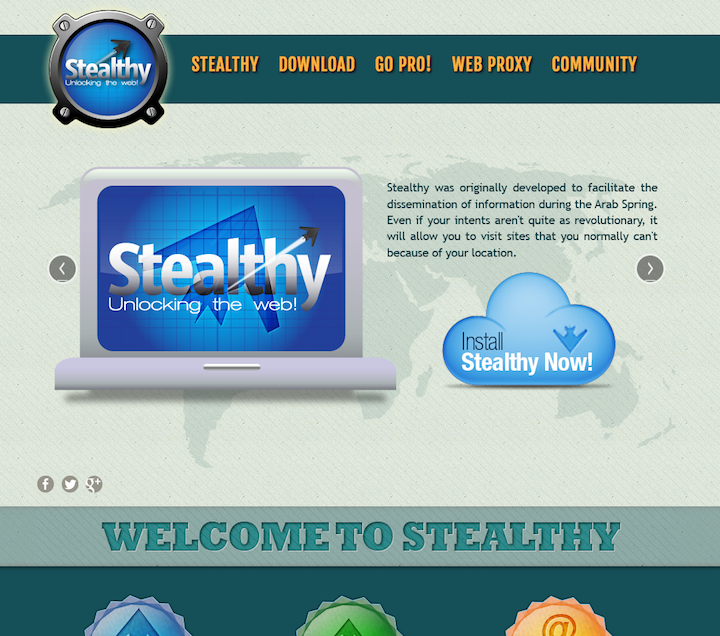 With it you can easily and easily access any of the blocked sites.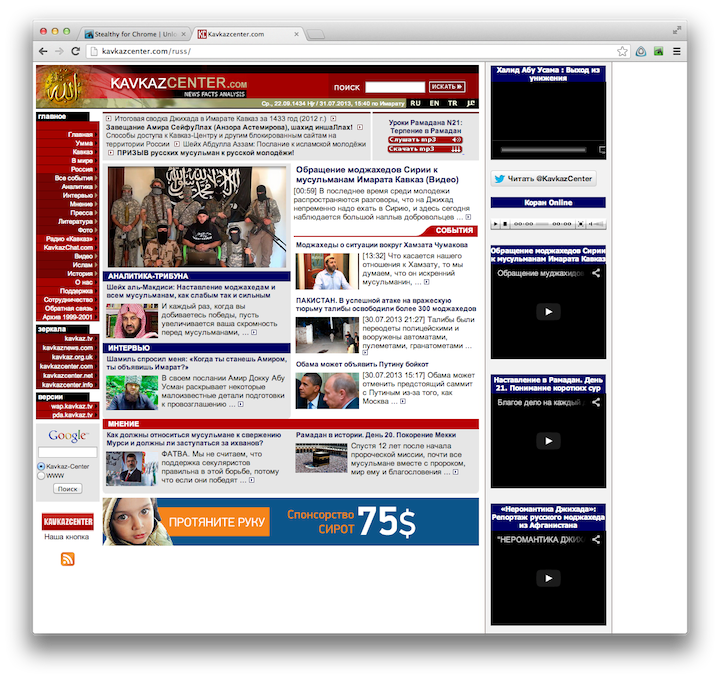 Online services for torrent trackers
Torrentproxies
Especially for access to torrent trackers blocked in individual countries, there are special lists of specialized proxy servers.
For example, proxies for most popular international trackers (say, Pirate Bay or isoHunt) are listed at TorrentProxies .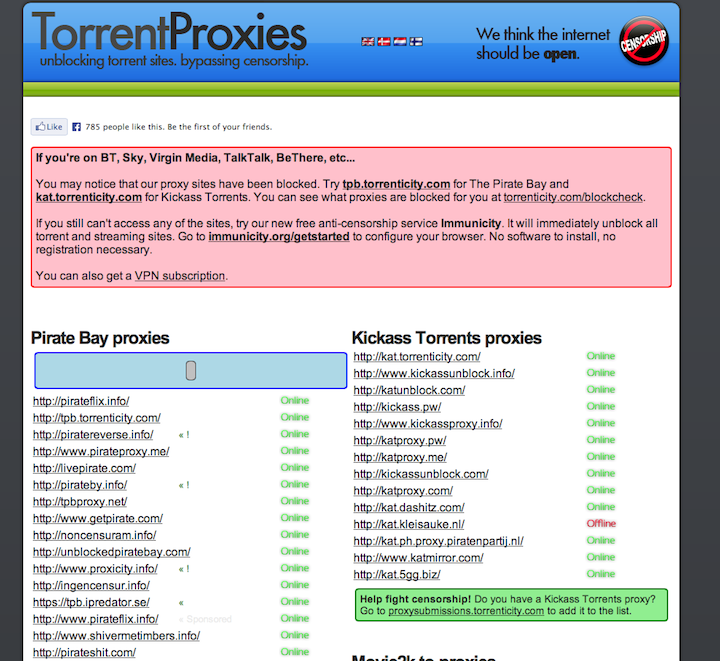 On the same page, you can also find a list of "normal" anonymous web proxies, which you can use to visit any pages that you have blocked. For all servers, their status is given - online or offline.
To gain access to blocked torrent trackers, you can also configure the browser to use a special PAC file (proxy auto-config), which contains a list of "forbidden" web addresses.
In the case of the introduction of one of these addresses, the browser automatically sends traffic through one of the proxy servers specified in it. Requests to other addresses are performed in the usual way.
Immunity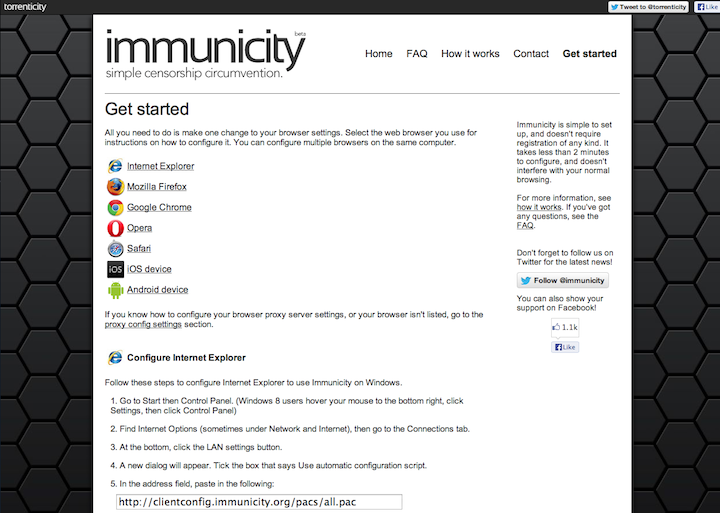 For example, you can use the PAC-file of the free service Immunicity , in the list of which the most popular Russian trackers rutracker.org and rutor.org already appear .
The creators of the service specifically state that they guarantee that only the addresses on the list will pass through their proxies in order to avoid increased load.
Additional software
Both applications significantly slow down the connection speed, because your Internet must pass through a third-party server, a proxy server. This will make it harder to track you, but it makes Skype and Youtube less enjoyable. The link will be fast enough to read news, email, write messages and use Facebook.
However, if you do not have any problems, you can disable these programs. In Freegate, this is a simple shutdown, and in HotspotShield this is called a pause, but you can choose the option to stop indefinitely.
Freegate
My first choice is Freegate , because the app is free and contains no ads.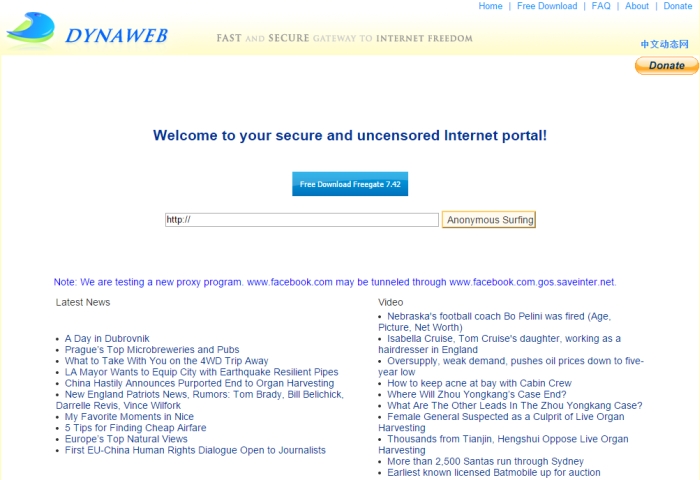 Download Freegate from here http://us.dongtaiwang.com/loc/download.en.php
Install the program and click "yes" for all safety warnings.
After installation, an Internet Explorer browser window will open. In this window it will be possible to view sites already through a proxy.
In this connection, virtually, your connection will go outside Ukraine!
Happy use!
HotspotShield
Hotspotshield is not completely free because it contains ads and an "elite version", but it seems to me that it is more advanced and also supports Firefox.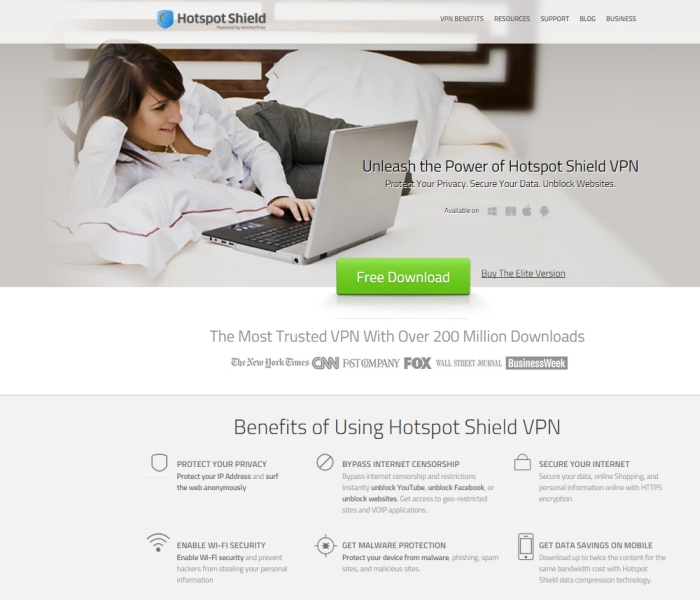 How to use? Yes, just:
Go to the site and click "free download" http://www.hotspotshield.com
Install the program and click "yes" for all safety warnings.
Allow the application to reload the browser.
After restarting, you will use the Internet through a proxy.
Additional tips
These tips are found in the Internet, namely in China. If it works for them - why not try with us

Using a router
In the case of a complete shutdown of everything (Internet, mobile and TV), to transfer information between each other, we have Wi-Fi. More precisely, one line with the name of the network. We can change it and broadcast it in a radius of 100-300 meters.
Picking up this "flash mob", it is quite possible to cover the city with the necessary information in a couple of hours. Such a transfer method is sufficient to transfer important information to each other. To do this, in the browser (opera, firefox, explorer, etc) you need to go to the admin panel of the router at 192.168.1.1 or 192.168.0.1. Then go to the wireless network settings section (wireless or WLAN). Here, see the item "SSID" or the name of your network - and change it to the desired message.
Be prepared for the worst, but we hope that it will NOT be.
Attention to all users of FACEBOOK
Received information about DNS Blocking Facebook providers in Kiev and the country.
From the available addresses, only IP 173.252.110.27 and 31.13.81.128 are currently being viewed.
In case of blockages of the FACEBOOK site you need:
1. find the hosts file

On Windows, "C: \ Windows \ System32 \ drivers \ etc \ hosts"
In Android, "/ system / etc / hosts" ( requires root privileges to edit )

2. Add lines to it:

173.252.110.27 facebook.com
31.13.81.128 www.facebook.com
After save the file and restart Windows. After rebooting, calmly use facebook.com.
For mobile devices: Download the OperaMobile application, enter the IP address instead of the facebook.com address: http://31.13.81.128/
Remember or save this address in the bookmarks, then it may be too late.