XDSL Technology Guide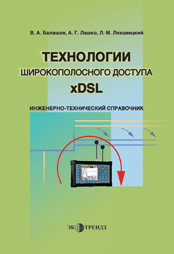 Attention! For the first time in the network is laid out a directory on xDSL technologies: VA. Balashov, A.G. Lashko, LM Lyakhovetsky. Broadband access technologies xDSL. Engineering and technical reference book - M .: Eko-Trends, 2009.
Annotation:
The engineering and technical handbook contains the main characteristics of xDSL transmission technologies (Digital Subscriber Line), regulated by the Recommendations of the International Telecommunication Union G.991 ... G.993.
The principles of building xDSL equipment, the basic algorithms for the operation of digital transmission systems (DSPs), the characteristics of the transmitting equipment, the potential and achievable transmission characteristics are described.
The main attention is paid to the xDSL DSP with asymmetric transmission speed in the directions from the subscriber and to the subscriber - ADSL and VDSL. The Handbook includes extensive systematized information contained in ITU-T Recommendations and national standards.
It is intended for specialists engaged in the development of broadband xDSL access, as well as for teachers and students of communication universities.