Notes paranoid. How to protect your data on the Internet?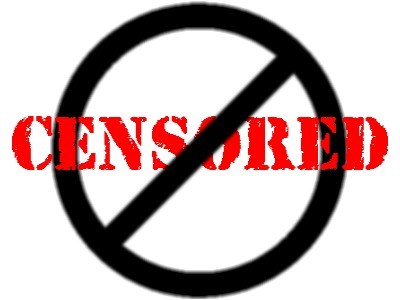 It should be noted that this article is not for advanced Internet users, but for those newbies who want to protect their data and unfortunately, still do not know how to do it.
Recently, many have become paranoid about protecting their data in social networks and even on their own smartphone or home computer. Our simple internet security tips are based on the valuable experience you have gained over the long years of working on the Internet.
My location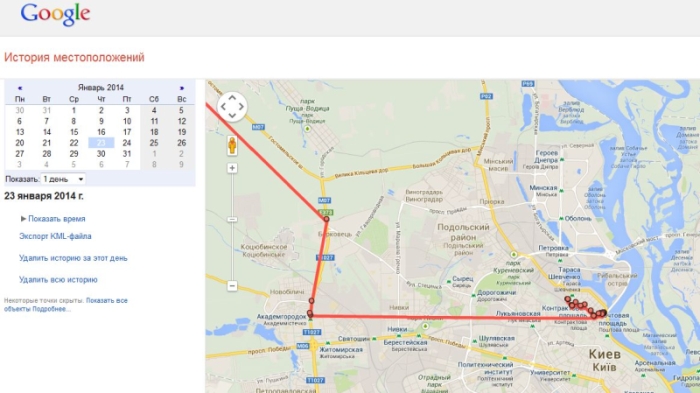 So, first of all, I'll start with Google and location. If you are a smartphone user on Android OS, you will be very surprised when you find out that you can see every step you take in Google Maps.
If your smartphone is connected to a Google account and the Internet is constantly turned on (or data transfer, then Wi-Fi), then the IT giant knows and maintains all the coordinates of your movements.
All this can be viewed through the Location History service, if you log in through a Google account. Surprised? Of course, this information is available only to you, if your account is not broken.
What should I do to prevent Google from storing this information?
Delete in the history of the movement history for the entire period.
In the settings of your smartphone in the "Location" parameter, remove all permissions.
Prevent apps installed on your smartphone from using location detection.
However, on the other hand, Location History in the enabled mode can be very useful. For example, if you have lost your smartphone or have it stolen from you by going to the location history, you can see where your gadget is located. But it must be included.
Secure internet
In connection with the latest events in Kiev, we often see information that Ukraine may restrict access to some sites or disable access to the network in general (the latter, fortunately, was not confirmed). We also read that users on the Internet can monitor and track every action.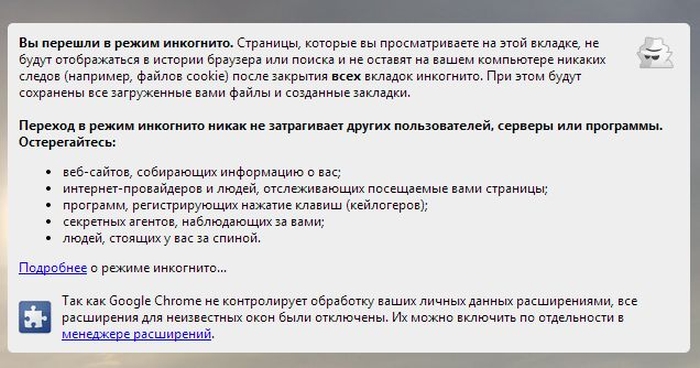 Therefore, in order to protect yourself a little, you should take into account the following:
It is best to use Google Chrome browser and go to sites in anonymous mode. The ctrl + shift + n key combination in the new tab immediately launches "incognito mode". This is useful because the browser will not remember the history during web surfing, websites without access to cookies and therefore it will be more difficult to track your actions.
Do not allow the browser to remember passwords, since all of them can be seen in the settings. If you are very worried about your accounts in social networks, it is better to delete all passwords that have already been saved by your browser. For example, if you open password settings in Chrome (chrome: // settings / passwords), you will see a list of all sites where you have logged in and allowed the browser to remember the data. When you hover over a supposedly encrypted password, the browser will prompt you to revise it. Therefore, if you do not want this data to be available to someone who is at the computer, delete them. On the other hand, this thing is useful because it allows you to "remember" a password that you accidentally forgot. Therefore, you decide. In the same way, you can see the saved passwords in Mozilla, and in Opera.
What is Chrome good for? Firstly, because it was recognized as the most popular browser in the world, secondly, it is the safest browser, and thirdly, for ZenMate, a free VPN application that allows you to surf the Internet through encrypted channels from foreign servers. I note that VPN (virtual private network) according to many experts is one of the best ways to protect your connection from various dangers and threats. ZenMate is very easy to use - you should install it and enable it, as your communication channel starts to be encrypted right away. In addition, the location address may be disguised as a resident of the United States, United Kingdom, Germany, Switzerland or Hong Kong. Interestingly, the connection speed remains stable.
An alternative may be known Tor - proxy server system , allows you to establish an anonymous connection, protected from listening. However, it does not work as fast and Internet security experts still advise using a VPN.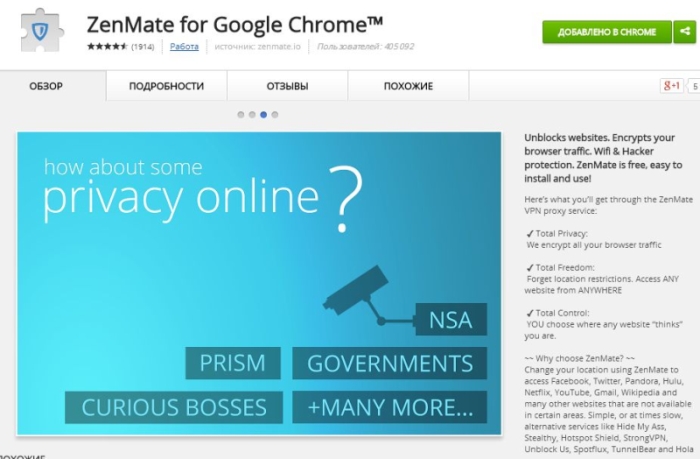 By the way, are you annoyed with annoying video ads that turn on automatically and constantly piss you off? I am sure that yes. Display ads and various banners can be disabled by installing an extension for your browsers. If it's Chrome, install AdBlock, if Mozilla, then Adblock Edge. So you will get rid of not only ads, but also spyware, which are often downloaded from ad banners.
How to protect your smartphone?
Actually, a smartphone is one of the most valuable things that we have. But this valuable thing can be a good subject for analysis of special services, enemies, or just intruders.
The easiest advice is to encrypt all your data (sms, MMSK, photos, contacts) using the free Hide Text application if you are using an android, and also set a screen lock with a password. There are options here - instead of a password, you can set a lock in the form of face recognition, or you can in the form of a graphic code.
If you are an iPhone user, then everything is easier. In the settings, you can set a password for blocking and set the parameter "erase all data" after 10 unsuccessful attempts to enter a password.
In addition, in its latest iPhone model, Apple has built in the Home button a fingerprint scanner - Touch ID - another level of protection for the smartphone. Zivchayno, the scanner tried to circumvent the various methods and even had some funny cases, but I hope in my model nastupyny friends from Cupertino will fine-tune the scanner.
Choosing a Messenger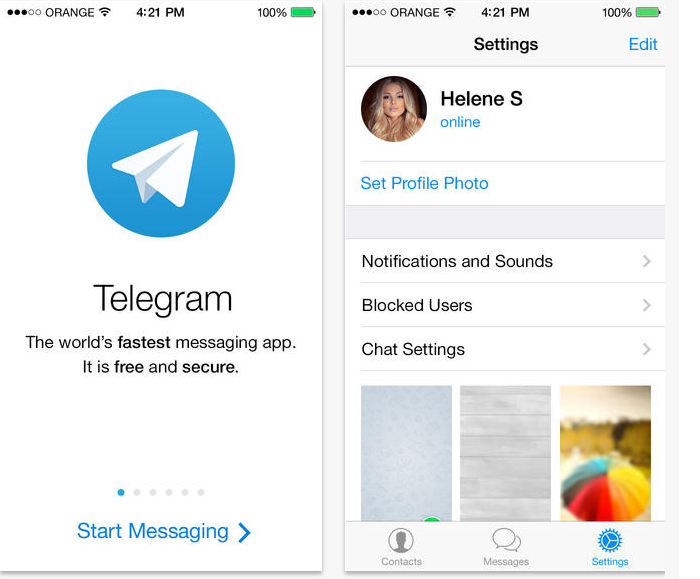 Do you agree that regular SMS messages have already lost their popularity? And the majority of young people use various messengers - Facebook, Viber, WhatsApp, maybe someone else is still using ICQ.
But, if you have already decided to pump yourself and increase the level of security of your data, then (it is possible that you will spit), one of the safest messengers who have already received positive feedback from the Internet security gurus is the project of Pavel Durov , the one who created VKontakte) Telegram. The application is available for both Android and Afyon.
As Durov himself declares, the messenger is secure and transmits messages over encrypted channels. The creator of VKontakte himself recently became very concerned about security during communication and therefore decided to create a Telegram. In addition to being safe, he is also cute, and not as nasty as WhatsApp or Viber, who want to access all your data on the phone.
Hangout messenger from Google could be a more or less decent solution. There is nothing superfluous, but there is the possibility of video calls, you just need to have an account with Google. This messenger is also good because it can work without being tied to your mobile phone number.
But if you are used to chatting in several messengers at once, then you can go ahead and install Jabber or Pidgin for yourself. These applications support many services, you just have to log in. In addition, both use channels to encrypt data.
If you decide to install Pidgin, be sure to enable the OTR protocol option in the settings. Then in general you can not worry about the fact that your correspondence will be "tapped."
It's not necessary to say that antivirus programs should be installed on the computer, the firewall is activated, passwords for Wi-Fi, and passwords for the account.
Of course, you do not need to become paranoid. But if you want at least a minimum level of protection of your data - you can experiment. It does not hurt.