The best exercises for deltoid muscles - Be in shape!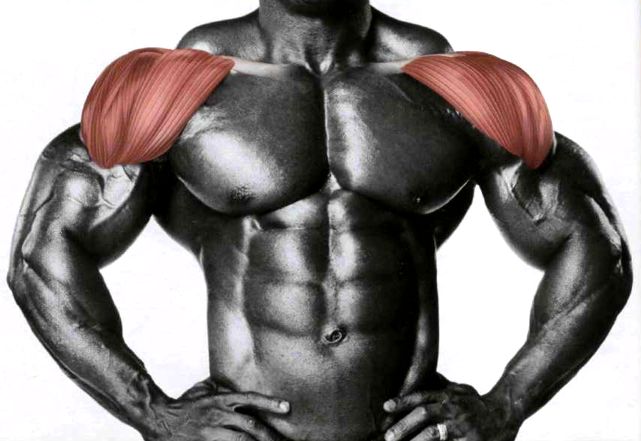 The deltoid muscle ( Latin musculus deltoideus ) - in the human anatomy - the superficial muscle of the shoulder, which forms its outer contour. Takes part in flexion and extension of the shoulder, putting the hand to the side. The name "deltoid" occurs by the similarity of the triangular shape of the muscle with the Greek letter? (delta). The average muscle weight in a man is about 192 grams. In many animals (for example, in cats) is known as the general muscle of the shoulder.
General information - broad, strong shoulders , this is the main feature of a sporty and smart figure. The shape of the shoulders is formed by the shape of the skeleton and is improved by the development of deltoid muscles. Deltoid muscles respond well to attention to them. These muscles have the ability to increase the width in the shoulders so that a person with a normal physique can achieve athletic forms.
Location - deltoid muscles located above the upper part of the humerus. The anterior part of the deltoid muscle starts from the outer edge of the clavicle. Then follows the middle part and, accordingly, the back part. Thus, three bundles of deltoid muscle fibers pass into the short tendon, converge and cut between the biceps (biceps) and triceps (triceps) muscle.
Purpose - the deltoid muscle is designed to divert the shoulder back, forward, to the side, and rotate the shoulder around the longitudinal axis. Each of the actions uses the corresponding part of the muscle. Taking into account the natural properties and the appointment of the deltoid muscle, a set of exercises is chosen for the development of the deltoid muscle.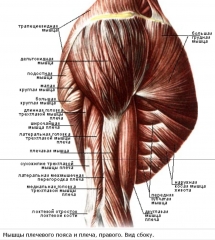 Antagonists in the direction of the arm protrude a large thoracic and broadest muscle of the back.
The front beams participate in the lateral branch of the arm with the outer rotation of the arm. In the flexion of the shoulder, their role is small, but they help in this movement a large pectoral muscle (elbow just below the shoulder). Promote the muscles: subclavian, large thoracic and broadest back with inner rotation of the shoulder.
The lateral bundles participate in the lateral retraction of the shoulder with its position in the inner rotation and in the horizontal retraction when it is turned external, but practically do not participate in the horizontal extension of the shoulder (with its internal rotation).
The posterior tufts take a large part in horizontal extension, especially because of the small involvement of the latissimus dorsi in this movement in the horizontal plane. Other horizontal extensors - subacute and small round muscles - also work together with the posterior portion of the deltoid muscle as external rotators, antagonistic to internal rotators - large pectoral muscles and the widest. The posterior portion of the deltoid muscle also takes a large part in the over-extension of the shoulder, with the support of the long triceps head.