Flu Hel (Homeopathic Medicines Heel)
Gripp-heel®
Flu Hel
---
Tablets · Injection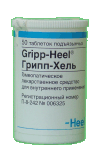 Composition: Tablets : 1 tablet contains: Aconitum D4 120 mg; Bryonia D4, Lachesis D12 60 mg each; Eupatorium perfoliatum D3, Phosphorus D5 30 mg each. Injection : 100 ml contain: Aconitum D3 0.4 ml; Eupatorium perfoliatum D2, Phosphorus D4 0.1 ml each; Lachesis D11, Bryonia D3 0.2 ml each.
Indications: Pills : flu and influenza infections. Decreased immunity in infectious diseases with fever. Injection : flu and influenza infections.
Dosage: Tablets : usually under the tongue, 1 tablet 3 times a day, in acute cases 1 tablet every 15 minutes. For the prevention of influenza in epidemics - 3 times a day, 1 tablet. Injection solution : in acute cases, daily, in other 1-3 times a week, 1 ampoule subcutaneously, intramuscularly, intradermally, intravenously (recommended in a mixture with Engystol N and / or Traumeel S). Echinacea compositum S injections are alternately indicated.
Release form and packaging : Tablets : packaging contains 50 or 250 tablets. Solution for injection : the package contains 5, 10, 50 or 100 ampoules of 1.1 ml.


Brief description of the indications for the use of the individual components of the formulation: Aconitum. Acute inflammatory diseases. Neuralgia. Heart attacks with a sense of fear. Bryonia Acute inflammation of the respiratory system, pleura, peritoneum, liver. Acute and chronic rheumatism. Lachesis Inflammation and bleeding of the skin and mucous membranes. Infectious diseases. Cardiovascular failure. Neuralgia. Pathological changes in mood and behavior. Eupatorium perfoliatum Influenza, influenza infection with fever. Diseases of the biliary system with fever. Rheumatism. Phosphorus Inflammatory ailments of the respiratory, digestive and genitourinary organs. Severe infectious diseases. Developmental disorders and states of exhaustion. Cardiovascular pathology (pain in the soul, impotence of the myocardium, etc.). Bleeding. Rheumatism. Neuralgia and cephalgia. Increased sense of the senses. Eye diseases. Violations of behavior and mood.
Based on the homeopathic components that make up this drug of this drug, Gripp-Heel is prescribed for influenza and catarrhal flu infections at any stage and for patients of any age. It seems to be indicated for other febrile diseases (including infectious ones) - tonsillitis, middle ear inflammation, bronchitis, tracheitis, etc.
Gripp-Heel (oral or parenteral therapy) increases the body's immunity regardless of the location of the disease (upper respiratory route, nose, pharynx, pneumo-, cardio-, dermato-, entero- and neurotropy) or its specific pathogen.
At the same time, according to the opposite effect of Arndt-Schulz, Aconitum eliminates the effects of chills, neuralgic symptoms and circulatory disorders, but Eupatorium relieves limb pain and a feeling of exhaustion. Such components as Lachesis (septic infections, a tendency to hemolysis), Bryonia (thirst, cough, chest pains, diseases of the serous membranes, for example, pleurisy), Phosphor (petechiae, selective action on the lungs to prevent pneumonia) enhance the therapeutic effect due to the complex potential exposure.
Gripp-Heel intradermal neural injections are especially indicated for pain in the extremities. In pediatrics, it is recommended to prescribe only intramuscular and subcutaneous injections.