How to quickly get sick?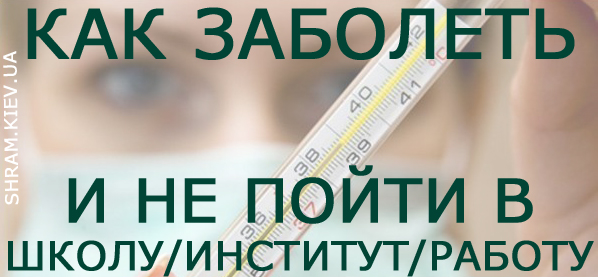 From time to time, rest is simply necessary, and the authorities and those around you cannot understand it. The bustle of everyday life delays and does not allow a person to breathe freely with a full breast, problems and affairs are always full. From time to time, everybody has a thought in his head that it is not so bad to sit at home by the TV, wrapping the body in a blanket and sipping tea with honey.
And before this little paradise on earth, just one step - a cold ! Each of us was sick more than once, but not everyone knows how to get sick . In fact, there are no special difficulties and tricks here - everything is just like God's day. If you wish, you can get sick instantly .
The main thing is not to go to work with a cold, as 30% of Ukrainians do!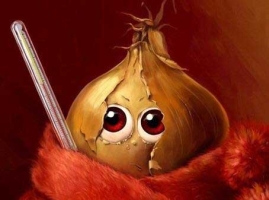 Virtually none of the people with medicine unrelated to see any differences between acute respiratory infections and acute respiratory viral infections, but it is worth noting that the common cold implies a consequence of the most common hypothermia. The fact is that in the body of even the most healthy person there are always a lot of opportunistic bacteria. Hypothermia is the very stress that motivates them to be active.

1 way: Refined sugar (or bread) for 1 piece of one drop of iodine. Temperature 37.7 you feel just great (you don't notice the temperature at all). Only keeps not long for 1 day maximum.
Caution: you can get poisoned, everyone has different organisms and you can faint if the heart is weak!

2 way: Sit in the winter at the open window naked and shout that head up.
Caution: neighbors may complain


3 way: You buy Rondo or Hols, and breathe through your mouth in the window in the winter. 10 minutes of continuous breathing can raise the temperature to 38.2, checked.
Caution: Of the minuses - sore throat. Of the benefits for 2 weeks, but


4 way: Slate from a pencil (not color) raises the temperature to 37.5-38, but only for 3-4 hours.
Caution: you can choke or poison!

5 way: Just cold milk get drunk and walk
Caution: you can, apart from ORZ, catch pneumonia too!

6 way: we need: Hair dryer 1 pc. Thermometer 2pcs. Bulb 1 pc. Method of application: Take a thermometer, warm about a bulb up to the necessary temperature). Warm your head with a hair dryer. Come to the parent with a complaint to the throat, give a thermometer. A parent can say that your thermometer is buggy and that you need to measure others. Take another ... well, you understand

Caution: you can sleep in front of parents!

7 way: We need: Bath 1 pc., Bucket 1pc. Method of application: Approach the parent and complain of abdominal pains (poisoned) and you will be sick. Pre-typing the water in the bucket, run into the bath and gradually (as if jerking), with the sounds of tatting, pour water from the bucket into the bath. Come out with your face as if you were forced to eat what you are given in school. Mission Complete. And so you can sit for 2-7 days).
Caution: you can sleep in front of parents!

8 way: Let it seem trite, but rub your armpits with salt (or garlic) ... the simple one you eat ... and measure the temperature, it will take you to 39)

9 way: You take the oil in a skillet you warm it up and then you drink it. Well, not a lot of pain, but the chemical burn from the sore throat is not distinguishable, and the temperature is and the throat is red.
Caution: you can burn yourself all the insides!

10 way: We take ice, a glass. Ice is crumbling, but we do not melt it, such as pieces of ice, but in order to swallow it all at once, pour cold water into 1/6 glass and pour ice. With a swing and over and over swallow! little teeth hurt. The fact is that the ice does not have time to warm up and melts inside you. Separating cold there, or rather catching you down from the inside!
And better, just do not get sick!