In what position the spouses are sleeping - they have such a relationship. A PHOTO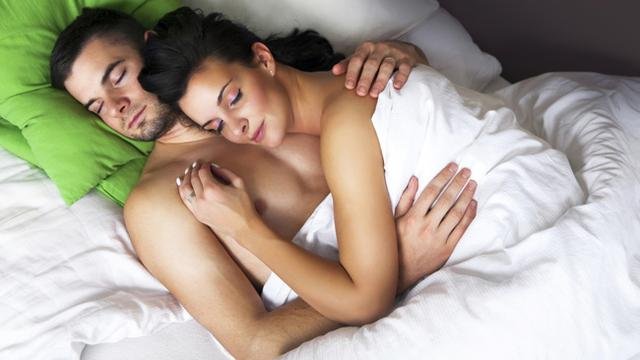 American psychologist Corrin Sweet says that meanwhile, in what postures spouses and lovers sleep, and their relationship is a direct relationship, writes Konstantin Shiyan.
"When you sleep, you cannot manipulate your body language. This is the time when you are honest with yourself and most vulnerable. Your habits regarding how you sleep in a bed together can tell a lot about your relationship, "she said.
Here are 10 sleeping poses that can tell a lot about your relationship.
1. "Spoon"

The habit of sleeping "spoon" is the most common among all couples. It is especially characteristic of young people who live together for three to five years. Psychiatrist Samuel Dunkell says that if a woman sleeps with her back to the man hugging her, this can indicate her strong emotional dependence on her partner. This posture provides a woman with a sense of peace and security, and a man gives a sense of power over her partner, as well as a "duty" to take care of her. This position, the researchers say, indicates that the relationship is all right, and their romantic phase is not over yet.
2. "Honeymoon"

The pose in which the partners sleep facing each other, embracing, says is characteristic of couples going through a period of strong love. Usually people who often have sex with each other sleep and almost always - couples whose relationships are just starting to develop. At the same time, Elizabeth Flynn Campbell, a psychotherapist from New York, says that such a posture may indicate excessively complicated relationships, when people are very dependent on each other and are afraid that their relationship is threatened.
3. "Tiling"

When both partners fall asleep, lying on their backs, but at the same time the woman sleeps with her head on the body of a man, this may indicate that she is dependent on him. Dunkell argues that in such a relationship we can talk about the domination of a man: he suppresses a woman, as it were, forces her to be not only a mistress, but also a devoted comrade.
4. "The cradle of lovers"

The man is sleeping on his back, the woman is on his stomach on his shoulder. Such a posture for sleep is typical for couples in which a man constantly takes care of a woman and is engaged in her upbringing.
5. "On a leash"

This position resembles the first one, but has one important difference: the bodies of a man and a woman in it almost do not touch. We are not talking about hugs. This posture can say that both man and woman value independence in their relationship, but they trust each other. The degree of attachment of partners to each other in this case is not as great as usual.
6. "Foot lock"

This position is about two things. First, it may mean that the partners are not very comfortable with each other. That is, they sleep together more out of the need for physical intimacy, and not spiritual. Secondly, such a posture may indicate that the partners have opposite characters. For example, a man may appreciate comfort, a woman - his independence.
7. "Harassment"

This position, when a man sleeps on his side, and a woman embraces him from behind, says that at least one of the partners feels uncomfortable in such a relationship and subconsciously wants to escape. However, things can be simpler, Dunkell emphasizes: a man only wants more freedom than this woman can give him.
8. "Zen-style"

This position is typical for couples who have been in a relationship for quite some time. She - a compromise between connectedness and independence of partners. It allows you to create a physical contact in a dream, but none of the partners restrain each other. If spouses sleep in this way, it means that the relationship is most likely all right.
9. "Rock Climber"

This is how couples usually sleep, at least one of whose members harbor anger or resentment against their partner. Such a posture is a sign that something is wrong in a relationship. True, everything can be much simpler: one of the partners may be plagued by the snoring of their second half. Or the room is just too hot to snuggle up to each other.
10. "Crab Pose"

This position of partners during sleep may mean that now in a relationship, everything may be in order, but recently they have definitely had serious problems. Such a posture for sleep is an unconscious hint to the partner that the resentment and pain have not passed.