Oily Skin Care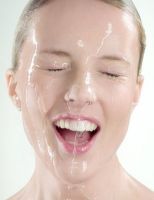 Oily skin glistens, often has a pale color and a rough structure, in which the mouth of the excretory ducts of the sebaceous glands, or pores, are especially noticeable. Gloss is caused by increased secretion of the sebaceous glands. And although during puberty oily skin is often covered with acne and blackheads, it has one advantage - excess sebum prevents it from drying out.

Oily skin needs
Dust and dirt fall on oily skin rather than dry skin. Water is especially useful for her, so an ideal way to clean is washing with soap and cleansing briquettes. Although some people with very oily skin can successfully use regular soap. You can use light, non-greasy cleansing lotions.
If for oily skin and the degreasing effect of soap, water and lotion is useful, too coarse treatment removes too much fat from it, which leads to additional secretion of the sebaceous glands. A vicious circle forms. The most you can expose your skin to is a light, two-minute fingertip massage using soap or lotion and water every morning and evening. After cleaning, remove excess fat with an astringent. Very oily skin does not require additional moisturizers, however, if you have only slightly oily skin, you need to moisturize it from time to time, especially in areas with a dry climate. On the face there may also be separate dry skin areas, such as lips, neck, cheekbones and forehead, which need to be regularly moisturized.

It is useful in the morning to wash with boiled water using a special soap, for example, Safeguard soap; experts consider it one of the important personal care products. On the shelves of shops you can find other popular varieties of soap recommended by cosmetologists and dermatologists. For washing, you can use a terry cloth or mitt, made of soft fabric, as well as gauze. Do not use a stiff brush, as it can cause premature wrinkles.

It is good to wipe the face with a slice of ice with healing additives. Refreshes oily skin with eau de toilette. For this, a moistened swab is applied to the face skin with light movements, then a nourishing cream is applied along the massage lines. When choosing a cream for yourself, carefully study its description and consider the degree of its fat content (the cream can be either fatty or bold, hydrant).

After completing the morning procedures, you can proceed to makeup. The foundation for the skin should also be selected according to its type.
During the day, oily skin can be gently wet, dusted with compact or crumbly powder. In the evening, after you remove makeup, paints from eyes, lips, foundation, you can wash your face with warm water and soap. Toilet soap should be selected specifically for oily skin. It is useful for oily skin with a contrasting wash when warm water is alternated with cold (cool). After washing, water on the face can not be wiped with a towel, but dried in the air, then wiped with a decoction of herbs that contain therapeutic additives that narrow the pores. The cream should not be applied at night, as the skin of the face may wrinkle, so use cosmetic milk (almond or other) or cosmetic cream.

A steam bath, which should be done once a week, with a lack of time - once every two weeks, will help you cleanse your skin from acne. A deeper cleansing - peeling - can be performed using the cosmetic preparation scrub. Packed masks are available, such as lifting. These new cosmetics have proven their worth and have gained approval in many countries around the world. After the steam bath, you need to make a mask of vegetables or fruits or a mask-wrap. Sometimes, to cleanse (exfoliate) the skin using ready-made masks (this mask resembles a masquerade) with slots for the eyes. It is "put on" on the face, well fixed and left for some time. Detailed instructions are attached to the finished mask.

Causes of increased oily skin
An increase in oily skin can be caused by various reasons - dysfunction of the endocrine system, intestines and others. Of course, if the cause is established, you must, first of all, try to eliminate it, that is, to cure a disease that adversely affects the skin. Daily care for oily skin provides a particularly thorough cleansing.

It is not recommended to wash often with hot water, since the activity of the sebaceous glands from this only intensifies. It is enough to apply hot water 2-3 times a week. On other days, use cold water for washing, which tones the skin, improves its nutrition, tightens pores and reduces fat content. It is useful to wipe the skin with ice from the infusion of equally taken St. John's wort, calendula, peppermint, serpentine root, rowan leaves.

Special care
If oily skin is peeling, or after water procedures there is a feeling of tightening, dryness, use a liquid cream before washing or make a mask of yogurt, and after washing, apply a nourishing cream to wet skin. With oily, porous skin, masks are useful: protein, protein-lemon, protein-camphor, fruit and vegetable, yeast, from hydrogen peroxide. Care for mixed or combined skin is built taking into account the type of skin in different parts of the face: for oily areas, funds for oily skin are used, for dry ones - for dry skin.