Psychologist Kovalev SV - Psychology of the innermost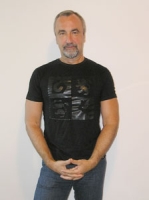 Psychologist Kovalev Sergey Viktorovich
• Psychologist, psychotherapist, management consultant, political consultant.
• Doctor of Psychology, Professor, Academician IIA.
• PhD, GrPhD, Full professor.
• World and European register psychotherapist, certified NLP Master Trainer and Ericksonian hypnotherapy specialist.
• Full member of the Russian Psychological Society and the All-Russian Professional Psychotherapeutic League (OPPL).
• President of the Interregional Department of Neuro-Linguistic Programming: NLP-consulting, coaching, psychology and psychotherapy of OPPL;
community certified consultant;
official teacher and supervisor of international class practice.
• General Director of the Institute of Innovative Psychotechnologies and Scientific Director of the Center for Practical Psychotherapy.
He was born a long time ago, but as a person who is going to live happily ever after (due to the neuroprogramming of his own Consciousness and Body), he has already changed his birth dates twice. He successfully graduated from the psychology department of Moscow State University (although he lost his diploma because of the Quartet on the exam on scientific communism). Replacing several rather exotic places of work (such as the Krasnogorsk Mechanical Plant, the Krasnogorsk State Committee of the Komsomol and even the VSSH at the Central Committee of the Komsomol), with relief, got a job in the sociology and psychology department of the Moscow Institute of Management. And in vain, as it turned out that this is still an office that fully meets the principle of "a flock of comrades" and "a terrarium of like-minded people." With "grief" he wrote and published his first books on the psychology of the modern family. Unable to withstand the terror of the fellow prisoners, he fled for free bread, having opened one of the first cooperatives in Russia. He never returned to the civil service, but he managed to fall in love with the neuro-linguistic programming of NLP, and being in this still incessant state of being in love also to defend himself, and at the same time create his own scientific direction: the Eastern version of neuroprogramming (the author's method of counseling and psychotherapy). He opened his own Center for NLP technologies (now the Institute of Innovative Psychotechnologies) in order to move neuro-linguistic programming not only forward, but also to the masses.
He created the Interregional Department of NLP Consulting, Coaching, Psychology and Psychotherapy in the All-Russian Professional Psychotherapeutic League (OPPL), sincerely (but, it seems, unsuccessfully) hoping to combine the diverse and diverse actions of the "gentlemen of energy efficiency", and at the same time to somewhat improve the level of qualification and demand marked community. He became a member (possibly in vain) of many public organizations, including (if I am not mistaken) the movement "Russia without drugs" and the Guild of Automotive Journalists. He wrote a bunch (under two dozen) books on psychology and neuro-linguistic programming, and not only did not stop, but on the contrary, began to write them with doubled zeal. Successfully provides services to overcome phobias with neurosis, treatment of depression.
Now he lives happily in his own house in the near suburbs, he does not part with this place willingly, and for this reason he does not often visit Moscow. Author and permanent coach of the curriculum of the Institute of Innovative Psychology. Still insanely works a lot, but with more pleasure.
He has been happily married for a long time, raising a beloved daughter, and of the rest of the household a dog and a cat. He is no longer young, but still far from it as before, but he is engaged in martial arts and the "iron game". Moderately, but confidently, engaged in esotericism, qigong, meditation and astral flaming. And, most importantly, he is going to do a lot more in this earthly life ...