Top positions for sex, for men and women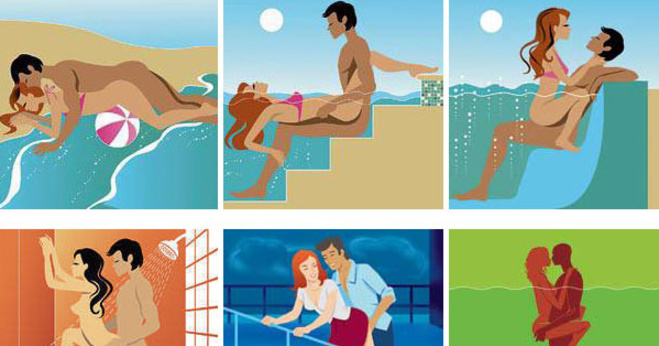 Sexual or sexual behavior of a person (from the Latin. Sexus - gender) - a set of mental reactions, attitudes and actions associated with the manifestation and satisfaction of a person's sexual desire. Sexual behavior is a form of interaction between individuals. Sexual behavior of a person is a practical realization of his sexuality and is one of the variants of social behavior. The actual sexual behavior of a person may not correspond to his sexual orientation. Although the sexual behavior of a person is closely related to reproductive function, but it, unlike the sexual behavior of animals, is determined by the social development of a particular person. Therefore, the sexual behavior of a person is relatively autonomous from his reproductive function.
The prelude to intercourse, or preliminary lovemaking , is the preliminary intensification of arousal immediately before sexual intercourse. The purpose of preliminary lovemaking is to bring more pleasure to the partner, as well as to allow a woman to experience an orgasm, if with this the partners have difficulty in ordinary sexual intercourse without preliminary caresses, which according to statistics happens quite often. Thus, the prelude provides partners with the highest degree of pleasure, is a means of diversity in sex. Prelude is also the first step in the chain of actions that form the cycle of human sexual intercourse (arousal). The erogenous zones of a woman or a man are stimulated through touch, kiss, oral and other means. Male foreplay may include stimulation of the penis, scrotum, as well as the same erogenous zones as in the woman (breast nipples, earlobe, abdomen, neck, etc.).
Sexual positions - various positions for copulation are described in many sources of different cultures, from ancient times to the present day. All paired heterosexual positions can be conditionally combined into several large groups: a man from above, a woman from above, a man from behind, cruciform positions, lateral positions, sitting and standing positions, as well as mixed positions, such as the boat position, and athletic positions that require additional dexterity and partly special physical training. In any of the positions can be active as a woman and man.
Love makes everyone happy! How many poses in sex would you call a meeting? And how many poses for sex do you use? How to diversify sex life? No not like this. How to bring back bright sensations to your bed and move sleep-slumber closer to morning? The song about love-carrots will be left for teenagers and ladies' novels. Remember the salvation of drowning whose hands? The most sexual organ of a person is the brain. He is able to recreate a lot of things in real life. You just need to move a little convolutions of the brain itself and to attract to the solution of the question the creative forces of the body. So how to do it?
There is a common stereotype that sex is only pleasure and nothing else. In fact, the role of intimacy in the life of every adult person is much more global. Experts have long determined that the presence of sex life affects both the psychological and physiological state of a person, thereby bringing not only pleasure, but also self-confidence, youth and beauty. In addition, overall satisfaction with marriage often depends on sexual satisfaction. Sexologists believe that if spouses have everything in order in an intimate relationship, then they serve as a background for the development of relations between husband and wife in other areas. Today we will present you with the photos of the best pose for sex.
Missionary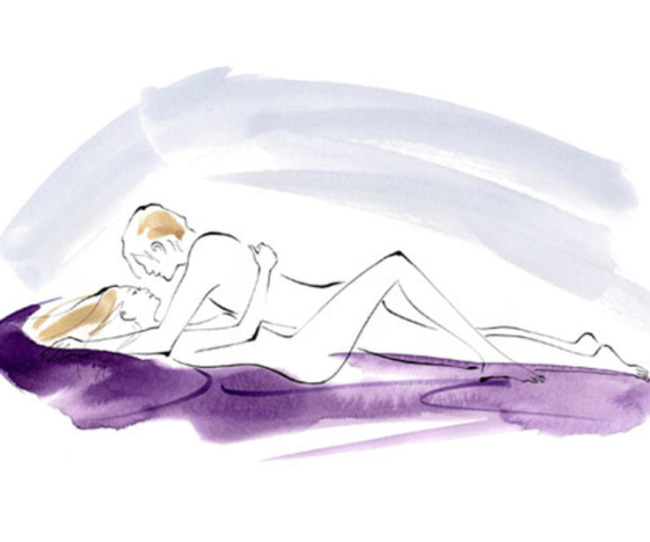 The missionary position is one of the most popular sexual positions. In the classic version of a man is on top, between the spread legs of a woman lying on his back. The possibility of long-term visual and physical contact. The most used position in the world - missionary - is a particularly intimate position where you are face to face. You like it, because you can control the depth and speed of penetration. A woman enjoys feeling the weight of her beloved and maximum skin contact. Please note that a man in this position is quite difficult to keep ejaculation due to intense friction and deep penetration. To prolong lovemaking, at some point, change the position to one in which the pressure is slightly reduced. Lift a little to create a space between you and a small vibrator. Massage the top of its hill.
Spoon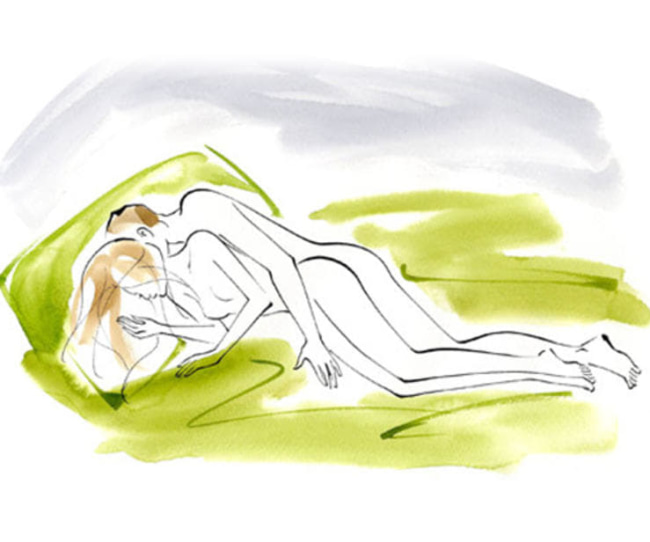 Spoon. This position is great during pregnancy, or if the man is quite heavy. Also ideal for long-term lovemaking. Both of you are lying on your side, turned in the same direction, the man behind the woman's back. It bends the knees and bends in such a way as to provide more convenient access to the vagina. Adjusting the tilt of your body will change the angle of entry and help the partner choose the movements that will bring the most pleasure. Try to synchronize your breath. One of you becomes a leader, and the other follows his breathing in a way that you breathe in and out together. A harmonious rhythm opens up a tacit dialogue of particular closeness.
69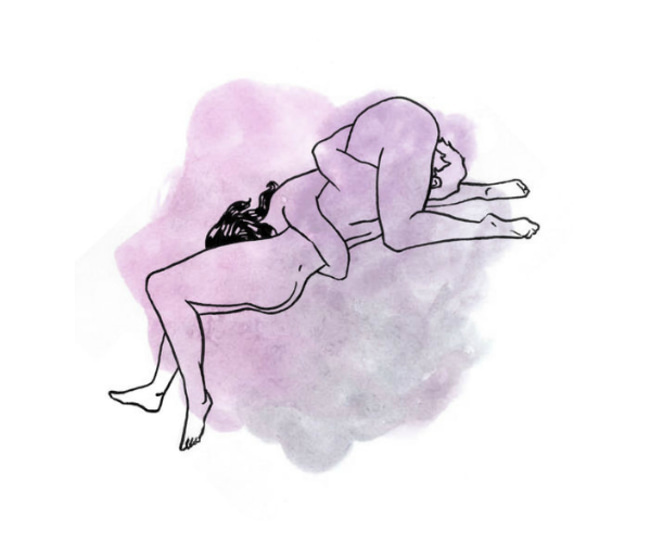 Pose 69 (the terms Jack Pose, French love, Cross love, fr. L'amour croise are also sometimes used) is one of the most well-known poses for oral sex, giving partners the opportunity to perform oral oral stimulation. In this case, the partners are positioned relative to each other in an inverted position, as the numbers in the number "69", hence the name. Despite being well known, the posture for many is not very convenient for achieving orgasm: mutual caress distracts partners, not allowing them to concentrate either on getting pleasure or on getting it. For this reason, this posture is more often part of the foreplay. Simultaneous oral pleasure. When a woman is on top at position 69, she can control the intensity of oral stimulation of her clitoris by raising or lowering her pelvis. In this position, it is easy for her to work with the sensitive area of ​​the man just below the testicles. Try also position 69, when the man is on top. Roll over on side in position 69!
Iron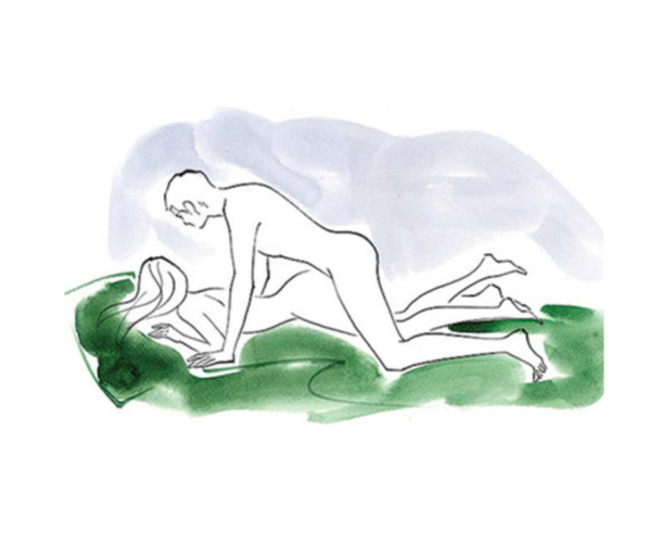 Strengthens the vaginal pleasure. She lies face down on the bed, slightly bending her knees and lifting her hips. For comfort and to increase the angle of the hips, she can put a pillow under the belly. He enters her from behind and holds his weight, resting his hands on the bed. This position creates a snug fit, and in addition, it allows a man to feel a lot more women, creates a sense of superiority. You will stay longer in this position if your partner slows down a bit and starts breathing deeply.
G stimulation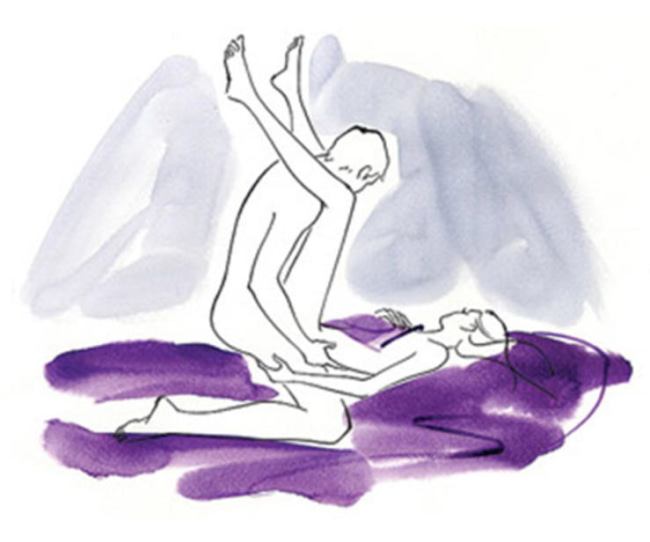 Allows you to make a deep penetration and is focused on point G. It lies on the back. He puts his knees between her legs and lifts them, putting his calves on his shoulders. The partner moves up and down so that the head and the trunk of his penis are in direct contact with the front wall of the vagina. Since this position creates all the conditions for deep penetration, you must first enter the member slowly to avoid causing discomfort to it. The partner lowers the lady's legs down a bit and puts them in her chest. This will allow her to control the pace and depth of shocks. Pay attention to the approach of her orgasm. Her breathing becomes short and shallow. You may notice reddening of the skin, in addition, slightly swollen chest also indicates that it is approaching a peak of arousal.
Reverse pose rider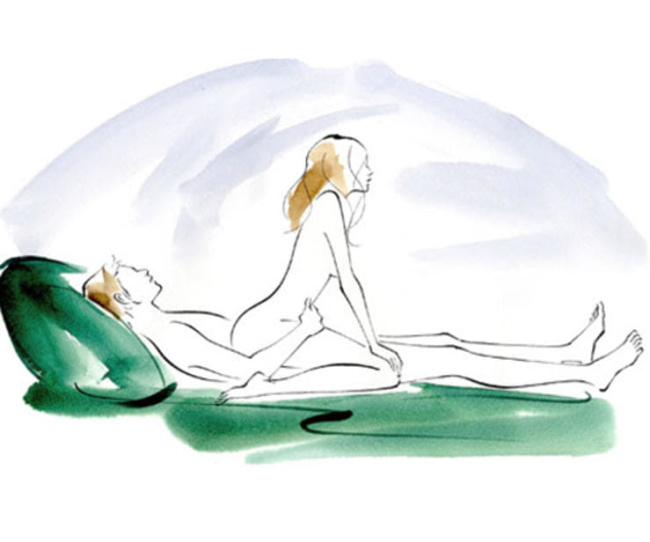 Reverse posture rider. Putting a pillow under his head, a man will get an amazing view of her ass. It can control the depth and rate of penetration. He lies on his back, stretching his legs. She kneels down next to him, then turns and spreads his legs. Kneeling, the partner falls on a penis and begins driving. She can bend forward or backward in order to change the angle of inclination of the penis for greater stimulation. In this position you can easily bend down to stimulate yourself or to direct the penis as you see fit.
Rider pose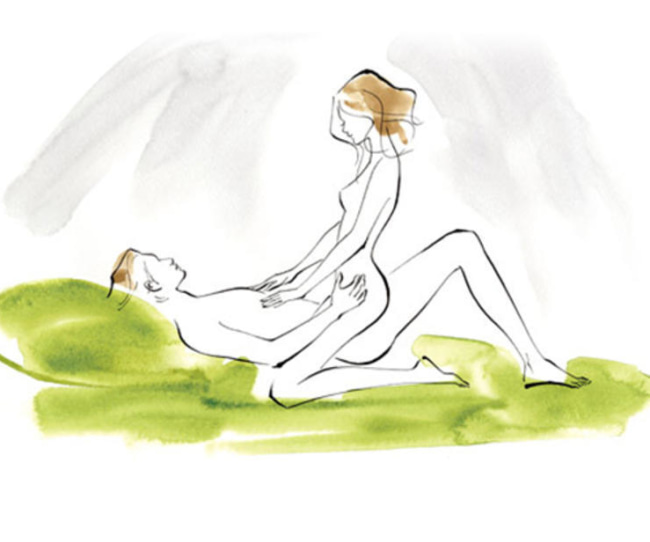 Gives her control. Great for stimulating point G. Position, when a woman is on top, gives a lot of interesting sensations and gives her a psychological advantage, because she can choose the pace and depth of penetration. Alternate shallow and deep thrusts. "The small ones will stimulate the front third of the vagina, which is the most sensitive," says sexologist Rebecca Rosenbalt, author of "Seducing Your Man." The woman lies on the man, chest to chest, and puts her feet on the partner's feet. Then, pushing away from them, she makes swaying movements. Thus, her vulva and clitoris will contact her partner's pubic bone for more pleasure. It will be easier for her to finish if you stimulate her manually and orally until she is very excited. From the position of the woman on top, she can squat on your face, and you can orally stimulate her.
Quick fix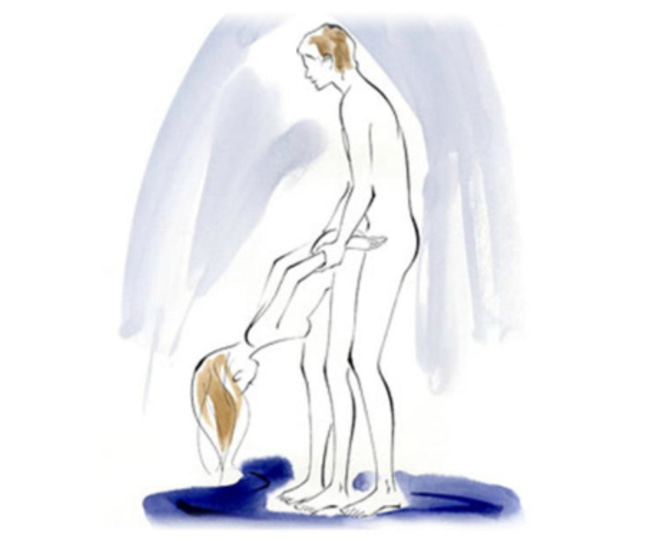 Quick fix. More powerful penetration, it is good for quick sex in the kitchen, especially if the woman is in a skirt. The partner should bend at the waist and put her hands on the furniture, knees or on the floor for support. A man enters her from behind and holds her hips, making pushes. Let the partner sink below so that he can caress her clitoris for additional stimulation.
Doggy style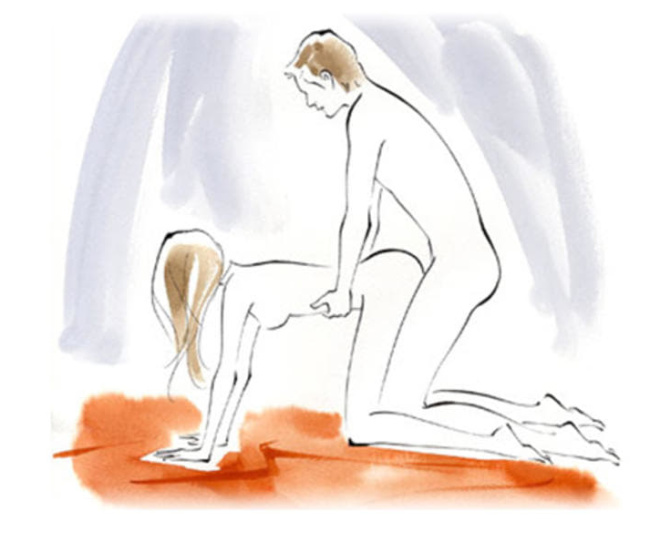 Doggy style Deep penetration and erotic look. It enters it from behind and can penetrate so deeply that the tip of the penis will touch the cervix, which usually becomes an ignored zone of pleasure. But this should be done slowly and carefully. Some women think it hurts.
Pretzel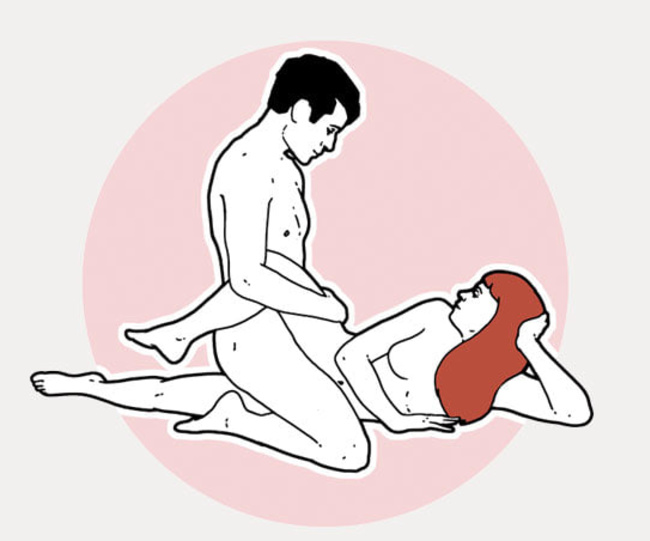 Pretzel Deep penetration like doggie style, only face to face. He is kneeling, leaning on his left foot, while she is lying on the left side. The partner bends the right leg and clasps it to his waist to the right, which will give you a great opportunity to enter her vagina. For many women, penetration from behind is accompanied by back pain. This position will allow her to get comfortable, enjoying deep penetration.