Drug Reference (program)
The "Reference Book of Medicines" contains information on 12 thousand medicines, including synonyms for names. With the help of this program you can easily find the medications necessary to treat the disease you have indicated. All drugs are classified by pharmacological group.
Each medicine contains the following information:
synonyms of this drug;
detailed description;
mode of application;
indications;
contraindications
release form;
whether the medicine is on the list of preferential drugs;
storage method.
Opportunities of the "Directory of medicines":
The directory database contains information on more than 430 diseases;
A list of medicines included in the list of preferential medicines is included in the "Medicines Directory". This list is approved by the MINISTRY OF HEALTH AND SOCIAL DEVELOPMENT OF THE RUSSIAN FEDERATION;
The database of the directory contains information on pharmacies and clinics in Moscow, the Moscow region and St. Petersburg;
In the "Directory of medicines" there is a system for searching for drugs in pharmacies via the Internet. This system will help you quickly find a pharmacy in which the desired medicine is available;
The search system allows you to find any information in the database;
The database editor allows you to add, modify and delete information in the database. The database editing system is available only to those users who have a "Professional license"
The printing system allows you to print any information from the database to print;
The settings function allows you to select fonts for displaying the interface, drug descriptions, and printing.
Medication Guide 2007, Retail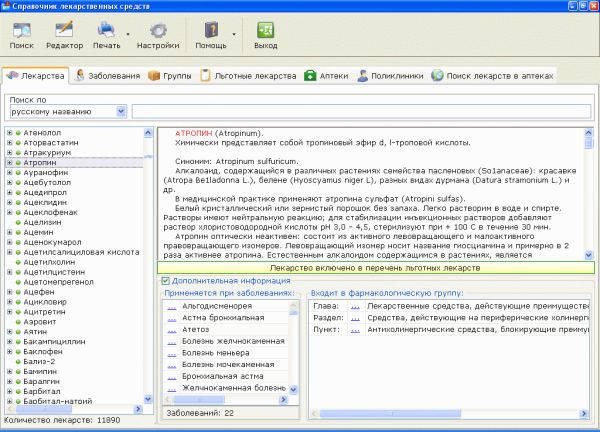 Attention! After unpacking, run the program with the loader! Start.exe, which always launches the program in expanded form. Please note that after unpacking and the first launch of the program, the final folder size will become 42.5 MB.
Portable Drug Directory 2009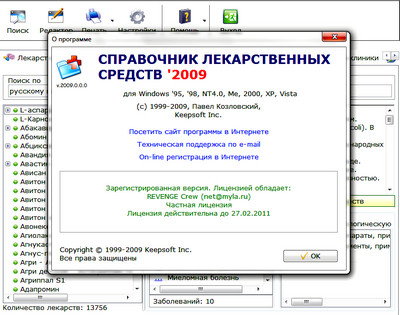 Program Version: 2009.0.0.0
Packed: Thinstall
Checked: WinXPx32 sp2, Vista x32, Win7 x32, Win2008R2 x64
Interface: Rus
Differences from the full version: no