yarrow - achillea millefolium
The Asterraceae family.
Botanical characteristics. Perennial herb with erect stem up to 40 - 60 cm, branched from above, woody at the base. Leaves are lanceolate, double-perissected, with numerous distantly placed segments. The flowers are collected in baskets that form the cluster inflorescence. Marginal flowers are ligulate, uterine white or pinkish, median - tubular, bisexual. It blooms in June - September. Fruit - achene.
Spread. It grows throughout the territory of Russia on wastelands, along roads, in crops, forests, in glades. In all parts of the plant contains an essential oil, rich in chamazulene, cineol, alcohol, karyofillin, sugenol, furfural, filoquinol, phytoncides, ascorbic acid, azulene. In addition, tannins, inulin, resinous substances, aspargin, organic acids (acetic acid, formic acid, isovalerianic acid), elements of cyanogen compounds, flavonoids, copper, and vitamins K, A, PP were found in the yarrow.
Used plant parts. The composition of the yarrow determines the versatility of its effects on the human body.
For medical purposes, grass and flowers are harvested from the beginning to the middle of the flowering period. Cut the upper 15 cm, and on the lower part of the plant cut off the leaves. It is dried in the shade or in the dryer, and then the raw materials are crushed or granulated. The plant is harvested and dispensed by pharmacies.
Medical applications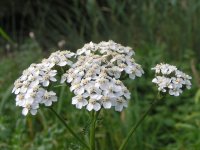 In folk and official medicine Yarrow is known as a plant that stimulates the immune system, enhancing its resistance to adverse environmental factors, as well as a styptic, anti-inflammatory, analgesic, sedative, diaphoretic, vasodilator, diuretic, appetizing, anti-allergic, blood glucose-lowering, choleretic, wound healing bactericidal agent.
The plant is used more often in collections, less often - independently .
Yarrow is useful for nausea , headache, insomnia , bed-wetting, night-wetting, belyah, it regulates the menstrual cycle, stimulates the release of milk from nursing mothers.
Yarrow tincture is drunk with cholelithiasis, acute bronchitis, hemorrhoids, diabetes, hypertension, cough, asthma.
Infusion and tea from the flowers help with bloating, poor digestion, belching.
Yarrow juice dilates blood vessels and is recommended for older people with atherosclerosis, kidney diseases, and it is used externally for boils, acne , wounds, ulcers, bedsores, skin cracks, allergies, eczema, scabies, pustular skin lesions, diabetic periodontitis.
Cooking
Broth grass yarrow: 1 tbsp. l dry ground raw material is poured with 1 glass of water and brought to a boil. Boil for 2 minutes, insist 30 minutes, filter. Take 0.5 cups 3 times a day after meals for liver diseases, obesity, diabetes, hypertension, acute bronchitis.
Infusion grass yarrow: 1 tbsp. l dry crushed raw material is poured with 1 cup of boiling water and infused for 30 minutes, filtered. Take warm to 0.5 cups 3 times a day before meals for headache, dizziness, insomnia, hysteria, urinary incontinence, small lactation.
The juice of the leaves of yarrow: Fresh leaves are washed thoroughly and allowed to drain. The leaves are passed through a meat grinder, squeezed juice. Take on 1 tsp. 3 times a day with honey or used for lotions and irrigation for skin lesions, for rinsing with periodontal disease.
Herbal tincture of yarrow: 2 tbsp. l dry crushed herbs and flowers pour 150 ml of vodka and insist at room temperature in a dark place for 1 week, filter. Take 20 drops 3 times a day before meals for impotence, angina pectoris, intestinal spasms, attacks of cholelithiasis.
Yarrow Leaf Powder: Leaves are thoroughly washed, allowed to drain, and then dried. Grind in a mixer to obtain a fine powder. Used as a powder for wounds, bedsores, purulent ulcers.
Infusion of yarrow herb (for baths): 200 g of dry crushed raw materials pour 3 liters of boiling water and leave for 3 hours, filter into water and take a bath for the night. After the bath, the body is wetted with a warm sheet. On the course - 12 - 15 baths. The same infusion is used for irrigation, lotions on the skin with pustules, eczematous areas.
Contraindications. Pregnancy. Drugs from the plant should not be taken with thrombosis. Prolonged use of yarrow in large doses can lead to dizziness, skin rashes.
Homeopathy. In homeopathy, Millefolium 1x, 2x, 3x, 3 is used for the treatment and prevention of bleeding, as well as for bruising, wounds, ulcers and hemorrhoids. Useful for diseases of the urinary tract: chronic pyelonephritis, cystitis and urolithiasis, accompanied by hematuria.