Vitamin bombs for the winter! These jars for health will help you forget about colds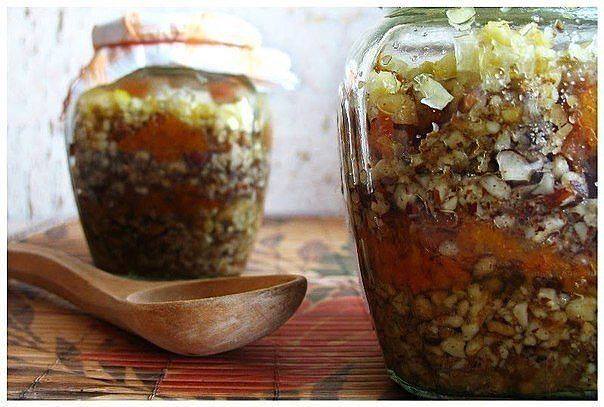 In the autumn-winter time of weather change, each person thinks about what to strengthen and raise immunity. Take pills or droplets is not very much and would like to, because you do not understand - immunity will get stronger from them or, just the opposite, will become even weaker ...
We recommend you a proven tool - traditional medicine . These two recipes for maintaining immunity in the cold season are suitable for adults and children, besides, it is very tasty.
Vitamin mixture
1
Pass through a meat grinder 1/2 glasses of raisins, 1 glass of kernels of a walnut, 0,5 glasses of almonds (it is possible to add cedar nuts), a peel of 2 lemons. Lemons themselves squeeze into the mass. Add 150 g of honey, 0.5 cups of dried apricots and the same amount of prunes. Leave for 1-2 days in a dark place. Keep this mixture in the refrigerator. Adults take 1-2 tbsp. l. 3 times a day, children from three years of 1 tsp. 2 times a day.
2
You will need 200 g of dried apricots, 200 g of prunes, 200 g of figs, 200 g of walnuts, 200 g of raisins, 200 g of honey, 1 lemon, 50 ml of cognac. Dried fruits and lemon go through a meat grinder. Fill the whole mixture with honey and cognac. Put the jar in the fridge and take before eating a 1 tbsp. l.
These funds will help you raise your immunity. Make such mixtures and forget about colds for the whole winter. Be sure to share them with your family - take care of their health!