Vitamin bombs for the winter! These health jars will help you forget about colds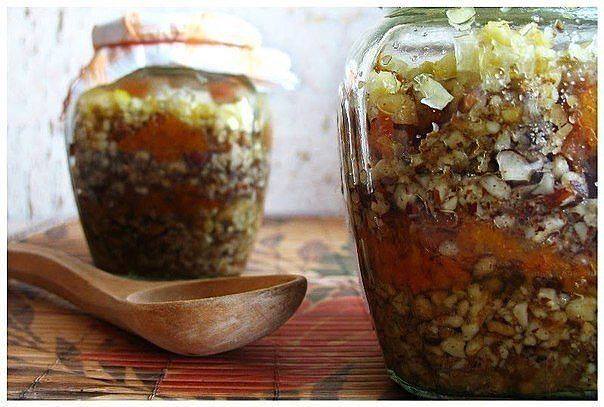 In the autumn-winter time for changing the weather, everyone thinks about how to strengthen and raise immunity. I would not really like to take pills or drops, since you don't understand - immunity from them will strengthen or, on the contrary, it will become even weaker ...
We recommend you a proven remedy - traditional medicine . These two recipes for maintaining immunity in the cold season are suitable for both adults and children, besides, it is very tasty.
Vitamin Blend
1
Pass through a meat grinder 1/2 cup raisins, 1 cup walnut kernels, 0.5 cup almonds (you can add pine nuts), peel 2 lemons. Squeeze the lemons themselves into the mass. Add 150 g of honey, 0.5 cups of dried apricots and as much prunes. Leave for 1-2 days in a dark place. Keep this mixture in the refrigerator. Adults take 1-2 tbsp. l 3 times a day, for children from three years of 1 tsp. 2 times a day.
2
You will need 200 g of dried apricots, 200 g of prunes, 200 g of figs, 200 g of walnuts, 200 g of raisins, 200 g of honey, 1 lemon, 50 ml of cognac. Pass dried fruits and lemon through a meat grinder. Pour the whole mixture with honey and cognac. Put the jar in the refrigerator and take 1 tbsp. Before meals. l
These remedies will help you boost your immunity. Make such mixtures and forget about colds for the whole winter. Be sure to share them with your family - take care of their health!