Speeding up iOS
For example, iPhone 3GS + jailbreak iOS 6.0.1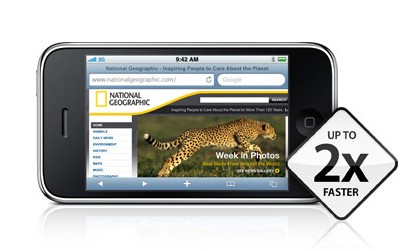 Two days ago, for family reasons, I changed the iPhone 4S to an 8-gigabyte 3GS, bought last summer. The very next day, the nerves began to pass: the device periodically slowed down as it was not possible to make the original model on the latest official firmware. iOS 6 loads the 2009 device so much that it's just right to smash it against the wall. Instead of climbing the flea market for the "five", I decided to return to the old, old-fashioned way to speed up the work of any Apple mobile gadget.
But first, jailbreak.
There is no other way in this situation. In order to start surface cleaning, we need full access to the file system. We will consider the situation using the example of the "latest" firmware at the moment - iOS 6.0.1. To get started, download the Redsn0w program and firmware file 6.0 :
Next, we will begin the procedure of the tethered jailbreak . If you already have one, skip these points, and if not, we read it carefully. After each reboot of the device you will have to connect it to the computer and run Redsn0w, doing a couple of simple steps in the program. Without this, you will not be able to use some key built-in applications - for example, mail or the Safari browser, as well as Cydia. If you installed any tweaks from there, the phone will not turn on at all before you start Redsn0w.
All further actions are performed by you at your own peril and risk.
Jailbreak iPhone 3GS on iOS 6.0.1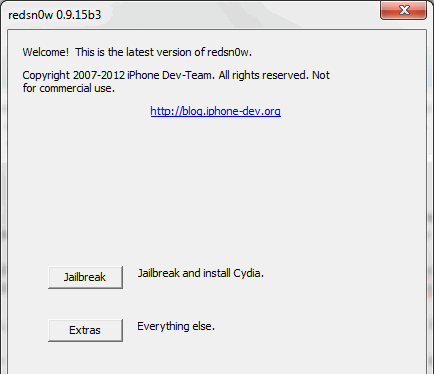 1. Connect your iPhone to the computer, turn it off (in that order) and place it next to you. Open Redsn0w and look at the bottom of the window.

This displays the bootloader version of your iPhone — either "old BR" or "new BR" . For now, remember what is written there and continue.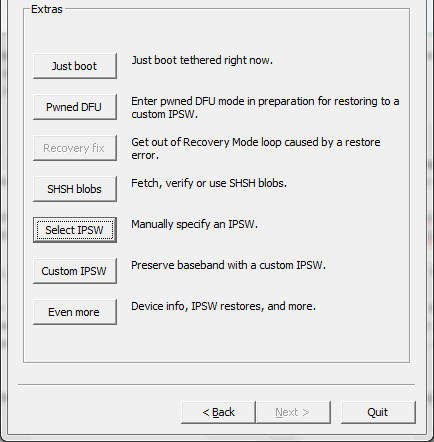 2. Click on Extras , then on Select IPSW . In the window that opens, select the downloaded iOS 6.0 firmware file (iPhone2,1_6.0_10A403_Restore.ipsw).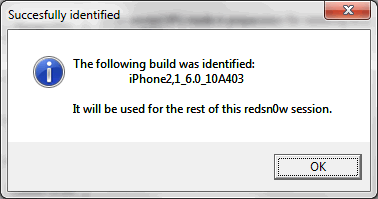 First window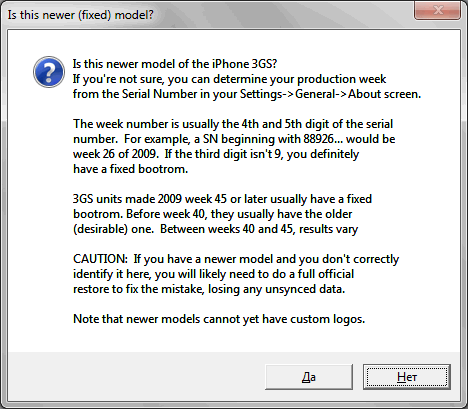 Second window
Important! Next, two pop-ups will appear. On the first, we press the only OK button, and on the second we stop. Remember what the program previously wrote at the bottom of the window. If there was "new BR" - select "Yes" . If there was "old BR" - select "No" .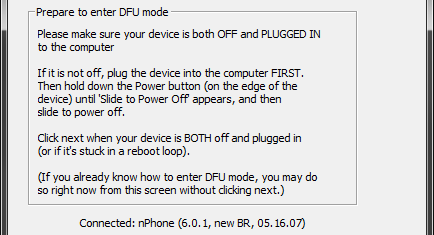 3. Click Back and select Jailbreak . Pick up the phone and follow the on-screen prompts to enter your smartphone in DFU mode. As soon as you do everything right, the program itself will continue to work, and soon the process will continue on the phone itself.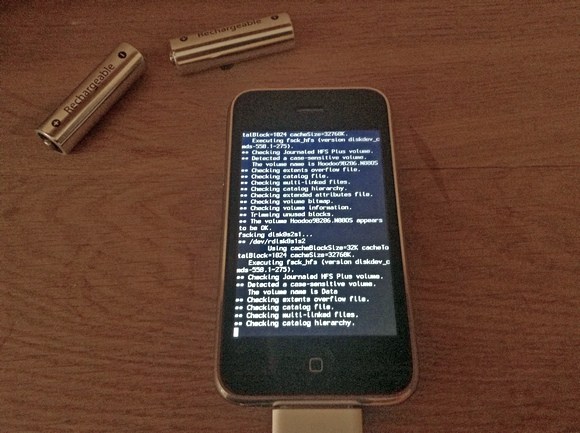 Do not close the program or disconnect the device from the computer until it displays the iOS lock screen.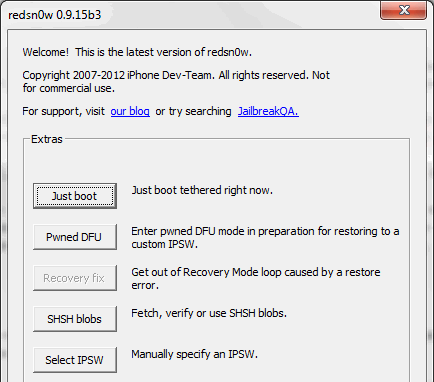 4. Now we need to "wake up" the jailbreak. We reconnect the iPhone to the computer, turn it off and put it next to us. Repeat point 2 of this instruction as a whole. Immediately after that, click "Just boot" . We pick up the connected and turned off iPhone, click Next and follow the prompts on the program screen. Upon completion of the process, the device will reboot in normal mode. Only instead of the "apple" you will see pineapple - the legendary Pwnagetool logo.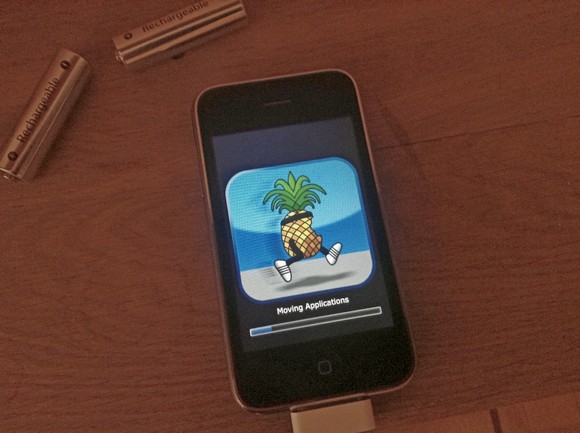 Cydia will appear, but we will not need it at all. It's time to move on to the main part - the removal of unnecessary processes.
We remove unnecessary processes.
Caution
We connect iPhone to the computer.
Download and install the iFunBox program: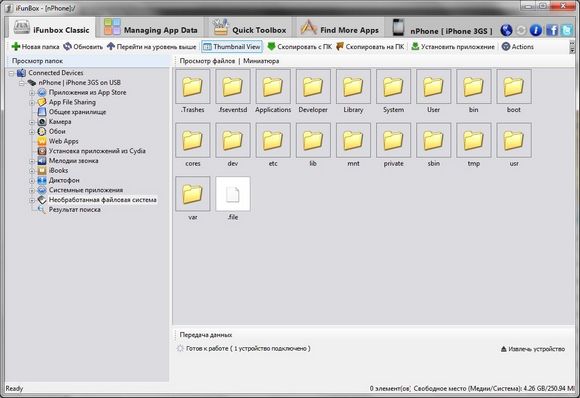 Open iFunBox , then select the iFunBox Classic tab. In the left window, select "Unprocessed file system . " Now in the right window, first click on the System folder, then on Library and find the LaunchDaemons folder in this heap. Right-click on it and select "Copy to PC . " Just in case.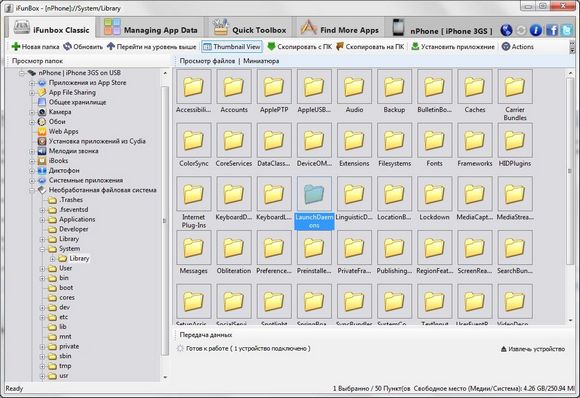 We'll forget about the backup that we just made, but now we'll go back and still open LaunchDaemons . Tip: Click on the Thumbnail View on the top panel of the program to see the full file names.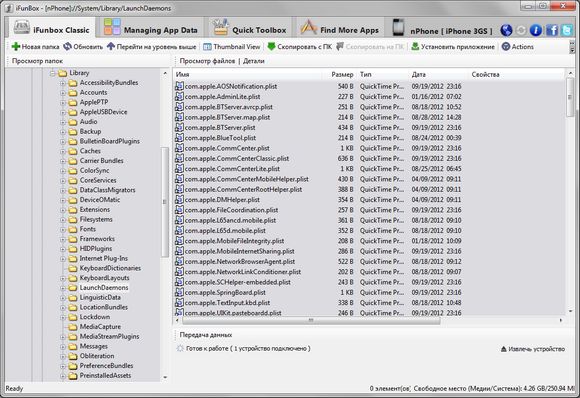 So, before us are the files of system processes. In no case can they be deleted at random. To understand what you can get rid of on this list, follow our simplified "guide". Initially, you may not have any processes from this list - this is normal.
Processes that can be deleted without consequences
com.apple.appsupport.cplogd.plist
com.apple.apsd.tcpdump.en0.plist
com.apple.apsd.tcpdump.pdp_ip0.plist
com.apple.apsd.tcpdump.pdp_ip0.plist
com.apple.aslmanager.plist
com.apple.certui.relay.plist
com.apple.chud.chum.plist

*

com.apple.chud.pilotfish.plist

*

com.apple.crash_mover.plist
com.apple.CrashHouseKeeping.plist
com.apple.DumpBasebandCrash.plist
com.apple.DumpPanic.plist
com.apple.fseventsd.plist
com.apple.marcoagent.plist
com.apple.OTACrashCopier.plist
com.apple.ReportCrash. XXXXX .plist - 5-6 pcs.
com.apple.sharktrace.plist

*

com.apple.syslogd.plist
* - do not delete if you are a software developer.
Processes that can be deleted with consequences
com.apple.mobile.softwareupdated.plist - OTA updates are disabled. You can delete it if you do not plan to update the device "over the air".
com.apple.OTATaskingAgent.plist - scheduled check of OTA updates is disabled.
com.apple.softwareupdateservicesd.plist - OTA updates are disabled. Delete if one of the above processes has already been deleted.
com.apple.AddressBook.plist - the speed of opening the Contacts application slows down. Through the Phone, everything will remain the same.
com.apple.AdminLite.plist - hung applications will no longer crash on their own.
com.apple.AOSNotification.plist - disables all iCloud functionality.
com.apple.apsd.plist - Disables iMessage and Push notifications.
com.apple.assitivetouchd.plist - disables Assistive Touch. If you do not know what it is - delete it without question.
com.apple.awdd.plist - disables logs of sent / transmitted data over operator networks.
com.apple.calaccessed.plist - disables calendar reminders
com.apple.daily.plist - disables checking applications for updates once a day. You can do it manually.
com.apple.dataaccess.dataaccessd.plist - disable if you are not using Microsoft Exchange and Google Sync. But better leave it.
com.apple.datamigrator.plist - disables the function of transferring contacts from SIM to phone.
com.apple.gamed.plist - disables Game Center.
com.apple.itunescloudd.plist - disables iTunes Match and iCloud Sync.
com.apple.mobile.accessory_device_arbitrator.plist - disables the check of connected accessories for compliance with Apple standards.
com.apple.MobileInternetSharing.plist - disables Modem Mode.
com.apple.mobile.obliteration.plist - disables the ability to clear all data through Basic-System-Reset, as well as remotely.
com.apple.mobile.profile_janitor.plist - disables the ability to install applications through ad-hoc profiles. Editors of specialized blogs should not delete this.
com.apple.printd.plist - disables AirPrint.
com.apple.powerlog.plist - disables charging statistics logs.
com.apple.racoon.plist - disables support for VPN networks.
com.apple.scrod.plist - disables Voice Control.
com.apple.Springboard.SetupHelper.plist - disables the initial system setup wizard.
com.apple.vsassetd.plist - disables Voice Control. Delete if you deleted the previous process.
com.apple.voiced.plist - disables Voice Control. Delete if you deleted the two previous processes.
com.apple.VoiceOverTouch.plist - disables Voice Over Touch. Remove if not using dictation.
com.apple.searchd.plist - disables the functionality of the search page on the Home screen. The page itself will remain in place.
com.apple.search.appindexer.plist - disables indexing of the application for search. Delete if you deleted the previous process.
com.apple.storage_mounter.plist - Disables the ability to connect the Camera Connection Kit. Not the best process to delete.
com.apple.twitterd.plist - disables the built-in functionality of Twitter social media.
com.apple.vibrationmanagerd.plis - disables custom vibration rhythms. If you have never installed them, you can delete this process.
com.apple.wapic.plist - delete if you live outside of China.
com.apple.webinspectord.plist - disables developer mode in Safari.
com.saurik.Cydia.Startup.plist - disables the automatic installation of manually downloaded .deb packages in Cydia. Delete if you do not know what it is.
com.apple.powerd.plist - cannot be deleted on iPhone 4 S. According to rumors, after removal it gives a big performance boost.
The finish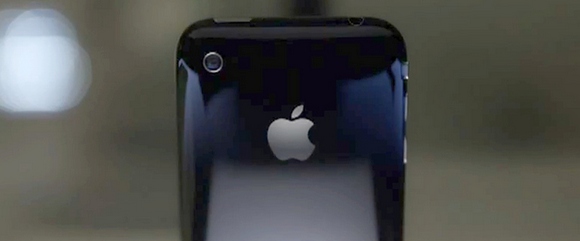 After deleting the processes, be sure to turn off the iPhone without disconnecting it from the computer. Launch Redsn0w and follow step 4 of the jailbreak instructions. If after that your smartphone does not turn on, enter it in DFU mode, restore the contents of the LaunchDaemons folder from the backup on your computer and repeat the process of deleting processes again - only this time it is much more thoughtful and careful.
If the iPhone booted normally, I sincerely congratulate you. The difference in performance and free RAM should be at least noticeable. This is not the only way to improve the performance of the device - but the easiest. Enjoy using your newly beloved 3GS!
---
Removing unnecessary languages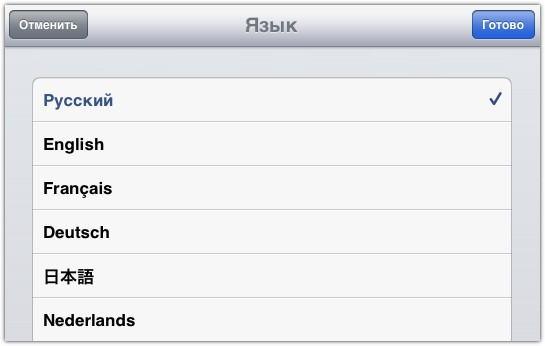 I know only three languages. iOS knows a lot more - but that does not mean that the vast majority of us really need them. Apple does not allow you to remove unnecessary languages ​​from the system and its applications - and in vain, because this can significantly facilitate the work and increase the speed of launching embedded programs. Jailbreak comes to the rescue - and the second part of the material on accelerating the work of iOS on older devices.
To begin, I advise you to familiarize yourself with the first part of the cycle (higher in the text) - it tells how to jailbreak iOS 6.0.1 and remove unnecessary system processes. This and the previous instructions are relevant for all devices and firmware, starting with iOS 3.0 - so the recently released iOS 6.1 is also suitable, except that you will have to wait until Sunday to jailbreak it. The method is highly recommended for owners of the first-generation iPad and iPod Touch 4th.
Install the iFunBox program if you have not done this before .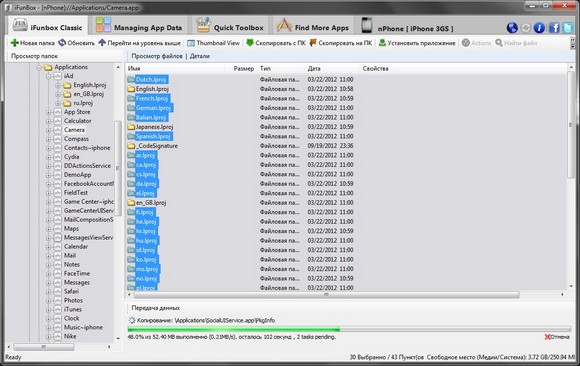 We connect our device to the computer and launch iFunBox. Immediately go to the iFunBox Classic tab - this is where we will perform all subsequent actions. In the left list, select the item "Unprocessed file system", and in the right window we look for the folder "Applications".
Right-click on it and select "Copy to PC." Do not skip this step: it is much easier to recover an erroneously deleted file than to reinstall the entire system. Now you are ready to continue.
All further actions are performed by you at your own peril and risk.
The Applications folder contains all system programs, most of which you see on the desktop of your iPhone, iPod or iPad. In no case do not delete them entirely - this will not lead to good. Instead, open the very first - iAd. This is the data package required to operate Apple's own advertising network. We are not interested in its functions, but in folders with the .lproj extension.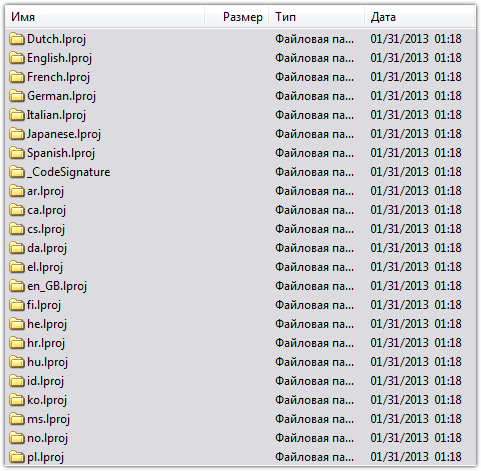 .lproj are software localization packages that load automatically when the application starts. Theoretically and quite actually, the more extra languages ​​in the system, the slower it works. In practice, getting rid of unnecessary languages, you will first of all clean up free space in the system, as well as reduce the load time of programs.
It's not so simple here. Obviously, you cannot delete English-language localization. Russian should not be touched either. If you use or plan to use Emoji emoticons - do not touch the Japanese. Based on the sad experience (including our own), we have compiled a brief reference on the controversial language packs - so that you know that you should not delete it.
_CodeSignature - has nothing to do with localization. In no case do not delete this folder from applications.
English.lproj (en.lproj) is the main localization package that cannot be removed under any circumstances.
Japanese.lproj (ja.lproj) is a Japanese package whose removal will turn the hieroglyphs into "squares".
en_GB.lproj - a variation of the English localization package. The menu is designated as "UK". Removing is possible, but after that some still complain about font problems. Better not to touch.
ru.lproj - Russian language pack. I think you know what not to do with it.
Now feel free to remove all other packages in all applications. You can speed up this process as follows: select all folders, then hold down Ctrl and use the cursor to remove the selection from the above localization packages, as well as from all folders without the .lproj extension. Then right-click and select "Delete" in the drop-down menu.
As a result, in most standard programs there will be five .lproj packages, the _CodeSignature folder and something else. Turn off your gadget and restart it. If everything was done correctly, it will load normally and will please you with a slightly shorter time for turning on and loading applications.
But this is so, flowers. Or warming up. Want more? No problems. Repeat the above steps in the following folders and their subfolders:
/System/Library/PreferenceBundles/ + /System/Library/PreferenceBundles/AccountSettings
/System/Library/PrivateFrameworks
/System/Library/CoreServices/SpringBoard.app
/System/Library/Frameworks
/System/Library/SystemConfiguration
This is where the bulk of the localization files are concentrated. Selective cleaning will take at least one hour and a lot of patience - but the result is worth it. Be extremely careful! Any mistake can cost a flashing - and then you have to repeat the whole procedure again.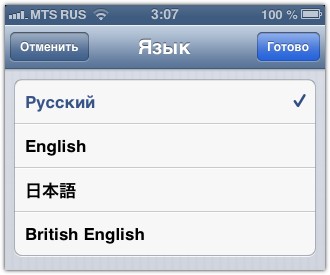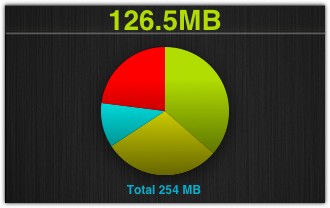 The free RAM on the iPhone 3GS after all the procedures was about 120 megabytes. And this is comparatively a lot for iOS 6.0.1 without any additional tweaks that clean up RAM. And the system somehow breathed freely ...
Good luck;)