GEVEY-3G-PLUS 2 FULLY UNLOCK FIRMWARE 2.2 (02.28.00)
GEVEY-3G-PLUS 2 FULLY UNLOCK FIRMWARE 2.2 (02.28.00)
Merry Chrismas to everyone!
Apple iPhone 3G firmware 2.2 has been released for a couple of weeks ago.We have announced that GEVEY-3G-PLUS is not supported by firmware 2.2 (02.28.00), but many people have it after upgraded firmware 2.2 by accident.
As you wish, GEVEY-3G is the ultimate sim for iPhone 3G firmware 2.2. It works flawless with medem 02.28.00. It has excellent updates such as working airplane mode, perfect 3G / edge working and more. To aginst with fakes and duplicates, we will use new look and new packaging for the new version. But we have to take a little while to organize such thing. For now, we have to use the temporary packaging.
The new version (GEVEY-3G-PLUS 2) will come the following features:
Continuous and stable signals.
EDGE / GPRS / 3G.
working airplane mode.
work with all firmwares and speacially for firmware 2.2 (medem 02.28.00 and pervious).
STK menu working.
phonebook inserting ok.
Now you can feel free update firmeare 2.2 for more features and stay updated with apple.
We will release this version during the Chrismax? DEV team release soft unlock for firmware 2.1 and previous, we release sim unlock for firmware 2.2. lol
Right now we can ONLY provide a beta version (GEVEY-3G-BETA), it just like other brands in the martket. We will release the GEVEY-3G-PLUS 2.0 before Jan 1, 2009. The beta comes the next packaging.
Please DO NOT upgrade your iphone firmware to the latest firmware 2.2 which is not supported by GEVEY-3G. Once you upgraded it, you will get "no service" all the time. You have to wait for a new tutorial out to downgrade the firmware. Your iphone is not able to get signals and making phone calls when using a GEVEY-3G sim and firmware 2.2.
New release! GEVEY-3G-plus-version-for-iphone-3g
It is proud to announce that we have now released a PLUS! version of GEVEY-3G for iphone 3G. More features and new look.
New look - adding thick side for protecting sim when inserting into iphone.
Easier Phone book install.
Airplane mode is functional for limited kind of sims. (It depends on countries and carriers.) We could not guarantee.)
New program for avoiding hidden dangers of not getting incoming calls.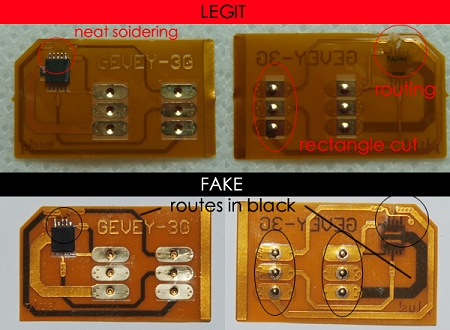 Instant Messager for ordering online
  Great thanks for all people to follow closely to our product. We have recieved some emails from all over the world. MSN messager for people ordering from us. You can now add MSN: Sales@gevey-3g.com to chat online. For technical support, please use "SUPPORT".
Important Reminding!
Special reminding: Please use the SIM correctly referring to our instruction. SIM in powering on. Because of the different networks in different countries and regions, there will be some problems in searching for or reorganization. If you need to use the 3G Network, please open the data roaming first. If you use the 2G Network, please close the 3G and the data roaming. In addition, please do not try to open the "flight mode", otherwise you must power off and restart your phone. As for those users who could not use the SIM in OTB 2.0.2, please try jailbreak to deal with the problem. This also could solve if iphone with gevey-3g could not connect to itunes. A jailbreak action is necessary to work with itunes.