Installation Instructions .app applications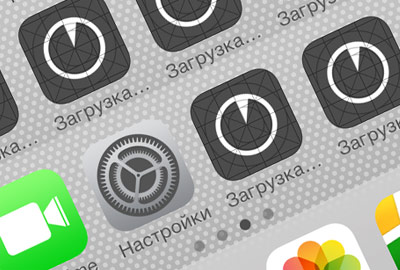 App Store is an application store, a section of the iTunes Store online supermarket, containing various applications for iPhone mobile phones, iPod Touch players and iPads, as well as for personal computers iTunes and allowing them to be bought or downloaded for free.
The App Store offers more than 900 thousand applications for the iPhone and iPod Touch, about 375 thousand for the iPad (as of June 12, 2013), the number of downloads exceeded 50 billion, and the user base is about 575 million people. Applications include many categories, including FreeCell and Sudoku, Facebook, MySpace, The New York Times, Pandora, PayPal, and Twitter.
The cost of most sold applications ranges from $ 0.99 to $ 9.99, some professional applications cost significantly more. In Russia, payment is accepted from credit cards, and since December 2008 - and from debit. Free apps are also distributed via the App Store.
Method number 1 (outdated)
What we need:
JailBreak'nuty device.
File Manager, for example iFile
Terminal Terminal for your OS.
All download in Sidi
Instruction:
We drop the folder on the phone into private / var / stash / Applications. (Hereinafter, differently, I have "Applications.82X3Wf". Remember the name of this folder, it will come in handy later) and create a folder called "Documents" (if not created) in "/ var / mobile /". * there is an interesting moment - on one of my iPhone the "private / var / stash" directory was missing. That's why I just uploaded the application folder to "/ Applications /"! But there is not enough space on the system partition, therefore (not) you definitely need to use the BossTool 2.0 utility from Cydia, which will transfer the entire contents of the "/ Applications /" folder to the user partition!
Restart the phone or Respring
Go to MobileTerminal and write "su root" - press enter
Enter the password alpine (the letters are not displayed, so it should be) - press enter
Next, we write "cd / var / stash / Applications", (as uvas), for me this line will look like this: "cd /var/stash/Applications.82X3Wf" - press enter
So we got to the "Applications.82X3Wf" folder (for me), it contains system programs and applications installed by you not from the AppStore. Now we will set permissions for the ***. App folder.
We write this line "chmod -R 775 ***. App" - press the input. Is done.
* In my case, when I put the folder with the application in "/ Applications /", I wrote the lines in the terminal:
"cd /Applications/tetristouch.app"
"chmod + x tetristouch"
Ps. All commands are entered without quotes.
Method number 2 (simple)
What we need:
JailBreak'nuty device.
File Manager iFile.
Instruction:
Throw * .app folder in the directory "/ var / mobile / Applications"
Go to the folder properties (blue arrow) and set permissions 755:

User - read, write, execute
Group - read, execute
All - read execute

Respring or reboot if no icon appears.
Method number 3 (elementary)
The * .app folder can simply be dragged into iTunes - Media Library - Programs, a normal application will appear (icon, file * .ipa), then as usual.