iPhone 3G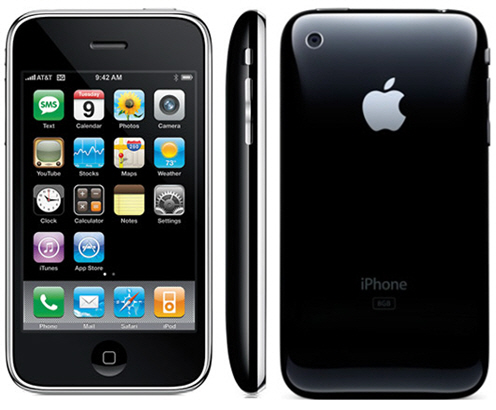 Description
Apple iPhone is positioned as an advanced phone, in fact, being a communicator running MacOS X with Cocoa Touch and is an interesting solution based on a UNIX-like system. Management, unlike traditional PDAs and smartphones, is made with a touchscreen, but only with fingers. Supported multitouch.

iPhone 3G is a continuation of the line of phones from Apple. The previous model was the phone now called the iPhone 2G, characterized by the lack of 3G support and the complexity of its purchase in our country.


Specifications
IPhone OS OS v2.0 (based on MacOS X)
Samsung S5L8900 processor
Display Type 3.5
Resolution 320 x 480
Memory 128 MB DRAM RAM, 8GB / 16GB Flash
Bluetooth communications (limited capabilities), Wi-Fi, GSM 850/900/1800/1900, GPRS, EDGE, 3G
No extensibility
Multi-touch text input


Strengths
convenient management and use as a phone,
large amount of flash memory
the presence of a built-in camera
support for Wi-Fi bands B and G,
installation of programs from the repository with the help of package managers
unlike previous models, this model can be bought officially in Russia
Weak sides
The work of unsigned third-party programs requires the so-called jailbreak. Nevertheless, there are many officially available programs through the Apple AppStore repository,
no expansion card support,
no tactile sensations when working with the phone (on the case there is only one button to exit to the main menu)
Usage tips
You can take a screenshot at the same time by pressing the "Turn Off" and "Home" buttons.
Double clicking on the button brings up the player control interface. Very convenient to manage playback without unlocking.
phone. Other actions can also be assigned to this button.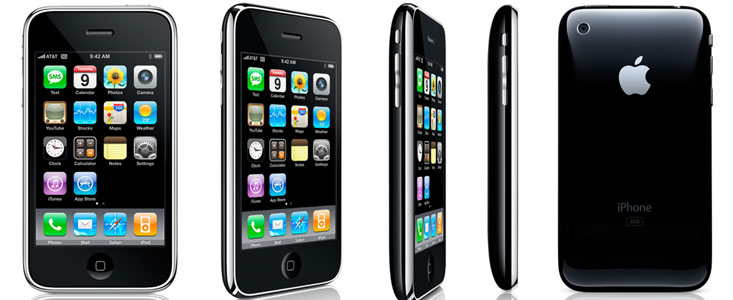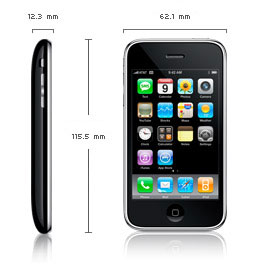 Specifications iPhone 3G
Height - 115.5 mm
Width - 62.1 mm
Thickness - 12.3 mm
Weight - 133 grams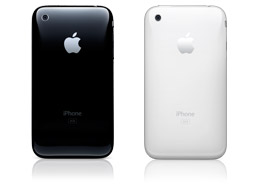 Body color
Apple iPhone 3G 8GB - Black
Apple iPhone 3G 16GB - Black or White

Communication standards
UMTS / HSDPA (850, 1900, 2100 MHz)
GSM / EDGE (850, 900, 1800, 1900 MHz)
Wi-Fi (802.11b / g)
Bluetooth 2.0 + EDR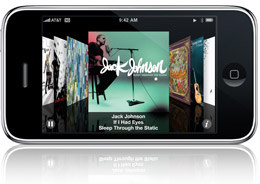 Display
Diagonal - 8.9 cm
Resolution - 480 x 320 pixels


Audio and video
Supported audio formats: AAC, Protected AAC, MP3, MP3 VBR, Audible (formats 1, 2, and 3), Apple Lossless, AIFF, and WAV

Camera
Search for photos by tags

Equipment
Apparatus
Stereo headset
Prefix for communication with PC
USB Charger
Instruction

Supported Languages
Russian, English, French, German, Japanese, Danish, Italian, Spanish, Finnish, Norwegian, Swedish, Portuguese, Korean, Simplified Chinese, Regular Chinese, Polish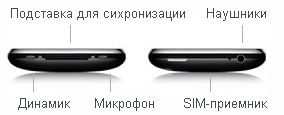 Connectors and connections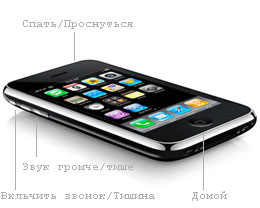 External buttons and controls
Sleep / wake - on / off
Volume up / down - volume +/-
Ring / silent - mute
Home - My Display


Battery and power
Lithium-ion battery.
Charging from a computer or mains charger.

Working hours:

talk time in 2G - up to 10 hours;
standby time - up to 300 hours;
in 3G data transfer mode - up to 5 hours;
in the mode of data transmission in WI-FI - up to 6 hours;
in the video mode - up to 7 hours;
In the mode of listening to audio - up to 24 hours.