Iphone 3Gs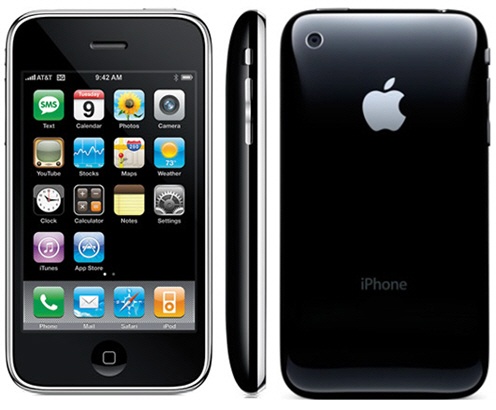 Apple iPhone 3GS is an updated version of the already legendary iPhone 3G phone.
At this time, Apple has focused on improving performance, and I must say we did it perfectly well. In general, productivity increased by 20-50% (Apple assures that launching messages will be 2.1 times faster, loading websites in Safari will also be faster at times).
Finally, the iPhone received a decent 3 megapixel camera with autofocus, shutter speed and white balance (At any object on the screen, it will be possible to change the focus and balance), special modes appeared for macro shooting, shooting in low-lit conditions.
Added video support - 30 FPS VGA, which can be sent via MMS, e-mail, MobileME or YouTube.
The main differences between Apple iPhone 3G and Apple iPhone 3GS
Faster
3 megapixel autofocus camera
Video recording
Voice control
Digital compass
Specifications of Apple iPhone 3G S
Dimensions and weight

Height (115.5 mm)
Width (62.1 mm)
Thickness (12.3 mm)
Weight (135 grams)



In kit

iPhone 3GS
Stereo headphones with microphone
USB cable and mains power adapter
Documentation


SIM Removal Tool




Volume and color

16Gb black and white
32Gb black and white

Camera

3.0 megapixel
autofocus, shutter speed and white balance, special modes for macro photography and shooting in low-lit conditions.
30fps VGA video editing


Audio

Frequency: 20Hz - 20,000Hz
Supported audio formats: aaC, Protected aaC, MP3, MP3 VBR, audible (1, 2 and 3), apple Lossless, aIFF, and WaV


Video

Supported video formats: H.264, MPEG-4, up to 1.5 Mbps, 640 by 480 pixels, 30 frames per second, Low-Complexity version H.264 Baseline profile with AAC-LC audio support up to 160 Kbps, 48kHz, stereo audio in .m4v, .mp4, and .mov file formats;
H.264 video, up to 768 Kbps, 320 by 240 pixels, 30 frames per minute, Baseline profile up to Level 1.3 with support for AAC-LC audio up to 160 Kbps, 48kHz, stereo audio in .m4v, .mp4, and .mov file formats ;

Battery

Talk mode:
5 hours on 3G networks
12 hours in 2G networks
Standby time up to 300 hours
Work on the Internet:
up to 6 hours when using 3G
up to 9 hours when using Wi-Fi
In the video player mode up to 10 hours
In the audio player mode up to 30 hours

Screen

3.5 inch widescreen multi-touch screen with oily coating (fingerprint protection)
480x320 screen resolution
Multilingual information output support

MPEG-4 video, up to 2.5 Mbps, 640 by 480 pixels, 30 frames per minute, Simple Profile with AAC-LC audio up to 160 Kbps, 48kHz, stereo audio in .m4v, .mp4, and .mov file formats.

Headphones

Stereo headphones with built-in microphone
Frequency: 20Hz - 20,000Hz


Mac system requirements

Mac computer with USB 2.0 port
Mac OS X v10.4.10 or higher
iTunes 8.2 or higher


System Requirements for Windows

PC with USB 2.0 port
Windows Vista Home Premium, Business, Enterprise, or Ultimate Edition; or Windows XP Home or Professional with Service Pack 2 or higher
iTunes 8.2 or higher


Use preferably in such conditions

Air temperature: 0 ° - 35 °
Air humidity: 5% - 95%
Maximum height: 3000 meters


Inputs and Outputs

iphone
30-pin dock connector
3.5mm stereo headphone input
Dock station
Doc connector


Communications

UMTS / 7.2Mb HSDPA (850, 1900, 2100 MHz)
GSM / EDGE (850, 900, 1800, 1900 MHz)
Wi-Fi (802.11b / g)
Bluetooth 2.0 + EDR
GPS
Google maps

Voice control
Built-in compass


operating system