Jailbreak - Limera1n, iOS 4.1 iPhone 4, 3GS, iPod Touch 3G, iPad


George Hotz (Geohot)






First carefully read the entire FAQ, and then get down to the action!
Jailbreak does not give an unlock modem, it's just for installing

Cydia

on your phone.


While for the firmware 4.1 there is no ANLOCK!

Be careful!





STEP 1 : Uploading :


http://limera1n.com/

limera1n

for

Mac [

] [

] [

]

limera1n_RC1b

for

Windows ( Final ) [

] [

] [

]

limera1n_RC1

for

Windows afc2add

added

[

] [

] [

]

limera1n_Beta_4 for Windows [

] [

] [

]

limera1n_Beta_3 for Windows [

] [

] [

]

limera1n_Beta_2 for Windows [

] [

] [

]
STEP 2 : Connect iPhone to your computer via USB and run Limera1n , then click on "make it ra1n"

STEP 3 : You must enter your device into DFU mode, follow the on-screen instructions as shown by Limera1n .
Your iPhone went into Recovery mode, the display shows a wire and a disk.

Press the Home + Power buttons and hold until the display goes out.

As the display goes out and you see this inscription, release the Power button, and keep the Home button on.

Your phone will now be in DFU mode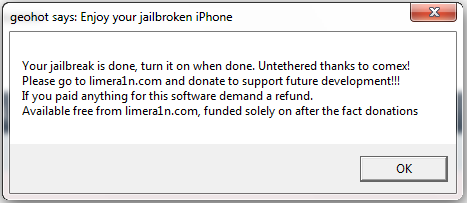 STEP 4 : After rebooting, you should see the Limera1n icon on the screen of your iPhone .
( icon, green drop )
In case the limera1n icon does not appear, then you need to restart the procedure for jailbreak limera1n , but only with parallel running iTunes .
If after that the limera1n icon still does not appear on the iPhone screen, then you need to go to reset settings and content.
Go to Settings -> General -> Reset -> Delete content and settings , then the limera1n icon will appear on the iPhone desktop.
STEP 5
: For this action, you will need a WiFi or 3G network on your phone .
For jailbreaking, you need to click on the limera1n icon to select Cydia and vice versa set a check mark, a jailbreak will occur and Cydia will be installed.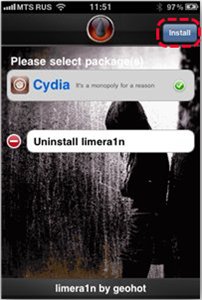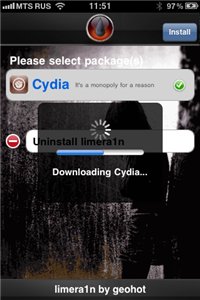 STEP 6 :
1. Do not run Cydia while on your phone there is no connection to the Internet, EDGE or WiFi .
2. Check or configure the Internet connection, and then run Cydia .
3. Cydia reorganization will begin. Wait until Cydia closes itself after the reorganization, and you will be thrown to the desktop.
4. Run Cydia again and you will see important updates for Cydia , install them.


All your actions with the phone you do at your own peril and risk!
It will not be superfluous for your friends to know this information, share their article with them!
Now everyone can publish articles
Try it first!
Liked? Subscribe to
RSS
news,
to be the first to receive information
about all important events of the country and the world.
You can also support shram.kiev.ua, click: