Jailbreak iOS 6 beta on iPhone and iPod touch using Redsn0w 0.9.13dev1
Two days after the iPhone Dev Team's hacker group reported on the successful iOS 6 beta jailbreak, a public exploit appeared on the web. A special assembly of Redsn0w 0.9.13dev1 allows you to jailbreak iOS 6 for devices on the A4 chip - iPhone 4, iPod touch 4G and iPhone 3GS.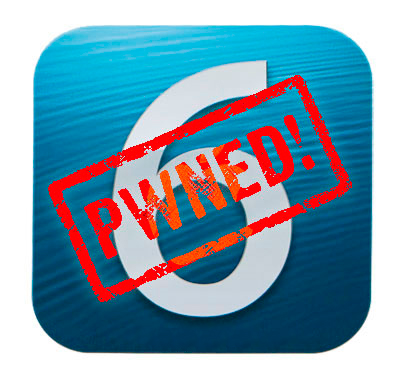 Before turning to the description of working with Redsn0w 0.9.13dev1, we note a few key points:
At the moment jailbreak iOS 6 tethered;
jailbreak iOS 6 using Redsn0w 0.9.13dev1 does not lead to the installation of a Cydia store;
jailbreak iOS 6 is compatible only with devices on the chip A4;
hacking is not supported.
Despite the fact that Redsn0w 0.9.13dev1 really opens the root access to the iPhone and iPod touch on the operating system iOS 6, the program does not install Cydia. This release, as noted by hackers, is intended primarily for testing jailbroken developers.
How to jailbreak iOS 6 beta on iPhone and iPod touch
Step 1 : Download the latest version of Redsn0w for Windows or Mac OS X.
Step 2 : Unzip the file and move the program to the appropriate location.
Step 3 : Download the iOS 6 beta file for your iPhone, iPad or iPod touch from here . Install iOS 6 on your iDevice, according to our instructions: using UDID and without a developer account .
Step 4 : Run Redsn0w and go to the Extras -> Select IPSW menu.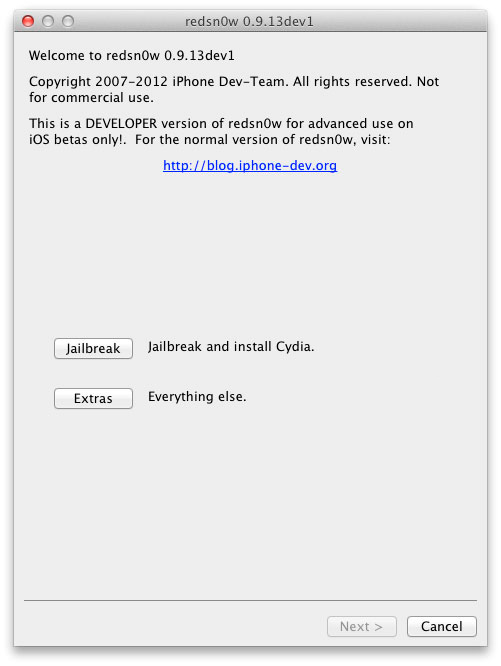 Step 5 : Specify the iOS 6 beta firmware in the window.
Step 6 : On the main screen, click the Jailbreak button.
Step 7 : Redsn0w is ready to jailbreak iOS 6, but before that you need to put the device into DFU mode by following the instructions:
Hold the lock button for 3 seconds.
Without releasing the lock button, press the main button for 10 seconds.
While holding the main button, release the lock button.
Continue to hold the button for 30 seconds, after which Redsn0w starts the procedure.
When you see a gray background on the screen, you can release the button.
Step 8 : Since jailbreak iOS 6 is currently tied, every time you reboot your iOS device, you'll need to connect it to your computer and switch to jailbreak mode using the special Redsn0w function. In order to load an iPhone or iPod touch in an adhered mode, go to the "Extras" section and click the "Just boot" button. Then repeat the procedure with the DFU mode.