Output iPhone from Recovery Mode (iTunes error 1015, RecBoot, iREB, TinyUmbrella)
.

Often there are times when you can bump into iTunes error 1015 and shows that the device can not be restored, showing " Connecting to iTunes on the screen for recovery ", and so endlessly.

iTunes does not allow you to exit Recovery mode, here you need RecBoot .

RecBoot , is available for both Windows (required by NET Framework 4.0) and Mac OSX .

Also, you may need to run the program in compatibility mode if you are using Windows 7 or Vista .

Windows XP users can run the program immediately without any problems.

How it works?!

Download the program, open the archive and run the file RecBoot.exe

At this point, your iPhone is connected to the computer, we see the opened window of the program and click on Exit Recovery Mode .

If you need to enter into Recovery Mode , then press Enter Recovery Mode .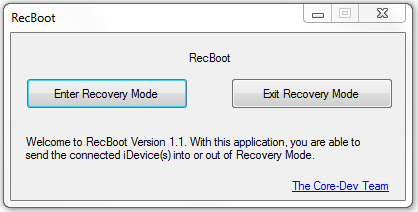 If the method above does not help you, then another option is to defuse your iPhone completely, and give an hour to lie down with it without power.
Then recharge and perform the procedure to restore the firmware, or try again RecBoot .
If all of the above actions did not help you, then the most proven way is to disconnect the battery from the iPhone for 10 min .
But, this method is dangerous for those who never dismantled the phone. You can easily damage the train, and this is an additional waste, I do not advise it myself!
Contact the service to specialists. After disconnecting the battery, you collect everything back and your phone can work again quietly.
In this situation, you can also help iREB-r * or TinyUmbrella-v *. **. **
In iREB-r * go to the Recovery Mode tab of the Loop Fixer / SHSH Blods Grabber and click on Set Auto-Boot True (Fixes 1015 Errors / Recovery Loops).
This option is excellent, 100% working , but there are a few nuances that need to be done before these manipulations (they each have their own).