How to configure MMS on iPhone for Ukrainian operators
With the release of new phones, setting mms of messages (if you want to send multimedial messages to owners of other brands of phones) remains viable.
There are several tips on how to set up MMS on iPhone for Ukrainian operators.
To make these settings, you need to go to Settings -> General -> Network -> Cellular data network and enter the data for your operator in the appropriate fields.
After entering the settings for the changes to take effect, you must restart the phone, and if everything is entered correctly, in the standard sms application, you will see the camera, in fact it is MMS.
In the screenshot settings for life

, similarly filled for other operators.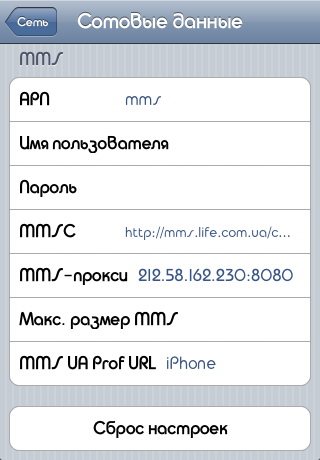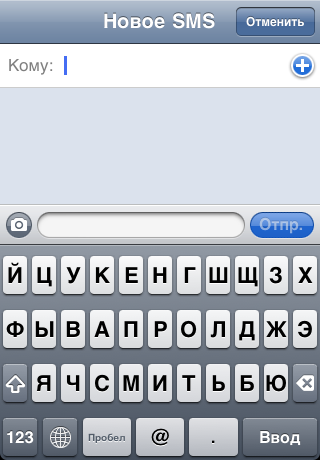 MMS Settings Kyivstar (Kyivstar)
APN:
mms.kyivstar.net
User Name:
mms
Password:
mms
MMSC:
http://mms.kyivstar.net
MMS proxy:
010.010.010.010:8080
MMS settings Djuice
APN:
mms.djuice.com.ua
User Name:
djuice
Password:
mms
MMSC:
http://mms.kyivstar.net
MMS proxy:
010.010.010.010:8080
MMS Life settings

APN:
mms
Username:
(empty)
Password:
(empty)
MMSC:
http://mms.life.com.ua/cmmsc/post
MMS proxy:
212.58.162.230:8080
MMS Settings Jeans
APN:
mms.jeans.ua
Username:
(empty)
Password:
(empty)
MMSC:
http: // MMSC: 8002 /
MMS proxy:
192.168.010.010:8080
MMS MTS settings
APN:
mms
Username:
(empty)
Password:
(empty)
MMSC:
http: // MMSC: 8002 /
MMS proxy:
192.168.010.010:8080
MMS Utel settings
APN:
3g.utel.ua
Username:
(empty)
Password:
(empty)
MMSC:
http://10.212.1.4/mms/wapenc
MMS Proxy:
10.212.3.148:8080
MMS settings Beeline
APN:
mms.beeline.ua
Username:
(empty)
Password:
(empty)
MMSC:
http: // mms /
MMS proxy:
172.29.18.192:8080