FREE One-Click iPhone Unlock (Windows)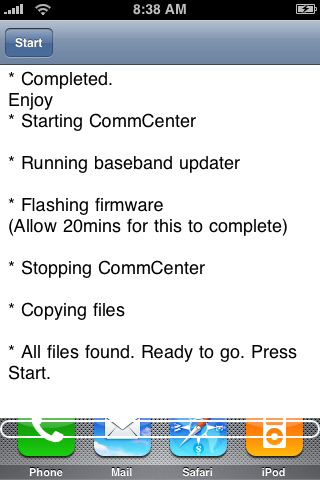 Instructions with the activation of YouTube and unlock (Option 1)
1 - Download Apptap, Ibrickr, Paycay and Unlock.pxl
2 - Install the LAST version of iTunes, but do not run!
3 - Hold Power on the phone and Home for about 20 seconds, until he starts begging you to connect it to iTunes smile.gif
4 - Now iTunes will not offer you activation, but recovery. Do it at the same time updating to firmware 1.02
5 - How to recover - kill the processes itunes.exe and ituneshelper.exe
6 - Install Apptap on your computer.
7 - Use Apptap to install Paycay. This script activates the phone and unlock YouTube.
8 - Install Ibrickr on your computer, run and see two buttons - Ringtones and Applications. Crush the Applications and select iunlock.pxl, run and follow the instructions on the screen of the phone.
9 - How to install - click on the unlock icon in the phone menu and wait 20 minutes.
| ARCHIVE WITH ALL PROGRAMS AND INSTRUCTIONS:




iPhone_Unlock_By_APTEM.rar [

] [

] [

]




---
---
Iphone Software Unlock (Option 2)
Make sure your running version is 1.02 firmware.
Settings> General> About> Version. Modem Firmware should also say 03.14.08_G
Your phone will also be jailbroken you can use

ibrickr_v0.8.zip [

] [

] [

] for this!
When you have iBrickr running install the following.
Community Sources
Openssh
BSD Subsystem (might take some minutes)
Next Use WinSCP (root / dottie) and copy the following files to / usr / bin
You can find your ip address and ip address.
Now make a folder under / usr / called local / et c
So you upload minirc.dfl to / usr / local / etc
Now using root dot / dottie
and run the following commands:
cd / usr / bin /
chmod + x iUnlock
launchctl unload -w /System/Library/LaunchDaemons/com.apple.CommCenter.plist
iUnlock ICE03.14.08_G.fls nor
Wait a while usually around 20minutes.
After this is complete in putty run
bbupdater -v
You should see issuing + xgendata ... and a lot more stuff this is good!
now still in putty type
minicom
When everything loads ok
If all is a good issue these commands next
AT + CLCK = "PN", 0, "00000000"
AT + CLCK = "PN", 2
if it gives a response with your unlocked!
Now just run this command in putty!
launchctl load -w /System/Library/LaunchDaemons/com.apple.CommCenter.plist
AND YOUR UNLOCKED!
This will be a 2-5minute process.
This is still a buggy.
Iphone iphone if you still don't get the signal