Instructions on how to make a ringtone for iPhone in iTunes from under Windows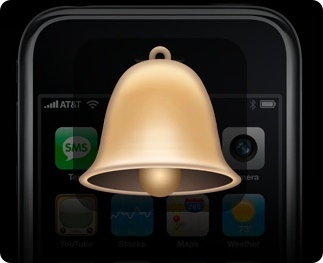 You can make ringtones for iPhone using special programs, for example, free iRinger, or you can use iTunes.
True, when making a ringtone from a melody purchased from the iTunes Store, you will be asked to buy it for $ 0.99.
But the ringtone from a song that is not protected by DMR can be made absolutely free by applying a little trick.
Mac users have the ability to make ringtones using the GarageBand program.
For Windows, Apple did not release such an application.
However, making a ringtone using iTunes itself will not take much time.
If you simply click on a song that you did not purchase from iTunes, but downloaded from your own library, and when you click with the right mouse button, select "Create a ringtone", then you will receive a message that you can create ringtones from songs purchased from the iTunes Store.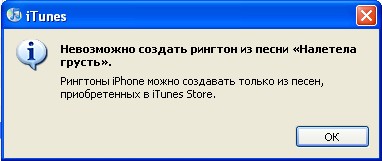 To circumvent this prohibition, the procedure should be as follows:
Right-click on the song name and select the Information menu.



In the window that appears, select the "Parameters" tab and mark the start and end time of the ringtone fragment so that it does not exceed 30 seconds. Click OK.



Again right click on the same file and select: "Create version for AAC format".



If the conversion process has begun, then this file is not DRM protected, otherwise you will receive the following message:



If you do not see the option "Create version for AAC format" go to Edit / Settings / General / Import settings and set "Importer" set "AAC Encoder".



Now find the converted file with the .m4a extension in My Documents / My Music / iTunes / iTunes Music / Artist Name / Album Name /. If the song was downloaded to iTunes as a separate file, the path should be: My Documents / My Music / iTunes / iTunes Music / Artist / Album /. Copy the found file to any other folder and change the extension to .m4r (the standard extension for iPhone ringtones). Double-click the left mouse button on the modified file and it will automatically appear in iTunes in the "Ringtones" section. Now you can sync it with your iPhone.



After the operations performed in the "Music" section, a file with the same name will also appear in the converted .m4a format. It can be removed, and the new file can be distinguished from the original by the duration.