IPhone keyboard Russification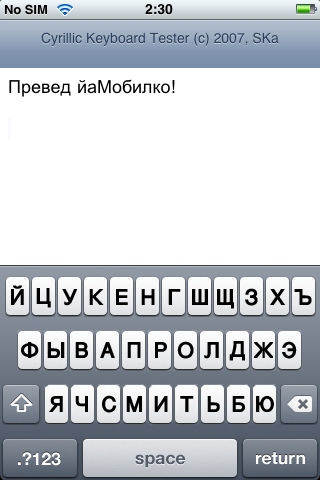 Russification perhaps remains the only problem stopping potential iPhone buyers from purchasing a phone. Since the problem has become rampant (blondes and people far from IT are terribly afraid of buying an iPhone) , then a team of fans decided to Russify the phone themselves. The keyboard is handled by the professional apple programmer Slava (slavikus) Karpenko, who is also SKa in copyright in the screenshot.
Some features of functioning have become known, for example
Keyboard switching is planned to be realized through the left key next to Space, the third press is the working version at the moment. Everything is packaged in .pkg, the installation is fully automated. We look forward to the completion of the work.
This is what the scorpios33 itself says about the Russification of the iPhone:

The keyboard, in contrast to the interface, is a rather complicated and new software package, there it is necessary not just to change the pictures, but to rewrite the native Apple files signed with the native certificate. And so that they were accepted by the system. Try, for example, to change native fonts - you get an instant system response and a full restore. Unfortunately, this work can be done by a very limited circle of professionals, especially in our country, where for a natural Unix (and not for Linux!), They are not used to writing and have not learned.