What is Siri?
One of the main features of the new iPhone 4s is the presence of an intelligent voice assistant named Siri. It is worth noting that work on Apple on this issue has been going on for a very long time. But only now the power of mobile devices has reached the necessary minimum (imagine what will happen with the growth of these capacities). What is this Siri? let's see more.
The concept of such a system was born in Apple back in 1987, or rather even a little earlier, because at 87, they have already demonstrated a service managed by a human voice, under the name Knowledge Navigator.
The most important difference in the development of Apple, even its first version, was that they not only recognized the voice and responded to the commands, there are many such systems, but analyzed and memorized, building relationships and acquiring the opportunity for learning. Quite an artificial intelligence is obtained.
And as a result, we see, as yet not perfect, but already revolutionary Siri.
Siri does not just listen and execute commands, she analyzes, compares and remembers everything said and written by you .. and not only by you. However, she also performs the commands at the proper level.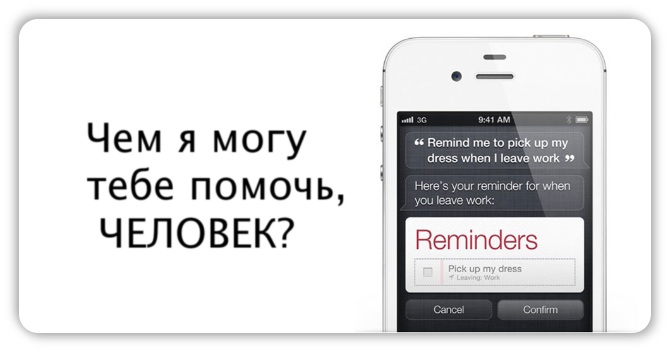 Set a timer for a specific time? write someone sms? read the answer? Match the answer with your calendar and give an answer based on the data? These and a great many cases - for Siri, ordinariness and simplicity, the main thing is simplicity.
And do not expect that Siri will fall into a stupor, if you have not said something wrong or asked an uncomfortable question, you can ask questions in a variety of forms, Siri knows the answer. For example, you can ask "what is the weather at the North Pole today," "will it rain today?", Or "do I need an umbrella or a spacesuit to go out into the open cold," Siri understands that you want to find out, regardless of the wording and answer appropriately. So don't be surprised if she offers you spacesuit types to choose from.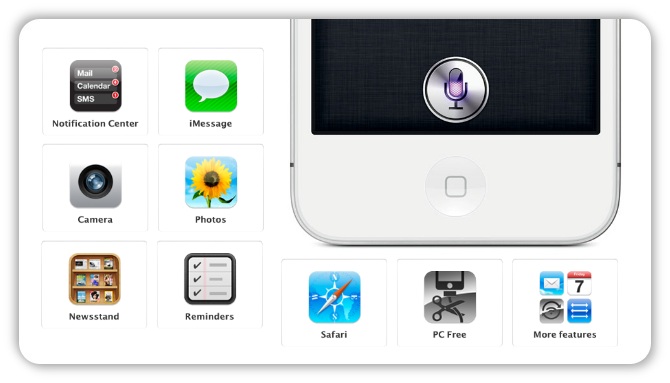 Of course, Siri is closely integrated with iOS 5 and with most of the most important applications, the list of which will only grow. Therefore, in general, everything that is in your smartphone and something even beyond it is analyzed. Afraid that Facebook is following you? - Get Siri, which does not follow, which just knows everything about you. She doesn't need names, she knows what name your wife, son, daughter, beloved masseuse is hiding behind. Voice control has never been so easy and convenient.
We are entering a wonderful time when everything that science fiction writers have predicted for decades begins to come true year after year. And no wonder that the pre-order count of the iPhone 4S, with Siri on board, was swept away in a few days. People want to live in the future, not the present, and Apple does everything in its power to do this.