UltraSn0w SoftAnlock (decoupling from the operator) modems 04.26.08-06.15.00 and 01.59.00

UltraSn0w - SoftAnlock (unlock from the operator for locked phones), i.e. It works for the time being installed, and after each flashing it needs to be set again. It does not need to be installed if you have an officially unlocked phone, after rebooting it should be followed by a reboot.
UltraSn0w can only be installed on the phone with jailbreak and activation / hacking.
UltraSn0w depends on the firmware and the version of the modem ( compatibility list below ).
Preparation (upgrading the modem)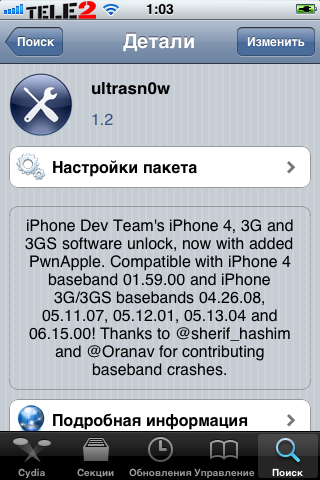 Firstly, you need a modem 06.15.00 (this applies only to iPhone 3G and 3GS with modems 05.14.02 and 05.15.04)
If you have another modem, now we will first do the wild thing - to upgrade the modem.
Attention! According to the information from dev-team, the installation of a modem from the iPad to the new iPhone 3GS, produced after the 35th week of 2011 (3-4-5 digits of the serial number more than 135), leads to the "death" of the radio module. Do not try to experiment if you do not want to stay with the eternal brick.
Attention! Do not attempt to flash baseband if third, forth and fifth digits in your serial number is greater then 135, on thise phones it will kill the radio and will render it useless. Yes, on devises made on or after week 36 of this year.
For this download RedSn0w .
Run the program, click on JailBreak and follow the instructions until the checkbox is selected - we must check Install iPad Baseband .
It is necessary then that in the version of the baseband for iPad there is still a vulnerability working with UltraSn0w.
The 06.15.00 modem is fully compatible with the iPhone, and it can be rolled back to 05.13.04 .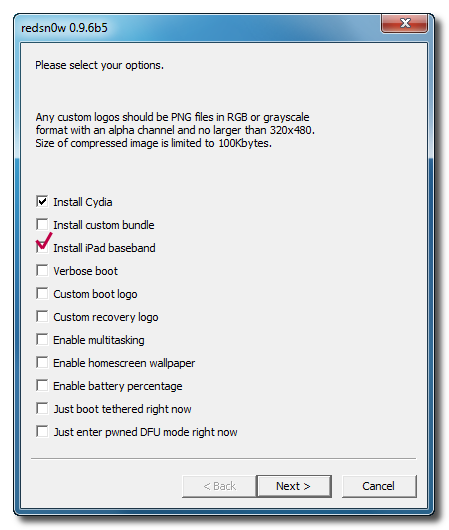 After you have a modem 06.15.00 you can put UltraSn0w * .
Install UltraSn0w *
If there is WiFi:
Make a jailbreak (read below)
Make activation / haktatsiyu (just leaf below)
Enable Cydia to wait until it does the reorganization
Re-enable Cydia , select User
Open "Search"
Enter "UltraSn0w"
Right upper corner -> Install -> Confirm
Wait for it to download and install, click Reboot Device
If there is no WiFi
Try to find WiFi from friends in a cafe, etc.
If you did not find it, then download the Cyder and iFunBox
Enable Cydia (even without the Internet) to wait until the reorganization takes place
Enable Cyduia to click User again, after that you can close it
In Cyder, click Get Sources From Cydia or add the repository http://repo666.ultrasn0w.com/./ and http://apt.saurik.com/cydia-3.7
Press F9
Go to Downloads in the Filter column, enter Mobile Substrate
Right click on Mobile Substrate and Download with dependencies
Several deb packages appear in the Cyder \ Packages folder, all of them are transferred using iFunBox to / var / root / Media / Cydia / AutoInstall
Reboot the device
Repeat steps 7-10 by entering instead of Mobile Substrate -> Ultrasn0w
Compatibility list
IPhone GSM - Not supported, use BootNeuter.
IPhone 3G - Supported, for jailbreaking and hacking, use RedSn0w.
IPhone 3Gs - Supported, but only 3.0-3.1.2 with RedSn0w, 3.1.3 using Spirit + Sim operator card for activation, or JailBreakME (3.1.2-4.0.1).
JailBreak
3.0 - RedSn0w
3.0.1 - RedSn0w
3.1 - RedSn0w
3.1.2 - BlackRa1n
3.1.3 - Spirit
4.0 - JailBreakME.com
4.0.1 - JailBreakME.com
4.0.2 - RedSn0w (iPhone 3G only)
4.1b1-GM - RedSn0w (iPhone 3G only)
4.1 - RedSn0w (iPhone 3G only)
4.2.1 RedSn0w (iPhone 3G, iPhone 3Gs, iPhone 4)
Activation \ Hactivation
Activation - any device, any firmware, provided that you have a sim card of the operator on which the phone is locked.
Hactivation
3.0-3.1.3 RedSn0w (only iPhone GSM and 3G)
3.1.2 - BlackRa1n RC3
4.0-4.2.1 - RedSn0w
Firmware - Modem
Black - succumb to unlock.
Red - Do not succumb to unlock at the moment.
IPhone 3G and iPhone 3Gs:
3.0 - 04.26.08
3.0.1 - 04.26.08
3.1 - 04.26.08
3.1.2 - 05.11.07
3.1.3 - 05.12.01
4.0b1-2 - 05.13.03
4.0b3-GM - 05.13.04
4.0 - 05.13.04
4.0.1 - 05.13.04
4.0.2 - 05.13.04
4.1b1 - 05.13.04

4.1b2-GM - 05.14.01

4.1 - 05.14.02

4.2.1 - 05.15.04

Note: For modems 05.14.02 and 05.15.04 there is an option to upgrade the modem to version 06.15.00 from iPad-a (see above)
IPhone 4:
4.0 - 01.59.00
4.0.1 - 01.59.00
4.1b1 - 01.59.00

4.1b2-GM - 02.07.01

4.1 - 02.10.04

4.2.1 - 03.10.01

4.3 b1 - 04.08.00

4.3 - 04.10.01

Note: The exception is phones in which firmware was used without upgrading the modem.